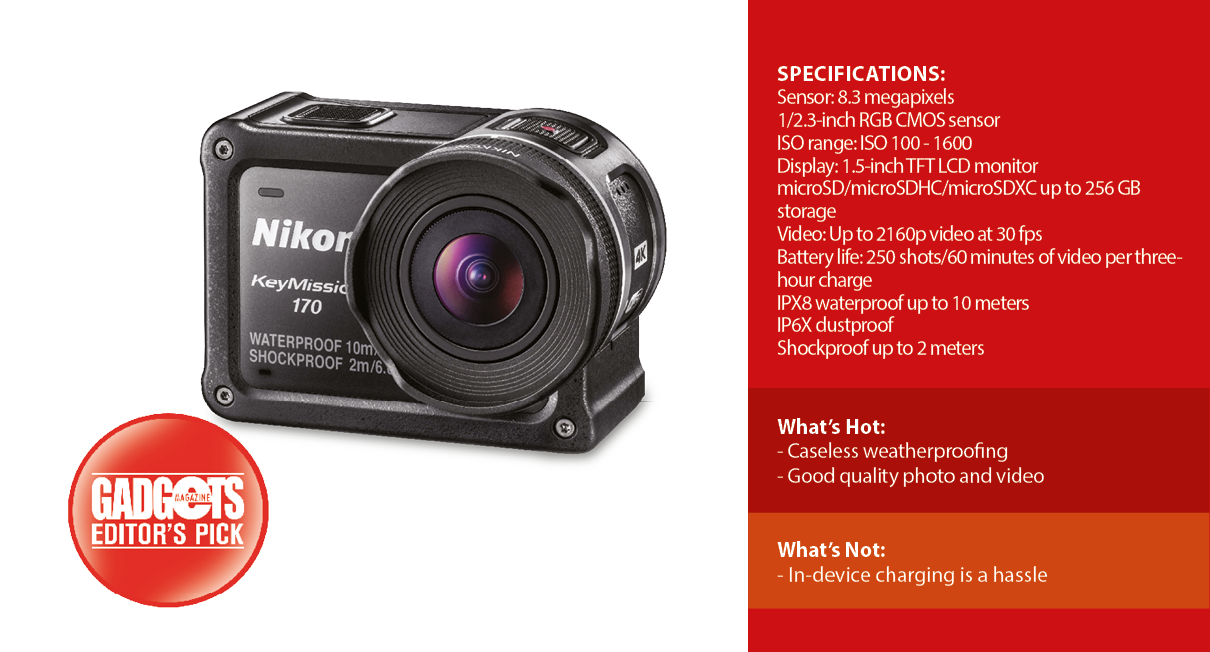 When people hear "action camera," most people would think of the brand-that-must-not-be-named, but as with any other product, the top spot for the action camera category is in contention. Part of the KeyMission Series of action cameras, the 170 represents Nikon's first efforts into the action photography market. I sought to find out if the 170 is up to snuff.
DESIGN 4.0 / 5.0
As with its DSLRs, Nikon's KeyMission 170 is well-built from top to bottom. Its compact design allows it to be placed just about anywhere, and its relative density just makes it feel that much durable. That's because it has built-in weatherproofing without the need of an external case. The camera is shockproof at 6.6 feet, freeze-proof at 14 degrees Fahrenheit (minus 10 degrees Celsius), and waterproof at 33 feet.
The 170 has two large textured buttons on top with easy-to-see markers: one to take photos, and another to take videos. At the back is the big enough LCD screen with a minimalist button interface. On the side, a dual-locked hatch covering the battery slot, the microSD slot, the micro USB port, and the HDMI port. The lens hood can be taken off with a twist, and at the bottom, there is a standard ¼-inch socket that can be used to mount the camera to traditional mounting accessories like tripods and chest harnesses apart from the myriad of action camera accessories available in the market.
The flaw that I found in the KeyMission 170's design, however, is its charging, which requires the camera to be plugged in via USB. This restricts the option of carrying extra battery packs because you have to rely on charging them one at a time.
HARDWARE 4.0 / 5.0
Apart from the weatherproofing, the hardware isn't exactly spectacular, although it does meet the standards of its competitors quite easily. The RGB CMOS sensor has 8.3 effective megapixels, which has an ISO sensitivity that ranges from 100 to 1600. The camera can shoot videos in 2160p at 30 fps or in 1080p at 60 fps with a super-slow motion shooting mode in 720p at a maximum of 240 fps. The lens has a very respectable
f/2.8 aperture with an angle of view equivalent to a 15mm lens in 35mm format. The monitor is 1.5-inches across with a 345,000-dot resolution. In terms of storage, the KeyMission 170 supports up to 256 GB microSDXC high-speed memory cards.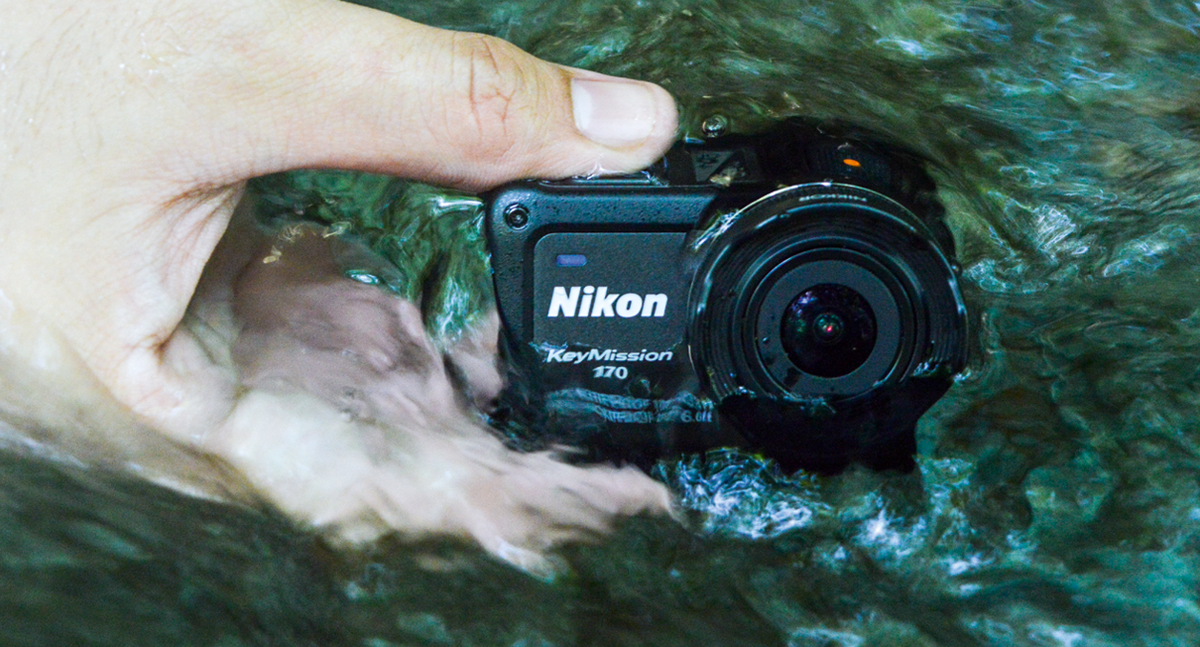 USER EXPERIENCE 4.5 / 5.0
When the KeyMission 170 came out, Nikon boasted about its image quality. And true enough, the 170 took very nice photos and videos. Colors were more vivid as other action cameras tend to take watered down photos due to their sensors. Details were also sharper than other action cameras that I've tried. While in Mindoro, the camera's images had nice lines with decent contrasting and bright, more accurate colors.
Sound quality from the video recordings was also quite nice. They didn't sound as muddled. I know, sound isn't really something people are looking for in action cameras, but it is a nice bonus to have that even without external microphones, you can shoot a decent enough video to show to friends and family.
The program interface is very easy to learn, and the addition of the free KeyMission application just gave me that extra bit of control and flexibility. No more taking selfies and hoping they turn out nice. With the app, I was able to see the image as I take photos, and directly upload them to my cloud storage or to my device.
VALUE 4.5 / 5.0
Competitively priced at PHP 20,900, the KeyMission 170 is an excellent alternative to other action cameras out there. And with Nikon, you can be sure of its solid build quality, and the quality of images that it can take.
Bottomline:
With built-in weatherproofing and excellent 4K-resolution photo and video, you really can't go wrong with this action camera.
Also published in GADGETS MAGAZINE April 2017 issue
Reviewed by Robby Vaflor