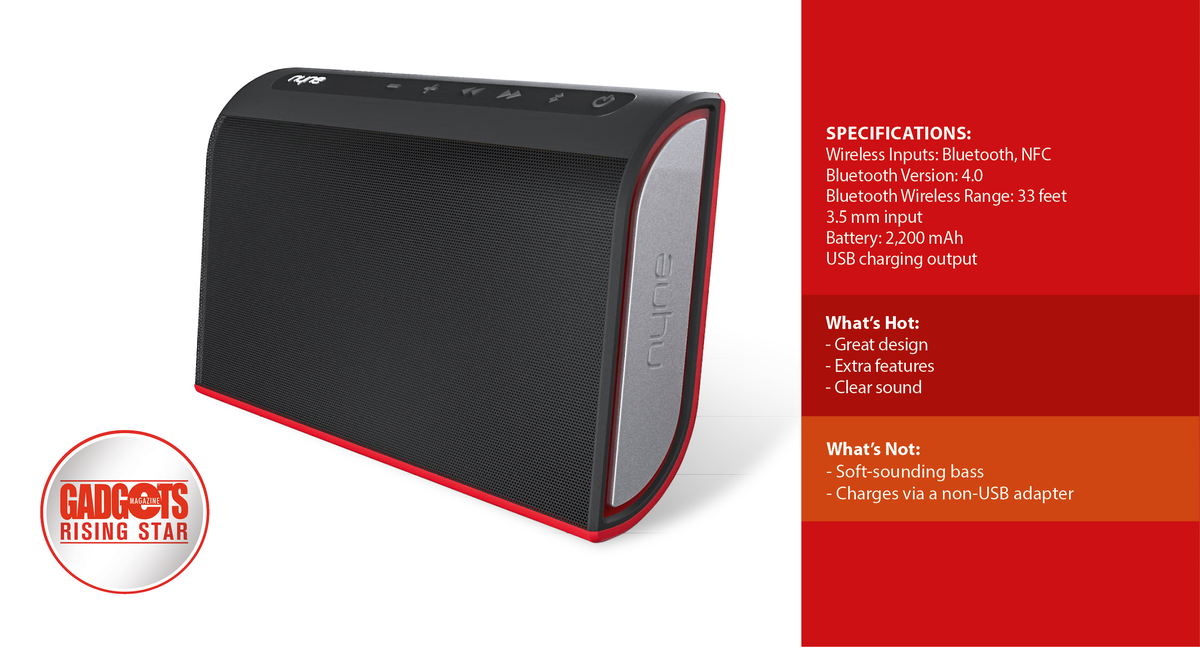 Music is life, but wires will be the death of all of us. Have you looked inside that drawer under the TV recently? It's a rat's nest of tangled wires and dust. Fortunately, we live in 2017, and that means accomplishing what once required the vinyl embrace of a cable is now wireless. Today, we take a look at the Nyne TT, Bluetooth speaker, and find out if it's up to the task of enlivening your next party.
DESIGN 3.5 / 5.0
The Nyne TT is a rather large curvy box done in red and black, with a rubbery matte finish. The insides of the devices is kept safe by a metal speaker grille, while the top has raised buttons for volume, track control, a call button and a main power button, all hidden under a rubber strip, and very tactile. There's also a Bluetooth indicator light, and a pretty illuminated "nyne" in case you forget what brand of speaker you're using.
The sides are done in a silvery metallic plastic, and the back has a large protected channel, which presumably houses the back of the driver unit. It conveniently has an integrated kickstand for keeping the device vertical, as well as serving to hide the charging port, USB out port, and a 3.5 mm input. The kickstand also has a large cut-out that seems to be intended to keep the cables (should you want to use them for whatever reason) in check. This is a nice touch, and the designer who thought to include it deserves a raise.
The plastic appears to be simple, un-reinforced ABS, and while that's reasonably tough, don't go treating this like a power tool—she won't suffer it.
HARDWARE 3.5 / 5.0
While we couldn't find the size of the driver, it seems to run perhaps three-quarters the width of the unit, offers 2.0 stereo surround, and, of course Bluetooth 4.0 wireless connectivity. You also get an internal 2200 mAh battery, which is great, because the speaker also doubles as a powerbank. Should your device support it, the TT allows you to pair the device via NFC. It totally wasn't necessary, but hey, we'll take it.
Should you have a non-Bluetooth source, the TT takes a 3.5 mm connection at the rear of the device, so more or less universal compatibility is not an issue.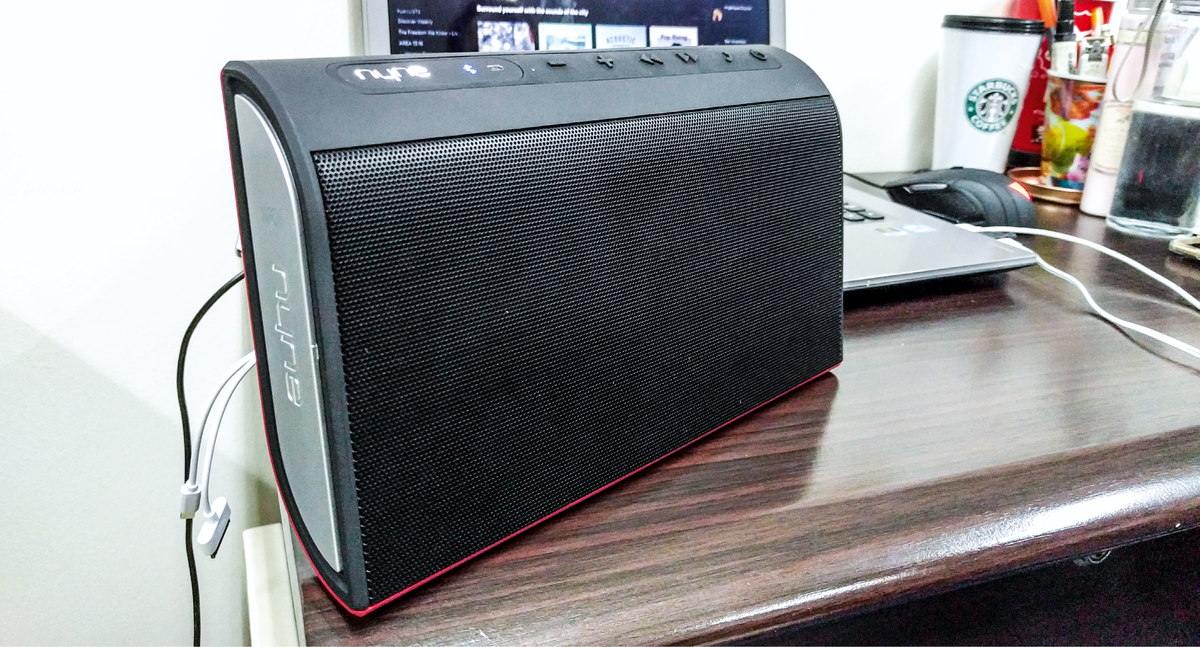 USER EXPERIENCE 3.5 / 5.0
The first test we ran was a quick check of the TT's ability to reproduce bass. I queued up James Blake's cover of Limit to your Love to see how it responds to quick fast bass. The result: not as well as I had hoped. For a hefty speaker with enough internal volume to push a lot of air, the bass was very shallow and weak. The track does make it hard to do bass well, as it's an extremely fast bass pulsing, but we could barely hear it over the vocals. Mids though, were quite pleasant, with Lana Del Rey's Video Games coming out clear, if just a touch cloudy on the higher notes. This was also the case for a Cello instrumental, where the TT was able to play the sweet sound of the instrument quite nicely.
Pairing the speaker was completely painless, as was expected. Switch it on, find it on your phone and you're set. A quick tap on the side of the speaker with an NFC-enabled device manages the same thing easily.
Battery life is a bit less than the rated 10 hours, though I do suspect that's keeping the connection good between the source and the speaker. Using it as a powerbank will of course reduce the juice it has to power itself, but it's a nice backup to have, just in case.
A small problem for some is that it uses a standard 12 V input for power, so there's no charging it from a powerbank—you'll need a wall outlet to top up.
VALUE 3.5 /5 .0
The Nyne TT comes at a sticker price of about PHP 9,500, though it is generally on sale at this point. It's a good-looking device, with decent ability. But if you're a bass-head, you might want to look elsewhere. Still, it's a reliable brand, and has a few extra features. In the end, it's not a bad deal.
Bottomline:
Keep it in one place in your room and use it forever, with some light duty outdoors now and again. Not bad.
Also published in GADGETS MAGAZINE May 2017 issue
Words by Ren Alcantara