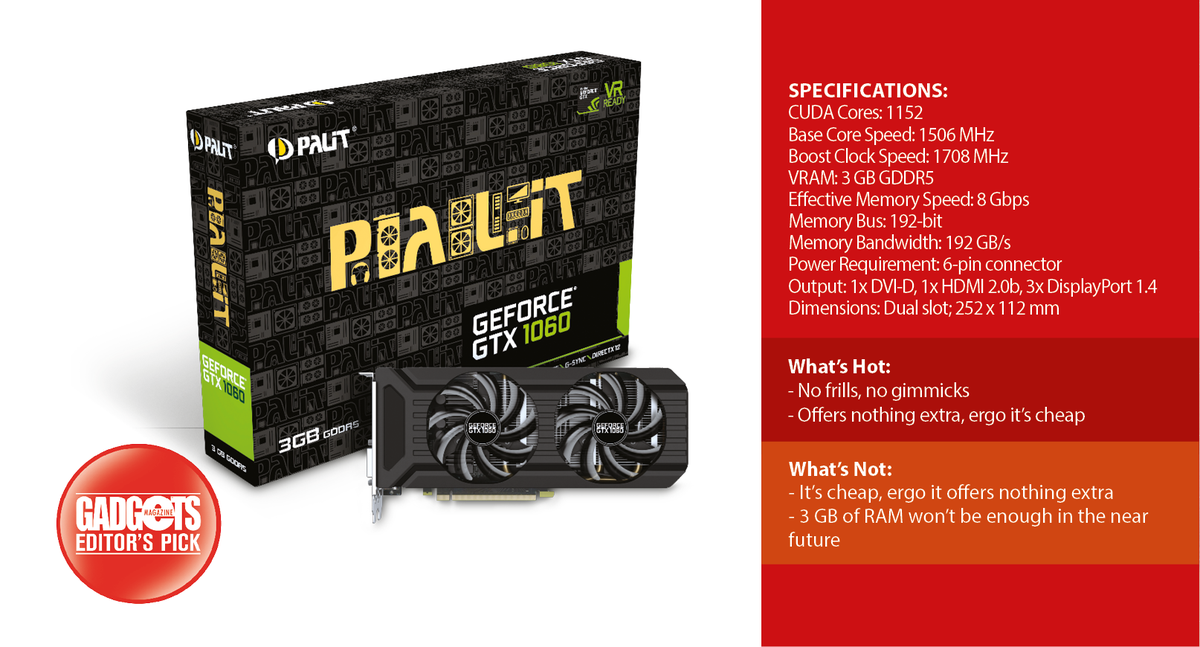 Sometimes, you just have to get the most out of your money, and that means sacrificing some extras for the bare necessities. For instance, you might just go with a very basic smartphone because you know you're only going to use it for calls and texts. You might order a la carte because sodas are highway robbery at restaurants. Or you might get a graphics card that does what it needs to do—render frames and render them quickly—without any bling. That's basically the idea behind the Palit GeForce GTX 1060 Dual 3 GB. But does being bare mean it sucks? Find out below.
Design 3.5 / 5.0
The Palit GeForce GTX 1060 Dual proves that you really shouldn't judge a book by its cover, or in this case, a graphics card by its shroud. Design-wise, it is pretty plain. While most rigs will have the shroud pointed down towards the bottom of the case—so you'll only be seeing its top edge and back—it would have still been nice to see a custom shroud that screams gaming. The card also felt quite light. Almost toyish, actually.
Taking a look around the card, you'll find the two 90 mm fans on its face, the 6-pin power connector along its top right edge, the DVI-D, HDMI, and DisplayPort I/O on the honeycombed bracket, and a whole lot of circuits and chokes on its rear. The shroud wraps around the top, bottom, and right edges of the card, almost entirely concealing the horizontal running aluminum-finned heat sink and copper heat pipes.
Hardware 3.5 / 5.0
Running the show is the Pascal-based GP106 GPU, a 16 nm chip produced by TSMC from Taiwan. The GTX 1060 comes in two memory variants (6 GB trims are available), and the more modest 3 GB version comes with 1152 CUDA cores humming at 1506 and 1708 MHz for the base and boost clocks, respectively. Palit's Dual take on the 1060 runs with these stock clocks.
Besides the difference in frame buffer, all 1060s will have an effective memory speed of 8 Gbps, a 192-bit-wide memory bus, and a maximum memory bandwidth of 192 GB/s.
User Experience 5.0 / 5.0
Now that we got the ugly out of the way, let's get started with the Palit GTX 1060 Dual's good side. I slapped it on the bench with an Intel Core i5-4460 processor clocked at 3.2 GHz, stock Intel cooler and heatsink, an Asus Z87i-Pro motherboard, single 8 GB stick ofl DDR3 G.Skill RAM, a 120 GB solid state boot drive, a 1 TB WD Blue platter drive, and a 520 W Seasonic S12II 80+ Bronze PSU, all in a Fractal Define Nano S mini-ITX case with a single exhaust and two front intakes. All tests were at 1080p resolution.
Just wow. For a card to be this affordable—you know what, I'll call it what it is, cheap—and still be able to perform so well across a variety of titles is really something special. On high settings across my standard test suite which includes Assassin's Creed: Syndicate, The Witcher 3: Wild Hunt, Deus Ex: Mankind Divided, Fallout 4, and Grand Theft Auto V, the Palit GTX 1060 Dual 3 GB is able to easily achieve 60 fps gameplay. It even has enough performance to spare for a little more graphics eye candy; useful if you don't have a high refresh rate monitor. While it does dip into the 40 fps mark when loading new scenes or when in far draw distance environments, the stutters don't take too much from the immersion.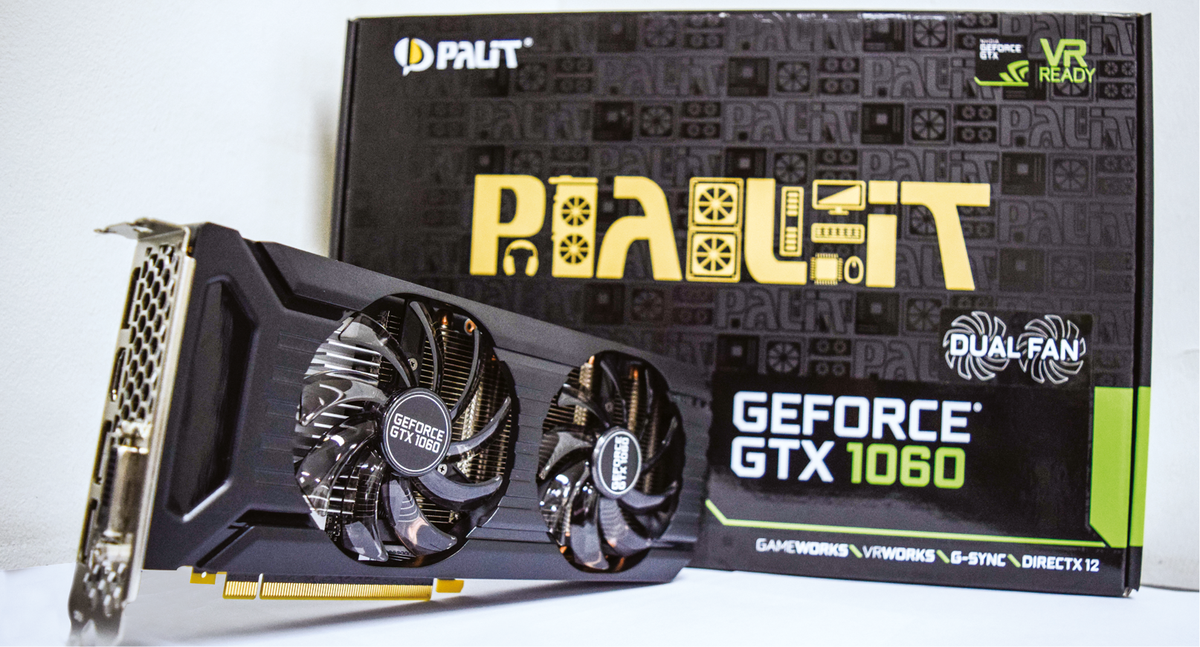 Value 4.0 / 5.0
This dual fan variant of the GTX 1060 is one of the most affordable in the market, retailing for a little under PHP 10,000 for the 3 GB version. What it lacks in flair, it makes up for in where it counts—gaming. If you just want a solid performer and don't care about physical appearances, fancy features, strong overclocks, and brand wars, this card should be your cup of tea.
Bottomline:
The pumpkin spice latte of 1060s.

Also published in GADGETS MAGAZINE February 2016 Issue
Words by Chris Noel Hidalgo