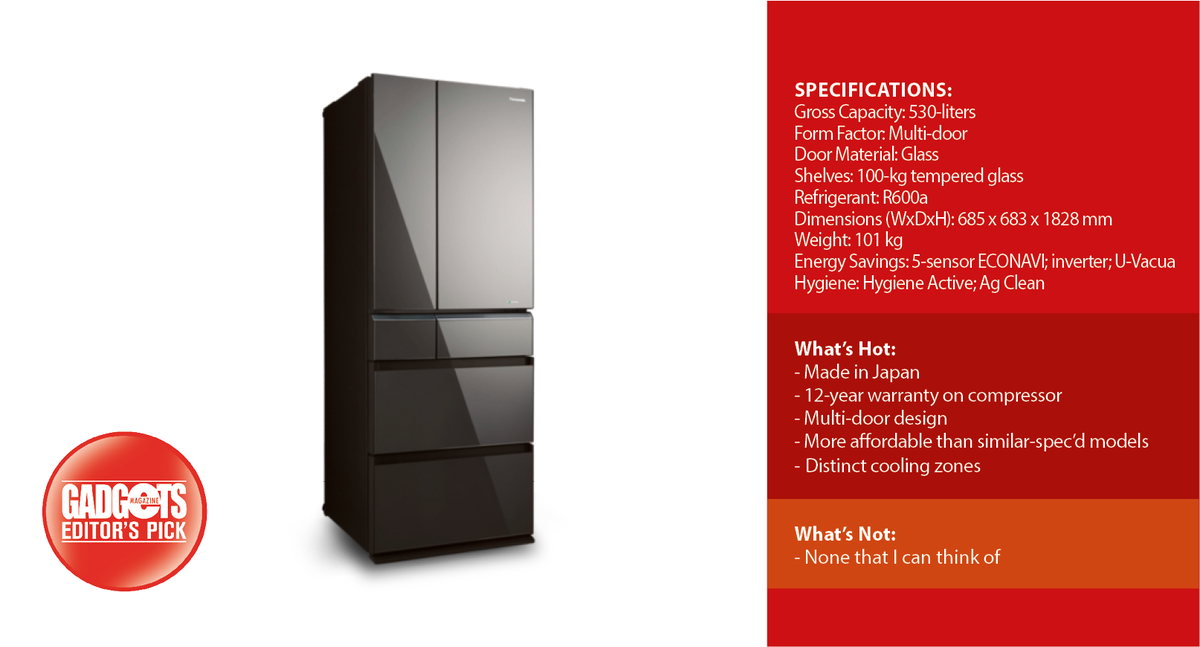 My almost 10-year old Korean-branded double-door refrigerator started acting up a few months ago, and I secretly wished it would breathe its last, as I was so ready to go shopping for a replacement. After a visit to my favorite appliance store, here is the new addition to my kitchen.
Design 4.5 / 5.0
I am a little bit of a neat freak, so I love the six-door design of the Panasonic NR-F510GT, with its full-flat tempered glass front. The top refrigerator compartment is accessible via double doors that allow easy access to a roomy space that can accommodate containers of various shapes and sizes, thanks to adjustable glass shelves. Inside is a special Prime Fresh compartment that lightly freezes the food to preserve freshness.
Below that is the ice compartment to the left, which automatically detects the amount of ice and signals the ice-maker when it's time to replenish. The right drawer is a fresh-freezing compartment that blasts even hot food with super-cold air to preserve the flavor and nutrients.
The next drawer is the freezer compartment that slides all the way out. It has a divider that allows convenient storage of taller items, and a sliding tray for smaller items. This design is echoed in the bottom drawer, which is allocated for vegetables and fruits.
Hardware 4.5 / 5.0
The secret to the Panasonic NR-F510GT's multi-door design is the location of its compressor, found at the top of the unit, instead of the usual bottom location. A microprocessor detects inside temperature in the different zones, while inverter technology adjusts compressor rotation for efficient cooling.
Each compartment has a designated temperature for optimal food storage. The refrigerator is set to approximately 3~6oC, the Prime Fresh compartment at -3~2oC, the ice box at -20~-18 oC, the Fresh Freezing drawer at -19~-17oC, the freezer at -20~-18oC, and the vegetable compartment at 3~8oC.
Intelligent sensors, collectively called ECONAVI, monitor ambient temperature, fridge door opening, internal temperature, and even the amount of food stored. These inputs are then used to decide when more cooling power is needed, thus avoiding excessive and unnecessary cooling for more energy savings.
Another hidden technology that adds to energy efficiency is the use of Panasonic's proprietary U-Vacua, a vacuum insulation panel that delivers outstanding refrigeration performance in a thin design.
Hygiene Active technology consisting of a silver-coated filter and blue LED light to eliminate airborn bacteria for safer, longer-lasting food storage.
User Experience 4.5 / 5.0
The thoughtful layout of the various storage compartments with its specific temperature settings for specific types of food makes the Panasonic NR-F510GT a dream for neatniks. With white LED lighting and transparent shelving, it's easy to keep track of what's in the fridge. Shelves are adjustable as well as foldable so even tall items can be accommodated.
For those who absolutely must have ice-cold drinks, all you need to do is keep the supply tank filled with water. Ice is automatically made in a little over an hour, and stored in its own drawer.
Do you have leftover rice in your rice cooker? No need to cool it down, you can just transfer the hot rice into a container and pop it into the Fresh Freezing compartment.
Have some fresh fish or seafood that you don't have time to cook but want to keep at their best condition and not dry out in the freezer? Set the chiller to the Prime Fresh setting and your tuna sashimi is going to retain its fresh flavor.
My yaya loves the lower compartments. All our meat cuts are nicely packed in plastic containers and it's easy to see what's available for the dinner table. Same holds for the vegetable tray. We have our soft drink Litro bottles and juice tetrapacks lined up in its designated area, bulkier items in the lower tray and smaller, and more frequently used ingredients in the upper tray.
The freezer and vegetable drawers are easy to clean as the trays are removable and washable.
Value 4.0 / 5.0
The sticker price on this beauty is Php 89,999 — not the cheapest, but reasonably-priced when compared to other models with similar specifications. I'll let you in on a secret. Do your appliance shopping near the end of the month, and always ask the salesperson if there is a special promo on the item, or if his supervisor can offer a special deal. The amount swiped on my credit card was Php 70,000, not a bad deal at all for a feature-packed, premium Made-in-Japan item with a 12-year warranty on the compressor.
Bottomline:
I think I can happily live with this beauty in my kitchen for the next 12 years.
Also published in GADGETS MAGAZINE March 2017 Issue
Words by Maribelle Alba