Sony has always been at the forefront of devices that are premium beyond all doubt. One of the latest devices they've graced the market with is the Xperia XZs, and we were lucky enough to spend some time with it. Here's what we think.
DESIGN 4.5 / 5.0
This is one of my favorite things about every Xperia device. Design is something on which they put supreme importance, and it shows. This is a gorgeous phone. There aren't any design gimmicks—no curved screen, second display, or multiple cameras—just an elegant execution of a smartphone in metal and glass. Unlike a lot of other smartphones we have now, the Xperia swaps smooth curves for edges that cuts a sharp, unique profile that I do find quite appealing. It's uncluttered, and unmistakably Sony. So points to them for keeping their design identity intact.
It's also surprisingly thin. While it's not the thinnest mobile phone in the market, the height versus the thickness makes it appear slimmer than it actually is. It's a clever trick, and one the makes the device that much more appealing. This ticks all the right boxes for me: great materials, simple lines, and a premium feel overall.
HARDWARE 4.0 / 5.0
The XZs might have been launched late last year, but the hardware remains solid to this day. IP68 certification means it stands up admirably to dust and water ingress. The screen, a 5.2-inch affair, is just the right balance of size and pocketability, though the top and bottom bezels do add a little more height that could have been achieved. The screen is a 1080 x 1920 Triluminos deal that is up to Sony's exacting display standards.
It runs the powerful Snapdragon 820 processor, with a quad-core processor running at 2.15 GHz on the top end. The Adreno 530 GPU makes short work of graphics tasks, and the internal storage (up to 64 GB) can be bolstered with a microSD card up to 256 GB large. Four GB of RAM rounds it off nicely, and makes sure you have a great user experience. Security is handled by a fingerprint scanner integrated into the power button, so it's both unobtrusive and intuitive, both important points in a device.
The camera is a particular source of pride for Sony. It borrows a lot of tech from their camera line, for some amazing results. Electronic stabilization akin to what they have on their mirrorless cameras, laser autofocus, and a large 1/2.3-inch, 19 MP sensor tip the scales in your favor. Video recording has a super slow-mo feature for anything you need to slow to an absolute crawl.
The battery on this Xperia has a capacity of 2900 mAh, which is a little on the small side on paper, but Sony has a few clever tricks up its sleeve to make the device last the whole day.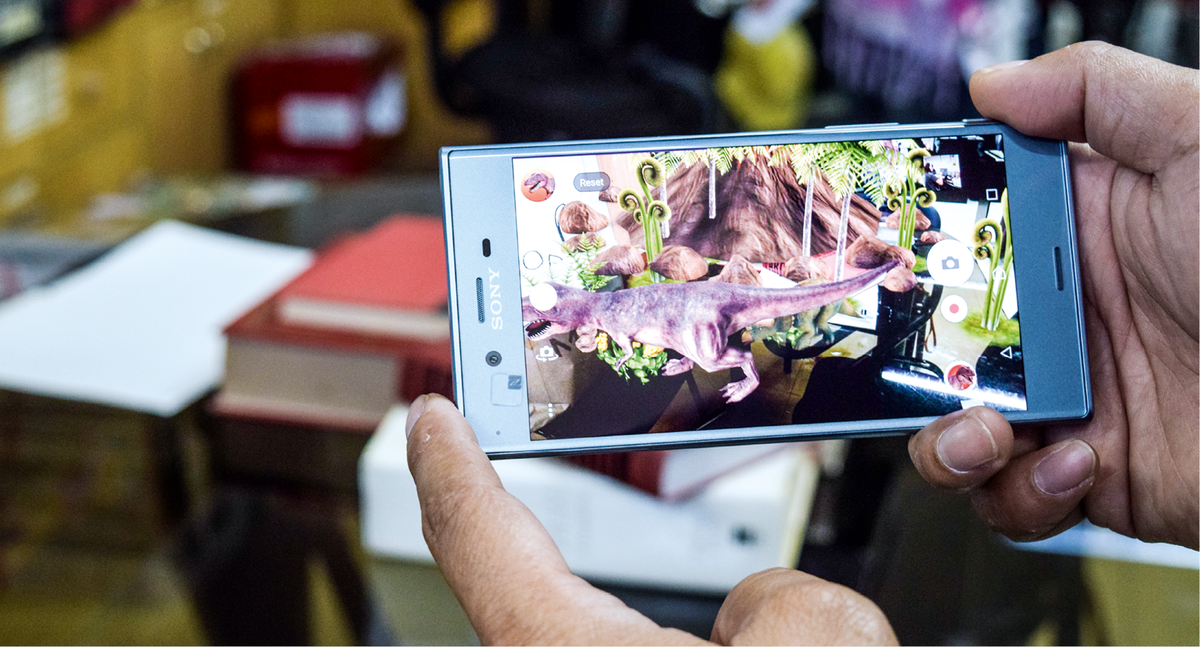 USER EXPERIENCE 4.0 / 5.0
Flagship devices generally all feel the same at this point in time. Everything is fast, fluid, and gorgeous, so it can be hard to tell things apart. Right from its design language though, Sony stands out. Performance is top-notch. While 4 GB of RAM is common this day and age, Sony has software optimizations that take note of the apps you use at certain times of the day, giving them priority over others, and speeding up launch time. This is also one of the tricks they have to stretch the life of the smaller battery.
There are other, more long-term solutions for the battery as well. Apart from fast charging, it also keeps track of charging habits, making sure it doesn't give the phone too much power before you usually unplug for the day. If you have a reasonably new phone with a dead battery, you'll know the kind of frustration and heartache this feature will save you from. I'm pleased to say that yes, the battery optimizations do work, and quite well. Even with that screen, LTE connectivity, and a long day, I would be able to make my way home after a workday, though with not too much power to spare.
The fingerprint scanner, built right into the power button is another feature I think is worthy of note. This way just seems to make more sense to me. Having a single, solid option for waking your device up seems to be much more efficient than having a power button more or less devoted to switching your device on and off. It's a small design thing, but one I really appreciate.
The camera is another amazing feature on the XZs, but that's no surprise. From the speed at which the predictive auto-focus finds the subject, to the consistency with which it keeps focus on it, the whole affair is impressive. The result is, of course, a photo in sharp focus, with predictably superb color accuracy.
A feature on the XZs that we just don't have anywhere else though, is super slow motion. Ever wonder what action looks like at 960 fps? This phone has the answer. I'm warning you right now, you're going to try to shoot everything in slow motion for the first few hours you have this device. Plan accordingly.
VALUE 4.5 / 5.0
Quality, particularly Sony quality, does come with a price. The official price of the XZs is PHP 39,990, which is a little on the steep side for many. There's actually so much going for the device that I wouldn't feel so bad shelling out that much. Before you pass judgement on my statement, give the phone a try, and then get back to me.
Bottomline:
If you want to stand out, and have a great-looking phone to boot, this is clearly the way to go.
Also published in GADGETS MAGAZINE July 2017 issue
Words by Ren Alcantara