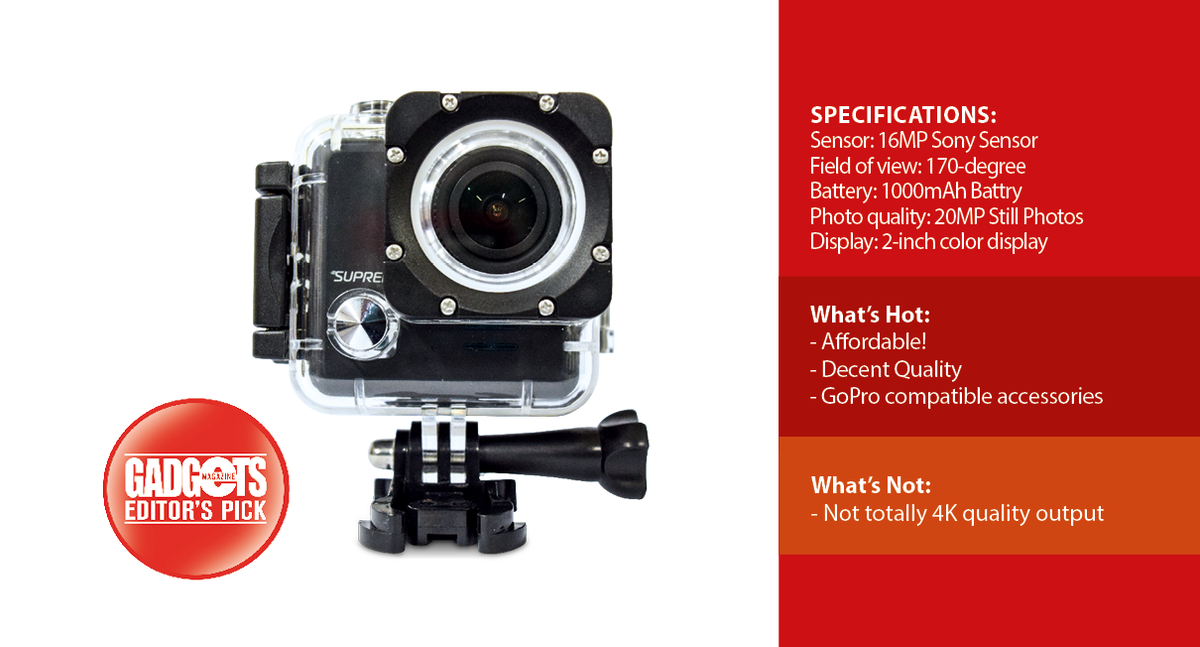 What's life without a little adventure? Everyone needs to go out every once in a while and experience the joy of exploring a new trail, paddling down some rapids, or racing down a steep singletrack. In this world of "pics or it didn't happen" though, some form of visual record of your exploits is nice to have for both posterity, and to find stills of face in the midst of sheer terror. Supremo, one of the challengers for the top spot in the world of action cams, now allows you to do that in glorious 4K.
DESIGN 3.5 /5.0
The Supremo 4K is not unlike other action cameras in the market today. It's narrower than their previous model, looking like a rounded-off square from the front. The lens sticks out from the top right quadrant of the camera's face, and controls are positioned on the top edge and front of the device. There's a slide-out panel to the side which hides the battery, and a removable cover that keeps the ports and microSD card safe.
The case, which is an equally important part of the system, feels appropriately robust. The lock is beefy and positive, the seal is nice and thick, and the body feels tough enough to handle the kind of bumps one might expect an action camera to encounter. The mounting system is the same as basically every other mainstream action camera on the market today, so you'll be spoilt for accessories, though you do get a whole bunch in the box already.
HARDWARE 4.0 / 5.0
The heart of the Supremo 4K is a 16MP Sony IMX sensor that enables the device to capture in (surprise surprise) 4k. The lens, on the other hand, gives the Supremo 4K a 170-degree field of view It also trumps its competitors by coming with a built-in 2-inch LCD, which is something I didn't know I wanted on my action cams. It's powered by a removable 1000 mAh li-ion battery. Ports and outputs include a microUSB port for charging and data transfer, and a mini HDMI port for output. The kit also comes with a wrist remote that allows the user to start recording or take photos remotely.
USER EXPERIENCE 4.0 / 5.0
If you've used any other action camera in the past, getting off the ground with the Supremo 4K should be no problem at all. Pop a battery and SD card in, press the power button, and you're immediately ready to take videos. Should you want to change modes or settings, the process is once again similar to what you would have to do on other action cameras–that is to say, a fair amount of trial and error. The display takes the sting out a bit, but I would suggest getting some practice in before you have a critical need to change settings. Wi-Fi is likewise easy to get going. You'll need to download the included app, hit the Wi-Fi button on the front, connect to the camera, and you're set. The app does have a few issues with stability, and since it's Wi-Fi, you will experience a little lag, but it's usable, if slightly rough around the edges.
Should you want to take videos in more challenging environments, just pop open the included waterproof case, stick the Supremo in, and close it up. You'll have easy access to the buttons thanks to the plungers on the outside, and the clear back still allows you to see what the camera is seeing. If you need to, you can do time lapse videos, all the way from a single frame per second, to one per minute, or 120 FPS slow-motion footage in HD, and 240 FPS in VGA.
An additional feature of the device is car mode, which will let it record in 3-, 5-, or 10-minute clips, so you can make use of the Supremo 4K as a dash cam. This will of course require you to plug in, but it's a handy extra feature that gives the little device even more value for money.
Image quality is perfectly fine, if just a little washed out at times. Details do come out nicely in the 20MP (actually 16MP interpolated) images. Outdoor performance doesn't suffer too much from the washout unless you've got a bright subject in a dark field. Video shot in 4K does have significantly more detail that our other FHD action cameras, but it's not quite as high as what we expected from a 4K device. It's a solid in-between though, and still better than FHD. Nothing to really complain about, given the price.
VALUE 5.0 / 5.0
This is where the Supremo 4K really shines. At less than PHP 4,500, you get a lot of camera. Sure, it's not going to be perfectly 4K, but man, at that price, you really won't have a lot to complain about. This, plus the fact that it's compatible with GoPro accessories is the cherry on top.
Bottomline:
Want an action cam, but on a tight budget, here's the answer!

Also published in GADGETS MAGAZINE April 2017 issue
Reviewed by Ren Alcantara