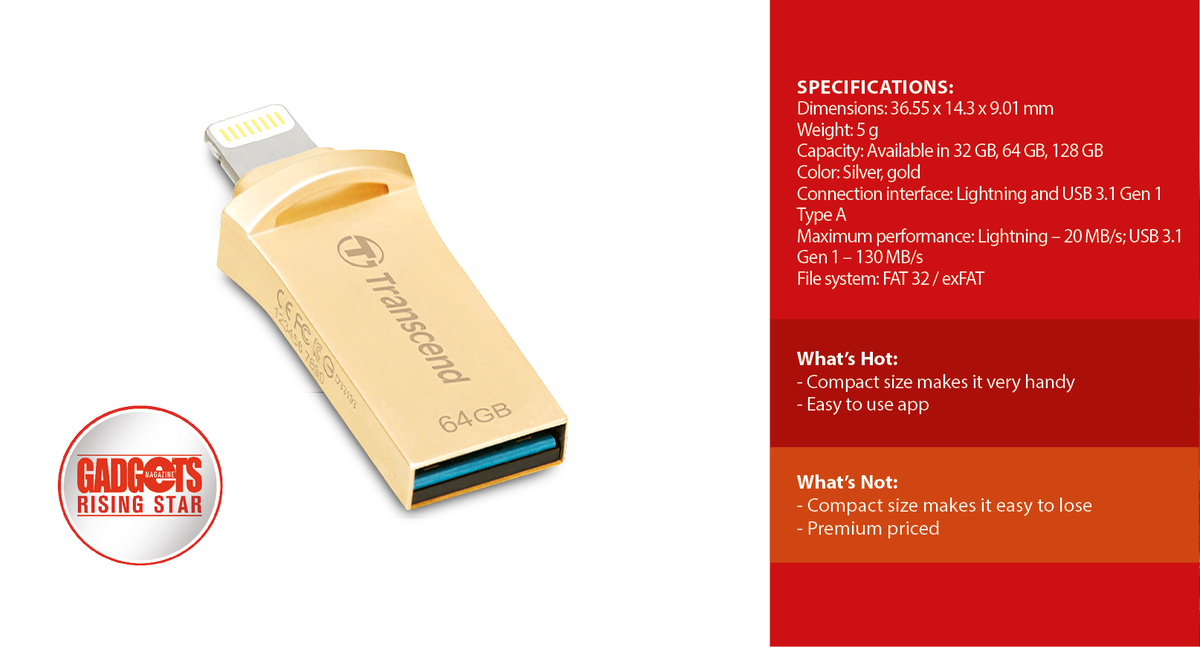 Designed specifically for iOS devices, this USB flash drive gives you additional storage for all those photos, videos, and music that you absolutely must have at your fingertips but are taking up valuable storage space on your iPhone or iPad.
Design 4.5 / 5.0
The Transcend JetDrive Go 500G is a beautiful accessory that perfectly complements the premium Apple iOS devices for which it was designed. One of the smallest MFi certified flash drives available in the market, it measures only 36.55 x 14.3 x 9.01 mm, and weighs only 5 grams. Encased in gold or silver zinc alloy, one end has the Lightning connector and the other a USB 3.1 Gen 1 Type A connector.
The Lightning connector has been thoughtfully extended by 4 mm so you can properly connect it to your iPhone/iPad even when these are in bulky cases. A mini lanyard is also included in the box so you can secure the JetDrive Go 500G to a keychain to avoid losing it.
Hardware 4.0 / 5.0
The JetDrive Go 500G is equipped with the latest connection interfaces, particularly the SuperSpeed USB 3.1 (Gen 1), which supports transfer speeds of up to 130 MB/s. In real terms, it will take only 28 seconds to transfer a 4 GB HD movie. The Lightning connector, on the other hand, delivers maximum performance of 20 MB/s. Available storage capacities range from 32 GB, 64 GB, and 128 GB.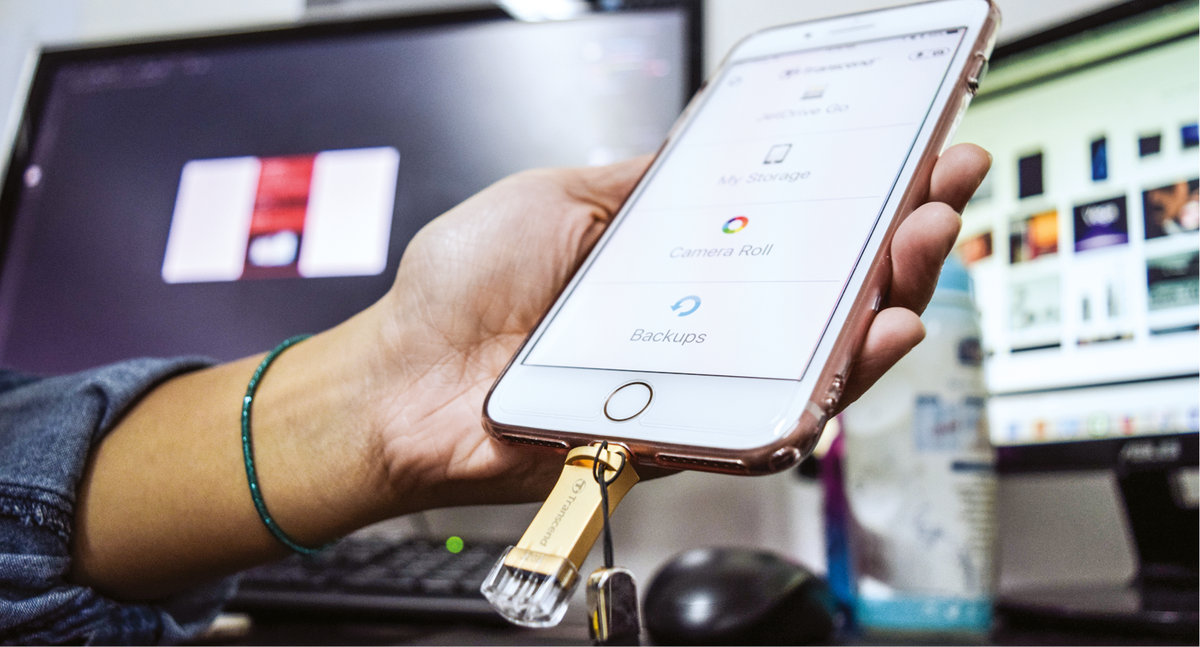 User experience 4.0 / 5.0
You will need the JetDrive Go app to make full use of this flash drive. Each time you insert the device into your iPhone/iPad, you get a prompt asking you to allow the app to communicate with the drive. For added security, you can also set up Password Protection for the drive. A word of caution, though. Don't forget your password; otherwise, you will need to reformat the JetDrive Go to factory settings, thereby losing all your data. If your iOS device supports it, a better alternative would be to use Touch ID to unlock the drive.
With the JetDrive Go 500G connected to your iPhone/iPad and using the app, you can save audio and video recordings as well as photos directly to the drive without taking up space on your iPhone/iPad. You can also perform backup functions for photos, videos, contacts, and iCloud photos.
Files stored in the drive's memory bank can be conveniently shared and viewed even without an internet connection. Also, the dual connectors let you transfer and share files not only with iOS devices but also with computers, laptops, and the like.
For me, the JetDrive Go 500G's strength is also its weakness. It's so compact you can quickly slip it into your purse or loop it into a keychain so you always have it handy. At the same time, though, whenever I use it, I always end up in a tizzy locating it as it's so tiny it can be easily overlooked.
Value 3.0 / 5.0
The Transcend JetDrive Go 500G is listed at PHP 6,500 for 32 GB model and PHP 8,500 for the 64 GB version. Even discounted at some online sites, the pricing is still rather steep—I'm not sure I want to pay that much for a tiny device that I might easily misplace.
But, if you can find enough reasons to justify the expense, this is a very useful and beautifully-designed accessory to complement your iPhone or iPad.
Bottomline:
Never leave home without it.
Also published in GADGETS MAGAZINE February 2017 Issue
Words by Maribelle Alba