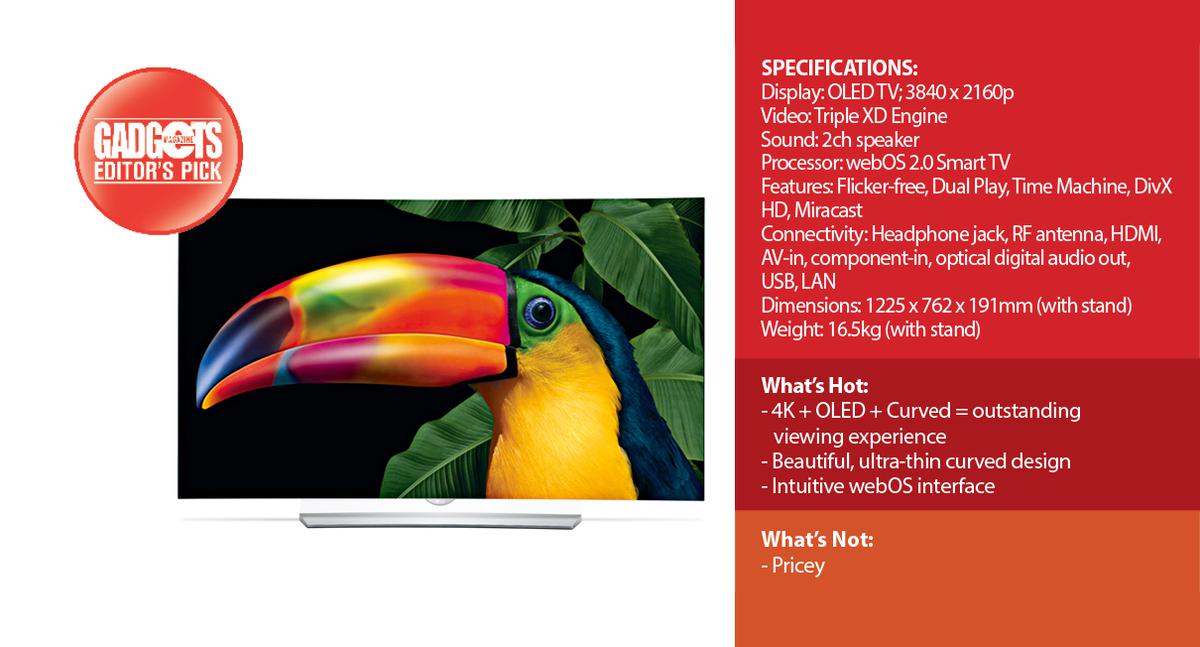 The world's first curved 4K OLED TV from LG has earned accolades as the "King of TV" at the 11th Annual Value Electronics TV Shootout 2015 during CE Week, and the Best Product 2015-2015 in the European Home Theater TV category during the European Imaging and Sound Association (EISA) 2015 awards. We learn more about its winning ways at the GadgetsLab.
Design: 4.5/5
LG makes beautiful, airy curved TV designs that seem to float on air, and the 55EG920T is no exception. The super-slim screen—barely three credit cards thin—blends art form with technology, and makes this a great focal point
for whichever room it graces.
The curved screen is almost edge-to-edge, with hardly any visible bezel, so nothing distracts from the ultra-HD view. The TV frame "floats" on a clear plastic stand assembly supported by a curved metal base.
Right in the middle of the bottom edge of the screen are the remote/intelligent sensors, as well as a joystick button that you can use to operate the TV, in case you lose the Magic Remote. LG has designed the latter to resemble and work like a game controller by pointing, scrolling, and clicking at on-screen menu options.
At the back on the left side are usual connectivity interfaces, including USB and HDMI ports.
Hardware: 4.5/5
The 55EG920T boasts 4K Ultra-HD resolution which, at 3840 x 2160p, delivers four times the detail and clarity of a Full-HD TV with just 1080p resolution. It also features OLED screen technology, which utilizes self-illuminating pixels, producing color quality that is superior to ordinary, back-lit LED screens. With OLED, each pixel turns on/off individually, so you get vivid, lifelike colors. Finally, it has a curved screen that delivers a more natural field of vision with no distortions from different viewing angles.
Individually, these three innovations—4K UHD, OLED, and Curved—could be considered outstanding features; put them together in a single television unit and you get the award-winning 55EG920T.
User Experience: 4.5/5
LG's webOS 2.0 interface is simple and intuitive—in most instances, all you need to do is point the Magic Remote at the screen, scroll through the options, and click on your choice. Connecting it to my home network was a breeze, and it instantly recognized my media devices. The webOS launcher conveniently lets you navigate through apps, connected peripherals, etc., without having to leave the current screen.
Personally, the LG 55EG920T is for me, the best TV I've reviewed so far, with supremely clear, crisp images. Colors are natural and life-like, and not over-saturated or too bright. At the same time, you see the nuances of dark colors, without loss of detail and contrast. The curved screen added to the immersive, cinematic experience. I must confess I binge-watched an entire TV series for about 12-hours straight, for the sheer viewing pleasure.
Slightly disappointing is the 2-channel audio setup, a step down from the Harman/Kardon sound system usually found in LG's top-tier models.
Value: 3.5/5
The indicative price, based on online sites, should be between PHP160,000 to PHP200,000—definitely beyond the typical TV budget. On the other hand, it's a price range that may have a niche among premium buyers who want the latest and the best for their homes. The ability to upgrade with the latest software updates ensure that the LG 55EG920T retains its value over time and does not become obsolete. The warranty is 24-months for both parts and labor for worry-free ownership.
Bottomline:
If you're looking for a big-ticket item to bring home this Christmas, this should be on your shopping list.
Also published in December 2015 to January 2016 Issue
Words by Maribelle Alba