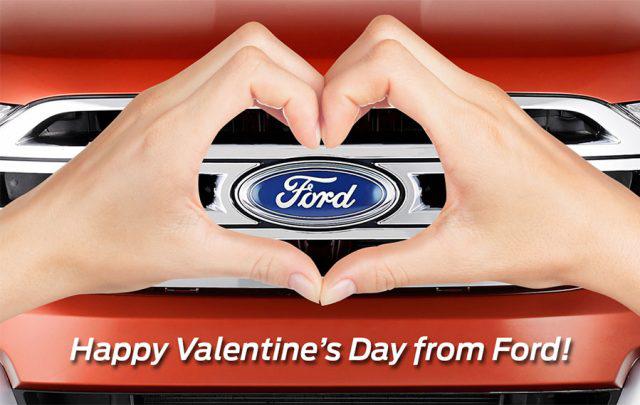 Valentine's Day is still one day away, but since tonight is date night Friday, we're sharing with you some tips from our friends over at Ford on how to keep the romance alive.
Don't be late for your date!
Start your date off on the right foot by arriving on time. Don't keep your date waiting or hungry on this special day!
Set the tone
There's nothing like a love song playing on the background to set the right tone for your Valentine's Day plans, and SYNC®'s Bluetooth streaming capabilities makes that possible. Prepare your favorite tunes ahead of time, then pick up your valentine and sweep them off their feet with the perfect romantic playlist.
Light up the night
Surround yourself with light to match your mood. With Ford's in-car Ambient Lighting, you can choose from seven different colors to light up your cup holders, front and rear foot-wells, console, storage bins, map pockets and front door handles. We recommend red for your Valentine festivities.
Park like a pro
No one wants to look silly or stressed while parallel parking. Thankfully, Ford's Active Park Assist will let you back into that space effortlessly while impressing your date with smooth moves.
Front seat throne
Make your partner feel like a king or queen by adorning their seat with a little something special before you pick them up. Try rose petals if you're feeling extra romantic.
Keep it classy and neat
Make sure you clean out your car before you head out for your Valentine's date – no one feels romantic in a messy environment. Add a spritz of your favorite scent to give your car a personal touch when your date steps inside.
Surprise in the front underseat tray
Got a present for your better half? Hide the necklace, chocolates, or any surprise gift inside the front underseat tray then ask your date for the owner's manual. The surprise will be as great as the gift!
Widen your horizon
Want to switch it up from the standard Valentine's Day dinner date? Grab your sweetheart and head out of town for a scenic drive – use the power sunroof to gaze at stars for that extra romantic night to remember.
Pour your heart out
Nothing says 'I love you' like, well, saying I love you. Don't forget to tell your significant other how you feel!
Don't forget to keep your cool, everybody! Happy Valentine's Day to you and yours!