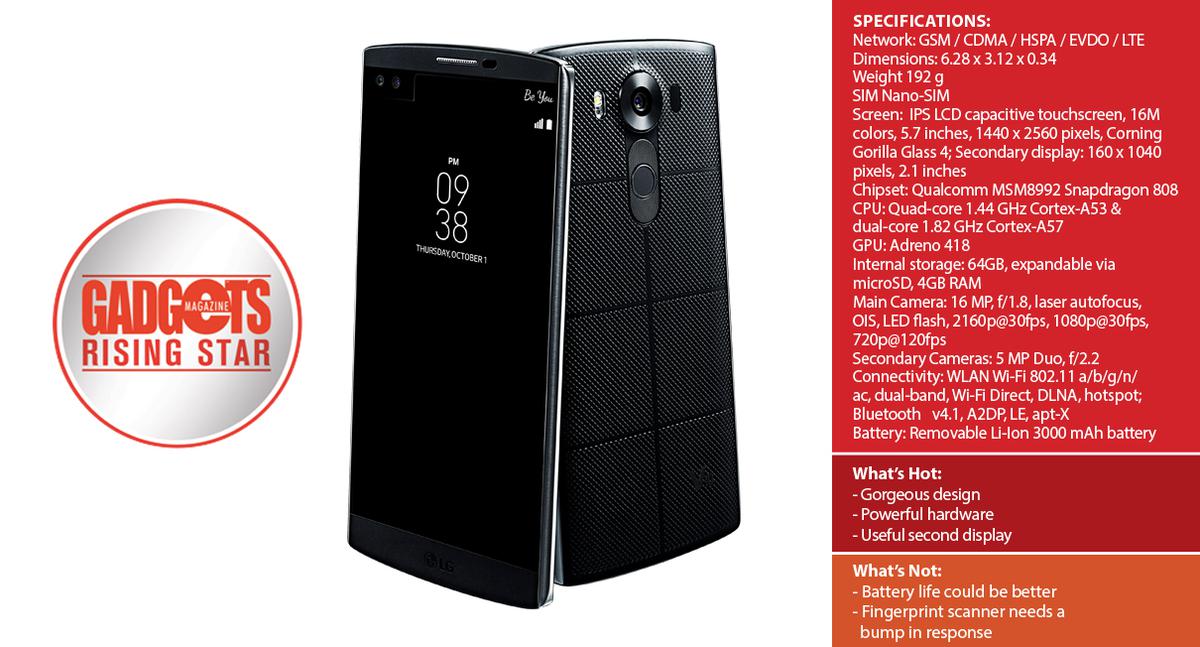 LG has made a statement with the V10. It's clear that for them, there's top-of-the-line, and then beyond that, there's the V10. It's a bold statement, from a manufacturer that has managed to give us consecutive phones that have been excellent flagships in their own right. Does the V10 meet the loft goal, or have they aimed too far up?
Design: 4.5/5.0
Everyone who had gotten the chance to hold the V10 had one thing to say: It's gorgeous. The heavily textured, rubberized back case not only looks incredibly interesting, but also gives superb grip. Clean lines, matte black surfaces with stark, real metal accents make it look premium in a way not even LG's already extremely posh G4 pulls off. It's wonderfully thin, with appropriately thin bezels, made to look even thinner by the metal frame on either side of the large screen. Buttons are all on-screen, helping the phone look even sleeker. Despite the thinness of the device, it does pack quite a bit of heft—curiously more than you would expect from a phone its size.
If you take nothing else away from this section, this phone is easily the most premium phone I've held in a while, and I do go through a lot of phones. Just holding it makes me feel like a CEO.
Hardware: 4.0/5.0
The V10 has specifications more than fit for a flagship device. It runs the Qualcomm Snapdragon 808 chipset, has a quad-core 1.44GHz processor coupled with a dual-core 1.82GHz processor, plus 4(!)GB of RAM, and an Adreno418 GPU. It's a monster or a phone, which it has to be to outpace the G4 of last year.
The display is a 5.7-inch deal, with a resolution of 1440 x 2560 pixels, for a pixel density of about 515ppi. It's an IPS LCD panel behind Corning Gorilla Glass 4. The phone is MIL-STD-810G certified-shock resistant, and should hold up well to the bumps it's bound to face in daily use.
Imaging is handled by a main 16MP camera with laser auto-focus, OIS and an LED flash, with two 5MP front cameras, one being fish-eyed, to make sure everyone (and everything) fits into your selfie. Photos and other media can be stored on the V10's 64GB of internal storage, and if that's not enough, you also have an SD card slot for even greater space.
It has a 300mAh battery, and supports quick charging, for a 50 percent charge in 40 minutes of charging.
User Experience: 4.0/5.0
There are devices that make you feel awesome just holding them, and the V10 is one such phone. The heft, build materials, and how serious it looks lend to how nice the overall package is. That alone accounts for a fair bit of why I like the phone, though it's far from the only thing.
The speed at which the phone does things is something I appreciate as well. From starting up, to flipping between different apps and launching them, it's a very pleasant experience that is easily one of the faster ones available in the market right now. It's as much a testament to the hardware as it is the software, but the extra muscle doesn't hurt, I'm sure. You don't really know how much you're missing until you get to use a device that does exactly what you want to do, when you want it to. Switching from Chrome, to FB Messenger, to Inbox, and the SMS app is practically instant when it's recent, and even when the app has been idling and pushed back, the wait time isn't all that long.
Another solid feature of the phone is the camera. The main snapper is the same as the one as the LG G4, which we already know is amazing. What sets the V10 apart is the extra front-facing camera. The second camera on the V10 gives a wider field of view, so if you have any trouble fitting your whole crew into a shot, this should solve that problem easily.
A feature I didn't think I would funs useful but actually really appreciated was the V10's much-touted second screen. The small strip of a display sits above the main screen and stays on unless the V10's screen is in a pocket or bag, or its front light sensor is otherwise blacked out. When locked, the screen gives you access to a few vital apps such as the camera and calculator, or personalized text, just for flavor. When unlocked, it gives you notifications, as well as user-defined shortcuts to apps. Notifications are a great boon on the small screen. A quick glance lets you know whether the alert is important enough to make you pic the phone up, or trivial enough to ignore for the time being.
The V10 isn't without its shortcomings though. The fingerprint sensor, which is really quite useful, is just a little slow for my liking. It's not slow in an absolute sense, but there's a noticeable beat between pressing the power button and the screen going to unlocking. It's not enough of a lag for me to disable the function altogether, but it's definitely there.
The battery life is also a little on the short side. While it does have quite a large battery, at 3,000mAh, the large screen and beefy processor means it burns through its reserves relatively quickly.
Value: 3.5/5.0
With a sticker price of about PHP 37,000, the V10 is by no means cheap. It's fast, sleek, powerful, and has a few features not available on other devices right now, but there are others out there that are about at par with the V10, at a lower price point. Still, if you have the money around, this isn't a bad way to spend it at all.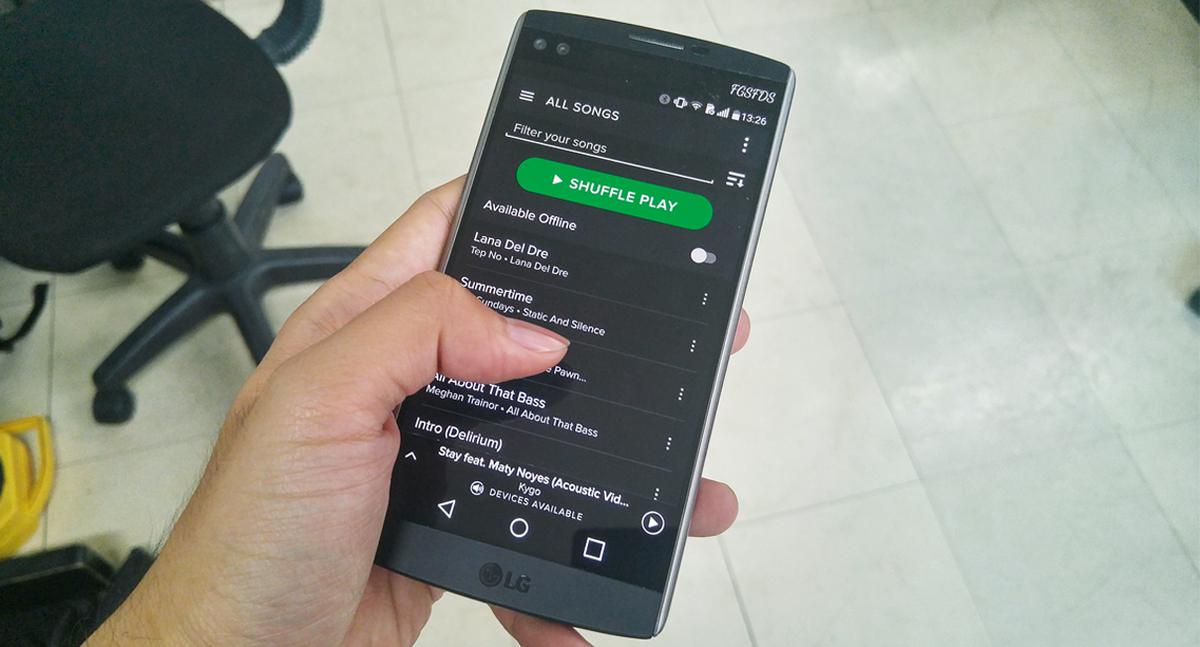 Bottomline: 
If you want premium, with specs to back it up, this is your phone.
Also published in February Issue 2016
Words by Ren Alcantara