Looking to get a not–so–costly upgrade to your tattered smartphone? This Samsung entry-level newcomer might just be the perfect phone for you.
Design: 3.5/5
At first glance, you can tell right away that the Galaxy J2 Prime is a Samsung phone. It sports the same boxy form factor that is reminiscent of members of the Galaxy line of devices. Part of the Samsung lineup aimed towards the young and socially active, the J2 Prime is filled with various features you'd take delight in.
The J2 Prime flaunts as 5-inch qHD display on its front, along with its 5 MP front camera and home button flanked by two capacitive keys. Its sides are home to a power/lock button, volume rocker, and audio jack port and micro-USB ports. Flipping it on its back reveals its 8 MP camera with flash and speaker grilles. Pop its rear cover open and you'll be greeted by its removable battery along with its SIM and micro-SD card slots.
Hardware: 3.5/5
This entry-level smartphone comes with basic smartphone components, but it's no slouch. Under its hood is a Mediatek quad-core processor that clocks in at 1.4 GHz and works in tandem with 1.5 GB of RAM. In use, processes were quite speedy even when multi-tasking. Though, this combination is not meant for graphic intensive gaming.
Its 5-inch qHD TFT display was a pleasant feature for the entertainment junkie like me. Images come out with just the right detail and color punch. Likewise, having LTE support meant blazing fast internet speeds in 4G areas.
What makes this smartphone special is its 5 MP front camera with front flash. They say in photography, finding the light is key. With the J2 Prime's front flash feature, the light follows you. This results to stunning selfies sure to rake in likes on social media.
User Experience: 3.5/5
Using the Samsung Galaxy J2 Prime as a daily driver offered no surprises but it is undeniably a very handy smartphone. The phone runs Android 6.0 Marshmallow but is overlaid with Samsung's signature user interface. I have no qualms here since I'm also a Samsung user, but if you're new to the Samsung ecosystem, it might take some getting used to. Though, I have to say, navigation was very smooth and straightforward.
This smartphone ships with a removable 2,600 mAh battery, which I have to point out is great since you can just purchase a new one instead of buying a new phone when it goes belly-up. The J2 Prime also has an Ultra-Power Saving feature to help you get by in critical situations.
Value: 4/5
The Galaxy J2 Prime offers no frills to stun onlookers but it is a smartphone you'd likely keep for years for its functionality. This entry-level phone retails for only PHP 5,990 and is packed with capabilities such as LTE support, full-HD screen, Android 6.0 Marshmallow, and on top of it all, a front camera with flash.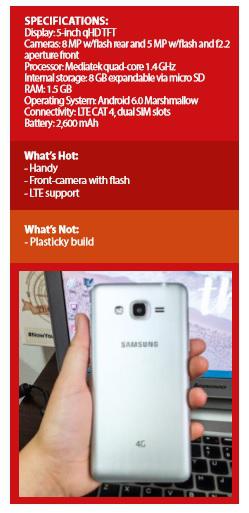 Bottomline: 
It is endorsed by the beautiful Liza Soberano. There's that.