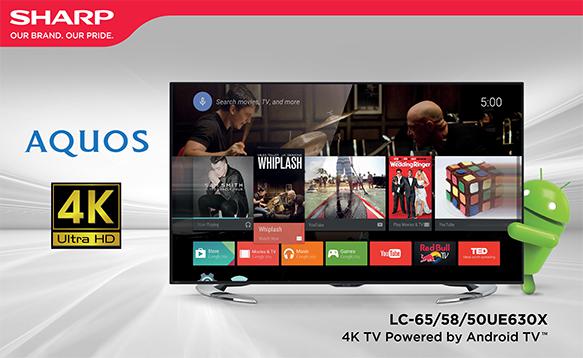 Christmas is just around the corner, and the most coveted gifts of the season come in amazing, larger-than-life packages. Sharp Philippines offers holiday gifts that you and your whole family can enjoy with its premium lineup of AQUOS TVs.
Explore Endless Entertainment with the NEW Sharp 4K TV Powered by Android TV
It's the era of tailor-fit entertainment and 4K Ultra HD TV. With the popularity of on-demand services, Sharp customizes the viewing experience in an ultra-vivid way with the new Sharp 4K TV Powered by Android TV™ (UE630X).
The UE630X is Google-Certified.  This allows you to search thousands and thousands of movies, TV shows, and YouTube videos in the easiest and most convenient manner possible. You can also easily access all your favorite Android apps and games from the Google Play Store. Immersing in a wide variety of Android games through the new UE630X is easy as it comes with its own gamepad for better controls.
The UE630X is the perfect gift for film buffs, TV show addicts, video gamers, and anyone who deserves the best this Christmas. It is available in 50", 58", and 65" models.
Next-level Smart TV with the LE360D3 and new LE570X
The Philippines is gearing up to for digital terrestrial broadcast in the years to come.  For the tech-savvy who likes being ahead of the curve, the AQUOS ISDB-T TV (LE360D3) is the perfect gift.  It is the first in the Philippines with Emergency Warning Broadcast System (EWBS) and Broadcast Mark-up Language (BML), both of which allow your TV to receive quicker emergency warning notification and on-demand information.
Also in the AQUOS lineup is the AQUOS Full HD Android TV (LE570X) which comes pre-installed with  Android KitKat 4.4.  It has built-in Wi-Fi, USB functionality, PC input, and multiple HDMI terminals, so you can enjoy all your favorite content in Full HD glory.
The LE360D3 is available in 70", 60", 40", and 32", while the new LE570X comes in 55" and 50" sizes.
Go big at home with the LE960X and LE760X
Give someone the biggest surprise of the season! For larger-than-life entertainment, the Sharp AQUOS Quattron Pro (LE960X) and Sharp Big AQUOS (LE760X) are the next best things to a silver screen.
Available in 70" and 80" models, the LE960X redefines home entertainment with jaw-dropping 3D images in Full HD resolution. It is powered by the patented Quattron Pro engine, which delivers gorgeous high definition equivalent to 4K. The LE960X also comes with built-in Miracast, which allows for wireless mirroring from mobile screens.
The 90" LE760X is another great option for setting up your very own home theater with Full HD resolution, built-in Wi-Fi, Internet TV, Clear Picture Processing, and AquoMotion Technology.
Make it a big, smart, future-perfect and merrier Christmas by giving that special person one of these Sharp AQUOS TVs.
Sharp AQUOS TVs are available at all leading appliance stores nationwide, with pricing that starts from PHP 17,998. Visit www.sharp.ph or www.facebook.com/SharpPhilippines and Instagram at @Sharp.PH to discover how your holidays can be filled with larger-than-life entertainment.