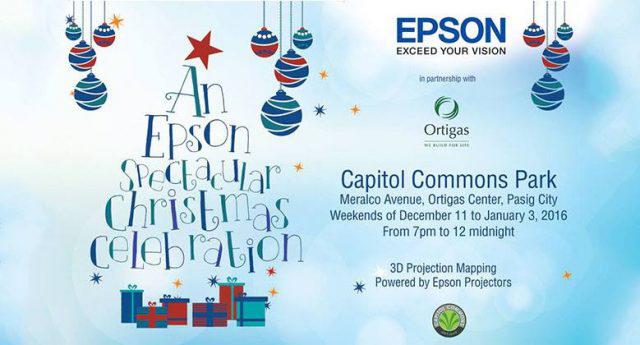 As a way of saying thank you to the people who helped it become the world's leading projector brand for 14 straight years and the country's number one last year, Epson Philippines Corporation (EPC) is holding "An Epson Spectacular Christmas Celebration" through a free 3D projection mapping show.
Held in partnership with Ortigas & Company, the show takes place at Capitol Commons Park, Ortigas Center, Pasig City every Friday, Saturday, and Sunday until January 3, 2016. The country's first local 3D projection mapping effort is free for public viewing every 30 minutes from 7:00PM to 12:00 midnight during the said weekends.
"This is our first time to hold this kind of activity, and it's all about giving back to the Filipino people. We want to bring back the good old memories of watching a street Christmas show like the ones we used to see in Cubao at the COD mall facade when we were still kids. We also want to treat today's children with a different kind of entertainment—a special kind of wonder they can only get during the Christmas season," said EPC product manager Lyn Lizarondo.
Making the whole exhibit possible are Epson's high brightness projectors with accurate colors, high contrast, and sharp throw. Specifically, the show utilizes a combination of models from the EB-Z11000 series with 11,000lm of white brightness and ability to automatically correct for geometrical imperfections of the projection surface; the beyond Full HD EB-Z10000U with 10,000lm of brightness; and the EB-Z9000 with seven interchangeable lenses.
"Image quality has always been of very high importance for us," said Siew Jin Kiat, general manager, Epson visual instruments division. "As such, we are focusing on providing high brightness and high color brightness projectors that come with a wide array of installation options. With this new range of large venue projectors, we've provided our customers with the highest quality images delivering vivid and sharp colours, bringing a whole new level of experience to viewers."