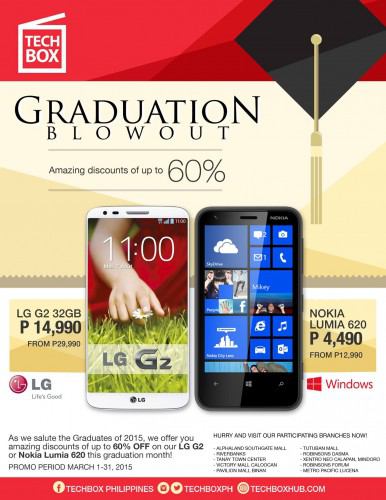 If you're looking for a great gift for someone who has just spent the most part of their lives with their nose buried in a book, Techbox Philippines has just the thing. Just for this graduation season, they're going to be offering 60 percent off on the LG G2, and 50 percent off the Nokia Lumia 620 from March 1 to March 30 this year.
"These days, graduating is a real challenge. The workload is incredible, and the pressure to do well not only on academics but also on extra-curricular activities cannot be underestimated. Those who successfully hurdle all the challenges truly deserve recognition," said Angela Gutierrez, Business Unit Head for Techbox Philippines. "This is our way of celebrating with them," she added.
In case you don't have a calculator, that puts the price of the 32GB LG G2 at just PHP 14,990, and PHP 4,490 for the Windows-powered Nokia Lumia 620.
Head over to www.techboxhub.com for more details!