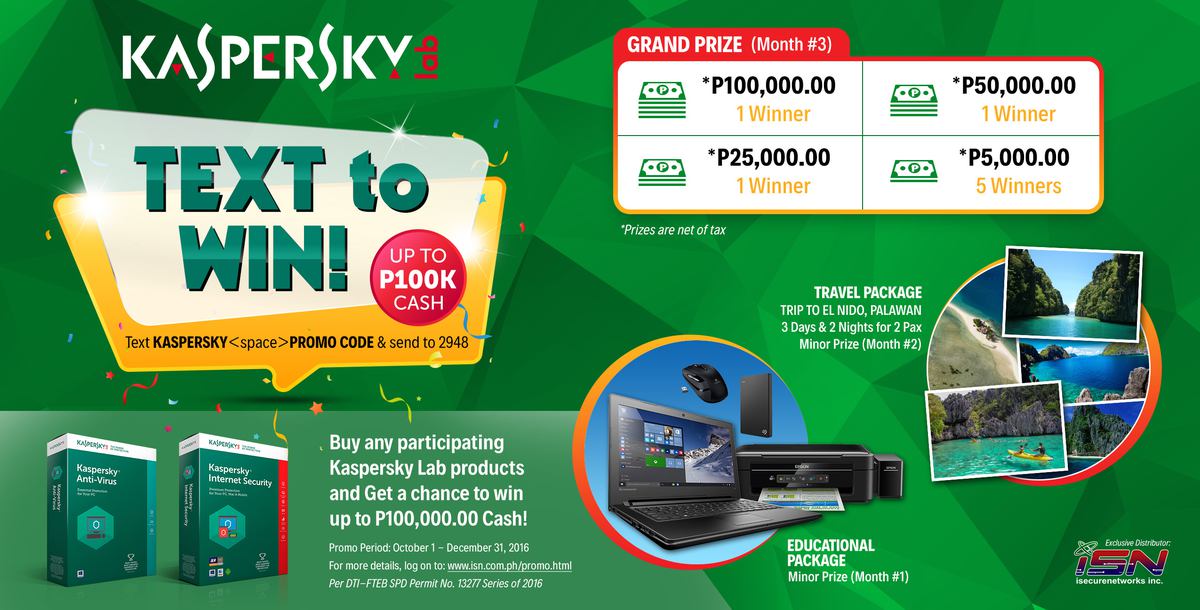 Win PHP 100,000 tax-free just by securing your device in Kaspersky's 2017 Secure and Text To Win Promo.
Loyal consumers of Kaspersky Lab's cybersecurity products are in for an early Christmas treat starting this month until December 31, 2016. PHP 300,000 thousand worth of prizes are up for grabs in this open-to-all Filipinos text promo.
To join, customers must purchase any of the following products: Kaspersky Anti-Virus 2017 (1-User and 3-User) and Kaspersky Internet Security (1-User and 3-User). Every purchase is equivalent to one (1) raffle entry.
Register and Submit Entries
Each Kaspersky Lab product comes with a promo code printed on the Licence Activation Card. This system generated code can be used to join the promo in three ways.
First is via short messaging services or SMS where a customer must first register by texting KASPERSKY REG name/age/gender/address/dealer's name/location to 2948. Registration is only done once and is free of charge.
After registration, customer can start submitting entries by sending KASPERSKY <space><promo code> to 2948. Participating customer will receive SMS notification confirming receipt of entry. Each message sent costs P2.50 for Globe, TM, Smart, Talk N Text and Sun Cellular subscribers.
All SMS transactions (registration and entry submission) will be acknowledged by 2948 via an SMS reply. A mobile number can be registered to one person only.
The second way to join the promo is via Facebook. Interested customers must first "Like" the Kaspersky Lab Philippine Facebook Page to access the promo tab.
The promo tab will then show the registration form to be filled-up with name/age/gender/address/mobile number/address/email address/dealer's name/location and the raffle entry box to be filled-up with the promo code. Registration and entry sending acknowledgment will be displayed on the site.
Lastly, Kaspersky Lab consumers can also join by registering and sending entries at http://mymegamobile.com/kaspersky/. The promo website has the registration form to be filled-up with name/age/gender/address/mobile number/address/ email address/ dealer's name/location, raffle entry box to be filled-up with the official receipt (O.R.) number, and promo mechanics (prizes, draw dates, and other promo related information).
Registration is done only once and a promo code can only be used once. All promo gateways are integrated to single database (SMS, Facebook, and promo website), thus it can automatically detect non-unique registration.
Draw Dates and Prizes
Kaspersky 2017 Secure and Text To Win Promo is divided into three draw dates: November 04, 2016; December 05, 2016 and January 04, 2017.
The first month beginning October 01 to October 31, 2016 will have one winner of PHP 50,000 Education Package which will include a laptop, a hard drive, a mouse and multi-function Wi-Fi with ink tanks. Deadline of entries for this draw is at 11:59 PM of October 31.
The second batch of prizes will come from entries sent beginning October 01 to November 30, 2016. Prize for this package is a PHP 50,000-worth Travel Package to El Nido, Palawan for two. Entries sent until November 30 will be deemed valid.
Grand cash prizes will be drawn on the third month with the cut-off period of October 01 to December 31, 2016. There will be 5 winners of PHP 5,000, one winner each for PHP 25,000, PHP 50,000 and PHP 100,000.
Winners may win only once per draw date. He/she will automatically get the prize of higher value, should his name be drawn more than once in a draw date. All raffle draws will be held at 3F Media Resource Plaza, Mola Cor. Pasong Tirad Sts., La Paz, Makati City.
Winners will be notified through a registered mail and a phone call. Metro Manila winners may claim their prize at Unit D. 189, E. Rodriguez Jr. Ave., Libis, Quezon City. Provincial winners prizes will be sent via courier service.
Kaspersky Lab is the world's largest privately held vendor of endpoint protection solutions. The company's comprehensive security portfolio includes leading endpoint protection and a number of specialized security solutions and services to fight sophisticated and evolving digital threats.
With enhanced security features, Kaspersky Lab's Anti-Virus 2017, and Internet Security 2017 are well-equipped with the latest measures that better protect users and those they value against the escalating threats present online.
This promo is available at participating stores nationwide. This offer is per DTI-FTEB Permit No. 13277 Series of 2016.
For more promo information, please visit www.isn.com.ph/promo.html.