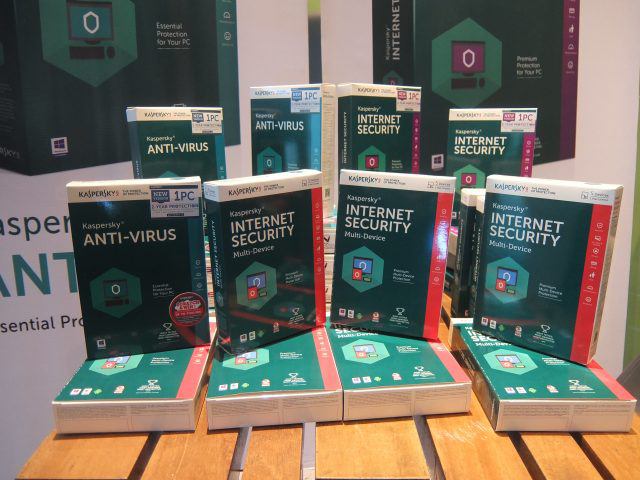 With the advancement of tech and the Internet, security fortification in devices has been the focus of manufacturers as more and more wicked minds begin to shift their interest in breaking their way in this thriving market. Kaspersky Lab has always been at the forefront of trustworthy security solutions and continue to improve their products to keep users away from the prying eyes of cybercriminals.
To combat virtual foes and protect its users' private information, Kaspersky Lab has just unveiled its newest set of security solutions equipped with enhanced privacy features to deliver top-class security without slowing your device down. The Kaspersky Internet Security (KIS), Kaspersky Anti-Virus (KAV), and Kaspersky Internet Security – Multi-Device (KIS-MD) are developed with various technologies to protect what matters most to its users: privacy, data, identity, money, and the devices where the softwares are installed.
Kasperky Lab's newest consumer security suite come with features such as Private Browsing, Change Control, Privacy Cleaner, and Webcam Protection.
Private Browsing
We all know that we give out more information than what we think we are giving when we sign up for social networking sites or just by merely browsing the net. Social networks, advertising, and analytical agencies access our browser activities, locations, search history, and whatnot, and resell it, thus the contextual ads that randomly pop up in our browsers.
The Private Browsing feature removes such data from the Internet traffic and reports any blocked requests to the user via a dedicated plugin. It also does more than preventing users from being identified via cookie files, or warning sites that it does not wish to transmit data that could track users; it makes sure that this type of data will not leave the device.
Change Control
Additional extensions are commonly incorporated on the user's device without them knowing that such as a freeware was installed. This could affect the performance of the browser, change the default search engine, install harmful plugins, and slyly modify network and system configurations without the device owner's consent.
Change Control detects any process attempting to introduce such changes, reports that to the user, and asks for the process to be permitted or blocked.
Privacy Cleaner and Webcam Protection
On top of all the aforementioned security features, you also have an updated Privacy Cleaner tool which helps remove all traces of user activity from a Windows computer.
The Webcam Protection feature, on the other hand, helps prevent the interception of images from the webcam. It notifies the user when it is accessed by legitimate applications and enables you to block all access to the camera.
Change Control, Privacy Cleaner, and Webcam Protection features are only available in the KIS and KIS MD versions. Meanwhile, you have all the essential protection against all types of malware in KAV.
All Kaspersky Lab's flagship home products come with simplified management across devices, include free automatic updates and upgrades, and can be accessed remotely via a MyKaspersky account.
These security solutions can be installed on platforms: Windows, OS X, and Android. Users of the KIS-MD can install the license on up to five devices. The suggested retail prices of the products are as follows:
KIS (1 user) – PHP 990
KAV (1 user) – PHP 760, (3 users) – PHP 1,420
KIS-MD (1 user) – PHP 1,980
All Kasperky Lab products are now available in all leading IT stores nationwide.