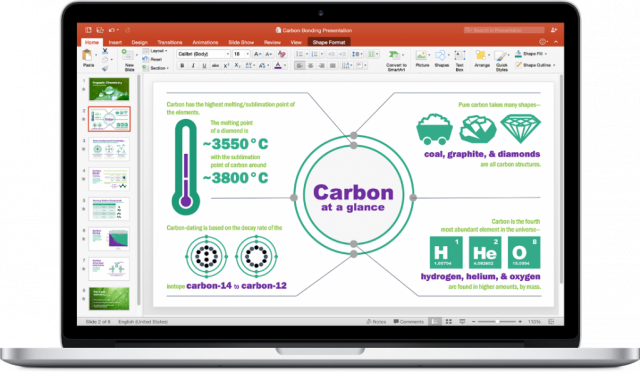 Mac users will be delighted to hear that Micr­osoft's Office 2016 for Mac is now available with the latest versions of Word, Excel, PowerPoint, Outlook and OneNote, in 139 countries, including the Philippines.
Office for Mac promises users the familiar Office experience with the integration of Mac capabilities such as Full Screen view, Multi-Touch gestures, and full Retina display support for sharper- and more vibrant-looking documents.
Word for Mac has the new Design tab that easily applies designer-quality layouts, colors and fonts throughout the document. Users can collaborate on the same document simultaneously and use threaded comments to have a conversation right next to the corresponding text.
Excel for Mac helps visualize information by recommending and previewing charts suited for the data. It has familiar keyboard shortcuts, autocomplete and an improved formula builder, as well as new PivotTable Slicers that help filter large volumes of data and discover patterns.
PowerPoint for Mac sports an improved Presenter View that gives users full control over presenting slides, speaker notes and a timer on the Mac screen, together with the new animation pane that has the latest set of slide transitions for better design and fine-tune animations.
Meanwhile, managing emails, calendars, contacts and tasks is made easier with the new Outlook for Mac that has push mail support and an improved conversation view that automatically organizes inboxes around threaded conversations.
Lastly, OneNote for Mac, the newest addition to Office for Mac, allows users to capture ideas in digital notebooks and access them on any device, as well as find things quickly with the OneNote search engine that tracks tags, indexes typed notes and recognizes text in images and handwritten notes.
Since Office for Mac is cloud-connected, users are able to quickly access and edit documents they've recently used on other devices, and invite other people to collaborate on them through new built-in document sharing tools—all these without fear of losing content or incompatibility with Office on PCs, tablets, phones and online.
To get the newest version of Office for Mac today, all you need is an Office 365 subscription, which includes the rights and access to use Office applications on Mac, Windows, iOS and Android devices, along with additional value in OneDrive and Skype.