Sky Cable Corporation has just launched its new all-in-one subscription plans that allow its subscribers access to high-speed internet, HD cable TV, video-on-demand (VOD), and mobile internet for a price of one.
In today's digital media landscape, this convergent strategy is a move to address the varying content-consuming and internet-browsing behaviour of consumers by delivering a superior and seamless experience across various platforms.
Dubbed "One Sky," the new postpaid subscription plans offer innovative services that include a high-speed SKYbroadband connection, premium HD cable TV viewing via SKYcable, reliable mobile internet via SKYmobi, and its VOD service SKY On Demand bundled into aptly-priced plan packages.
"Convenience is not the key to satisfying consumers. With One Sky, we're simplifying all their needs and freeing them from the hassle of individual subscriptions." March Ventosa, SKY cable chief operating officer said.
One Sky subscription plans start with a bundle of unlimited 8 Mbps or 16 Mbps broadband, cable TV with 10 HD and 31 SD channels, and SKY On Demand at PHP 1,599 and PHP 1,999 monthly, respectively.
Higher subscription plans include 32 Mbps or 64 Mbps unlimited broadband, cable TV with 13 HD channels and 43 SD channels, SKY On Demand, and HBO Go.
Subscribers of any of the plans may choose to add more channels via Select for only PHP 20/month or catch special features on Pay-Per-View. Mobile internet access via SKYmobi may also be added for as low as PHP 499 per month.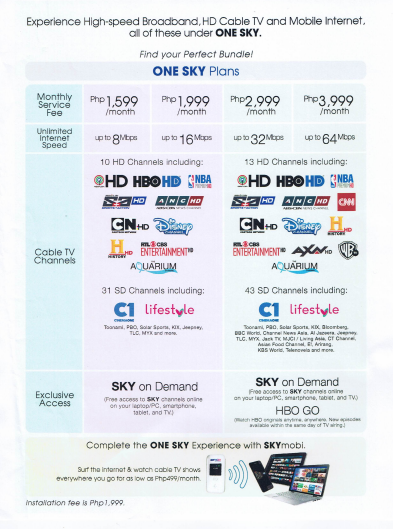 The one-time installation fee will cost subscribers PHP 1,999. This includes a cable modem with built-in Wi-Fi router, and SKY On Demand digibox.
One Sky will be available mid-October for new and existing SKY subscribers in Metro Manila, Cavite, and Laguna. For more information, log on to mysky.com.ph or call 418-000.