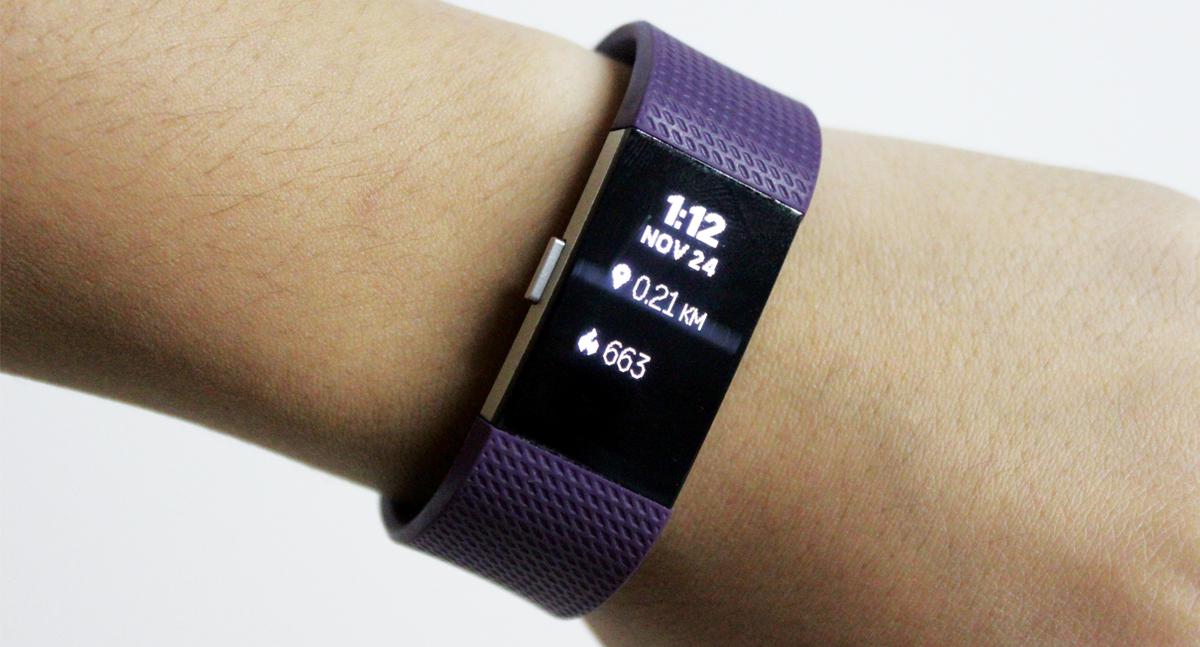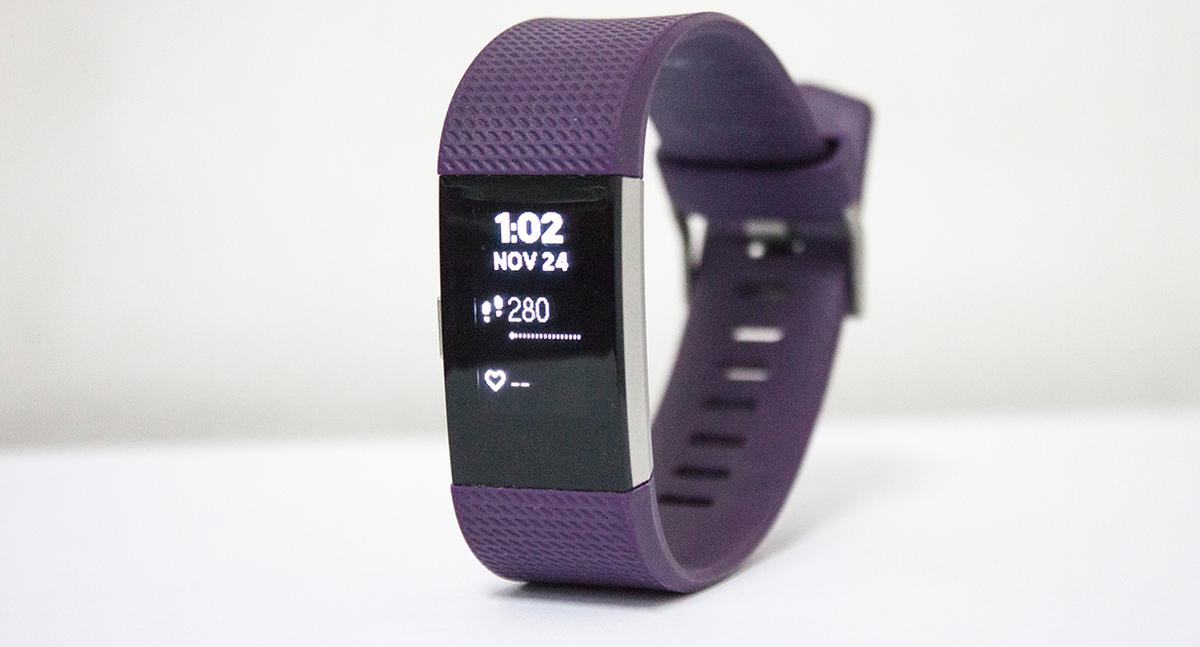 Getting the Fitbit Charge 2 test unit was very timely, as I had recently resolved to embark on a fitness program: waking up early to walk for an hour every morning. Here's how the Charge 2 helped me keep my resolution.
Design: 4/5
In the looks department, the Charge 2 is a stylish yet discreet piece of arm candy that you can safely wear to virtually all occasions—whether you're dressed in sweats for a morning run, or stepping out in that little black dress for evening cocktails.
With the Charge 2, Fitbit improved its bestselling fitness tracker by giving it a bigger display that can be customized from a choice of seven clock faces. The OLED display is not multi-color, and shows only white images/text on a black background. The tracker is encased in a stainless steel body with a button on the left side (instead of the right where a wristwatch crown is usually located). At the back are the optical pulse sensors to measure heart rate, and the 3-pin battery connector.
My test unit came with a plum-colored classic band made of a flexible elastomer material with a stainless steel buckle. A quick release switch allows you to change your band to match your outfit of the day, and you can choose from black, blue, teal, and plum classic bands; or brown, indigo, and bluish pink luxe leather bands.
Also included in the box is a charger cradle that looks like a bull clip with a USB connector running from the back. You literally clip the tracker into the cradle to top up the battery.
Hardware: 4/5
Its predecessor, the Fitbit Charge HR, pioneered continuous heart rate monitoring on a wrist-worn device. The Charge 2 utilizes Fitbit's PurePulse technology, using green LED lights to reflect off the skin and detect changes in blood flow as the capillaries expand and contract with each  heart beat. PurePulse uses the data it measures to track heart beats per minute, and does so continuously.
What else is in there? A three-axis accelerometer and altimeter track motion; Bluetooth 4.0 connectivity links to your smartphone and sends data to the Fitbit app; and a vibration motor allows the Charge 2 to notify you about incoming calls or text messages.
The lithium polymer battery can be fully charged in two hours, and can last up to five days.
User Experience: 4/5
There are two modes of user interaction with the Charge 2. First, on the device itself, you can press the button to cycle through the features/screens. To see more options for each menu item, make a quick firm tap on the screen or near the band (it's not touchscreen). What does the Charge 2 do? In addition to continuous heart rate monitoring, it also tracks your activities the whole day—steps, distance, calories burned, floors climbed, etc. It recognizes when you're exercising and automatically starts recording—whether you're walking, running, biking, etc. It gives you guided breathing sessions, helping you take calming breaths depending on your heart rate. It reminds you to move at least 250 steps per hour. You get call, text, and calendar notifications. And best of all, since you don't need to charge it that often, you can wear it continuously so it tracks your sleep patterns—how many hours you sleep every night and how many times you were restless.
The user interface for the Charge 2 is via the Fitbit app, for both iOS and Android devices. The app provides even more features, like showing your heart rate graph—color-coded to cardio, fat burn or peak—while exercising. Linked to your phone's GPS, the app can also show your route as well as stats like pace and distance.
If you're particularly obsessive about keeping records, the Fitbit app dashboard also allows you to record weight, as well as fluid and food intake.
The one issue I had with the app was that syncing was intermittent and rather slow. I originally installed the app on my Android phone, but experienced the aforementioned syncing issues. I moved the app to my iPhone, where I saw some improvements in transferring data over from the Charge 2 to the app. Having done that, though, I found that the Fitbit app does not integrate automatically with the iOS Health app, so I had to buy a third party app, myFitnessSync, to push my Fitbit data to the iOS Health dashboard. But then again, that's just my OCD issue, so this shouldn't even merit the attention of most users.
Value: 4.5/5
The Fitbit Charge 2 retails for PHP 7,699—not rock-bottom cheap, but a fair price for its functions and features.  The PurePulse technology alone should be a huge plus in the purchase decision.
The Charge 2 is, first and foremost, a fitness tracker, and packs more than enough features and functions to help you reach your fitness goals. Everything else is just gravy.
Bottomline:
Expecting to get rid of some excess holiday pounds? Go ahead and let Santa know you want one for Christmas!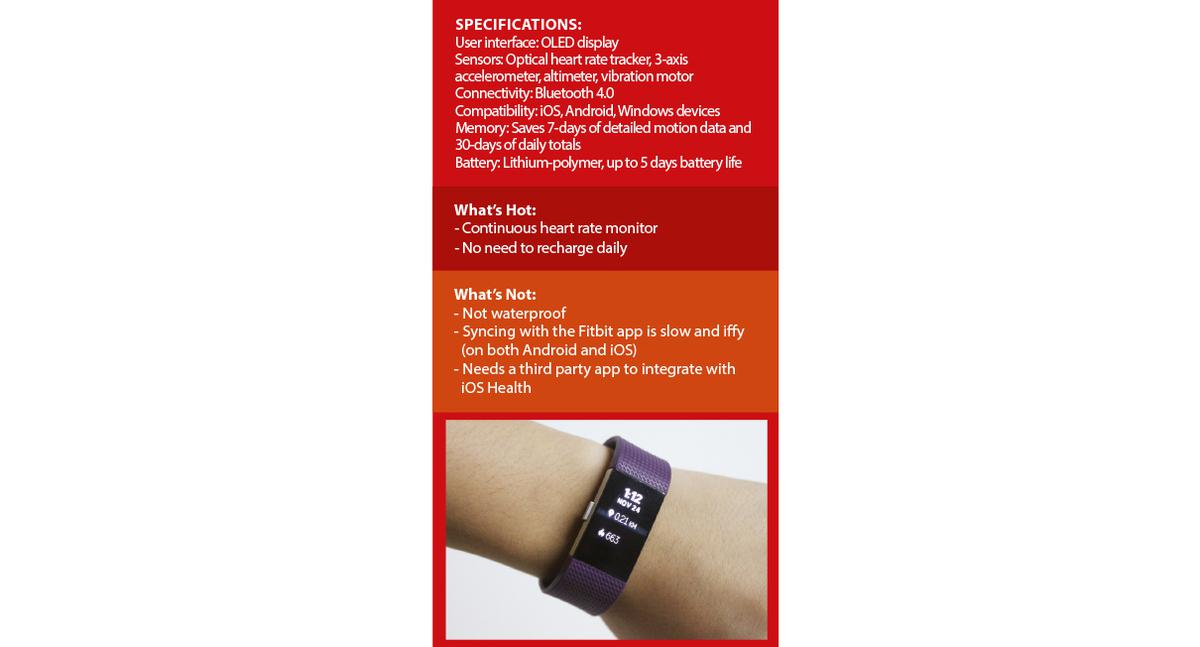 Also published in GADGETS MAGAZINE December 2016-January 2017 Issue.
Words by Maribelle Alba