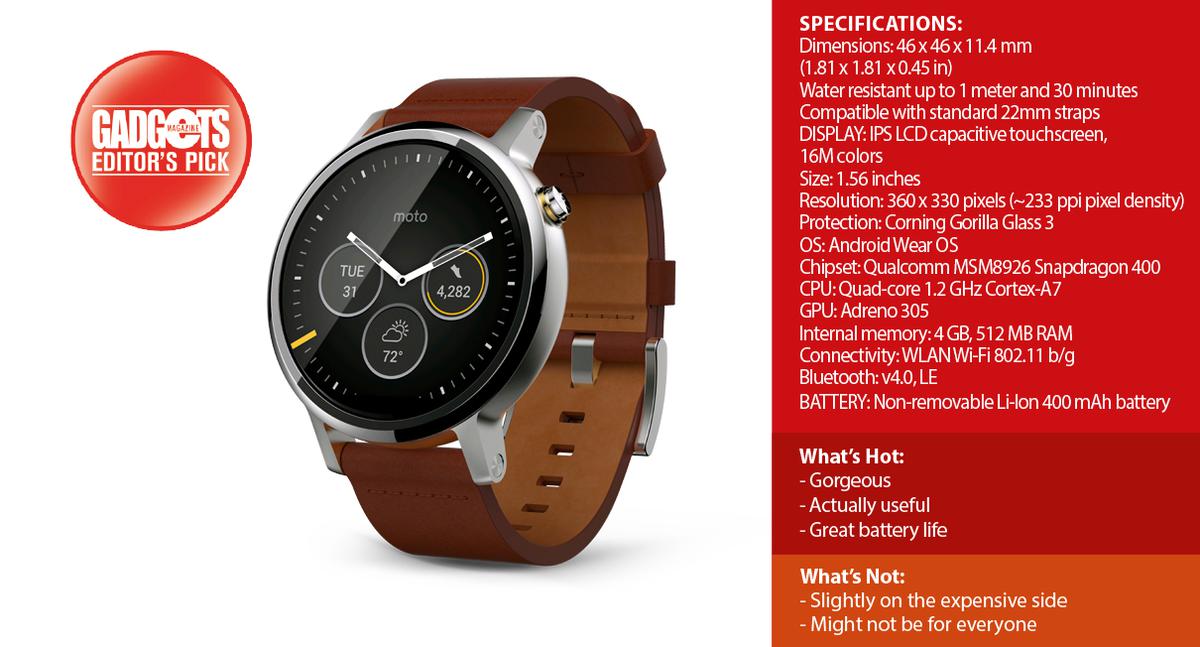 Smart watches aren't anything new, and more than a few have made their way on to our wrists. While they haven't exactly changed the world just yet, I have been wondering if it's only because the right one hasn't come along yet. Moto, a brand familiar to many a techie, has finally made the second generation Moto 360 here in the Philippines, and we were lucky enough to get one to try out. Is this the watch we've been waiting for? Let's find out.
Design: 4.5/5.0
The original Moto 360 was the first smartwatch to sport a round face, and we were very happy to see that the second generation one keeps this design feature. The large, round face, brushed metal case sides, and shiny metal bezel go well with the rich cognac leather strap. If you didn't know it has a display, you wouldn't be faulted for thinking it was an oversized dress watch. In a world where smartwatches are found out primarily because they're square, it's a breath of fresh air, and very pleasantly chic. Silver on brown, with your choice of watch face makes for a statement that whispers "technologically forward" rather than screams it out. Unlike a lot of other smartwatches and wearables, the 360 is wonderfully low-key and it's beautiful for being that way. Apart from a single button on the side of the case, at the two o'clock position, the watch is bare. The leather strap is soft, appropriately wide, and extremely comfortable, with a free-moving keeper to tame the loose end.
Hardware: 4.0/5.0
As far as watches go, the 360 is well-specc'd. It now runs a Qualcomm Snapdragon 400, with a quad-core CPU and an Adreno 305 GPU. That's paired with 512MB of RAM, 4GB of internal storage, and has an IP67 rating for dust, water, and shock resistance. I coudn't find any consistent numbers on weight, but it's about the same weight as the automatic I usually wear on my wrist, if slightly heavier. The 360 is powered by a 400mAh battery, a step up from the previous model's, and necessary for the boost in hardware. It has the typical sensors one would expect from a smartwatch/health tracker, including an accelerometer, heart rate monitor, and ambient light sensor. Wireless connectivity options are Bluetooth and Wi-Fi, so it remains useful even without your smartphone in the area.
The screen is a surprisingly large 1.56-inch display with a resolution of 360 x 330 pixels, for a reasonably sharp pixel density of 205ppi. It's plenty sharp for the size, and users will hardly notice any problems with it. There is, however, a small segment cut out of the bottom of the screen where the light sensor resides. It's not all that large, but if you're particularly obsessive compulsive, it might get on your nerves. Otherwise, you'll absolutely forget it's there in a few days of use.
User Experience: 4.5/5.0
I have hesitated to get a smart watch for roughly the same reasons most people have hesitated. The reviews of current watches have mostly been saying that they are nice, but not quite mature yet, and cashing out for something that's not a whole lot more than an expensive fitness tracker doesn't quite appeal to me. I was forced to reconsider my convictions the moment I saw the 360 though. The first thing that came to my mind was just how good-looking the watch is. It's a gorgeous mix of metal and glass, and the cognac leather strap gives it an understated elegance that is wonderfully appropriate for a dress watch, and keeps this particular smart watch low-key. Seriously, you could wear this with a suit, and it would not look out of place in the least.
Navigating through the device's menus is dead easy. The screen is capacitive and responds very sharply to touch inputs, thanks in part to the updated processor. It's a simple matter of swiping one way or another to either dismiss or focus on a particular alert, and by the second day, I was doing all of that intuitively. Gestures are also a convenient way to control the watch. Rolling the watch away from you or towards you has the same function as swiping up and down, and flicking the watch up or down serves the same as swiping left or right. Again, a day or two of use, and you'll be using it like a pro.
The watch's main purpose is to give you alerts and notifications, so you don't have to whip your phone out each time you get one. As a person who is absolutely obsessed with staying connected, this is a great thing to have. It's convenient to know whether or not an alert needs your attention immediately, or it's just a friend posting a smiley face on a status update from last year.
Apps can generally be controlled from the watch in a contextual manner as well. Spotify, for example, has track and volume controls, messages can be replied to with a quick "like" or emoji, and if you need to give a longer reply, it can listen to you, translate that into text, and send a reply. It's not perfect, but it works most of the time. What's really great about it is it stays connected to the internet on its own via Wi-Fi, without your phone, allowing you to see if you need to get up off your chair, and head to your phone in another part of the office or house.
It also has health tracking capabilities. With the accompanying health app, you get a clear breakdown of your activity, from heart rate, the times you're at rest, active, or really pushing, and the steps you've taken, and the distance you've gone, all to help you towards your health goals.
Customization is an important feature of the watch. You can choose watch faces, colors, and even backgrounds to suit your wardrobe, personal style or mood at any given moment. Battery life is about a day and a half, without having to go out of your way to manage it. Charge it every night, and it's just like a regular watch.
Value: 4.0/5.0
While you might not be convinced it's the best idea, notifications on your wrist is actually more convenient that you might think. Phones these days are quite large, and it's a bit of a pain to keep
whipping it out. It's also versatile fashion-wise, and gives you health tracking, so if those are things that matter to you, this is one of the best options out here now.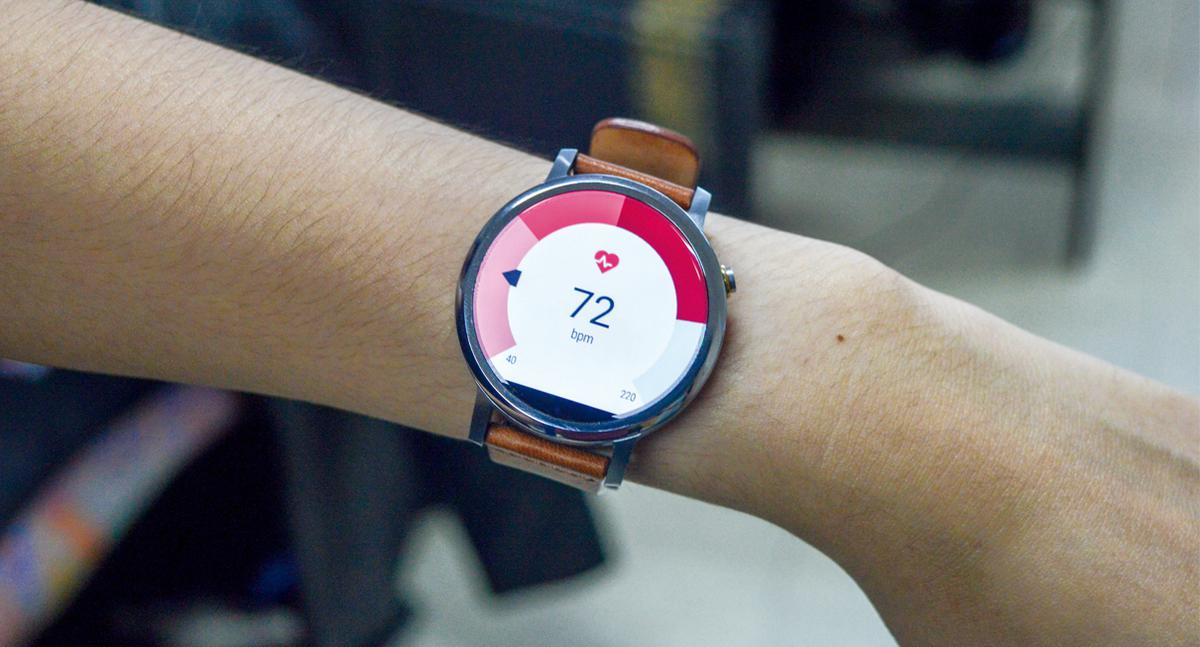 Bottomline:
I honestly don't know how I will switch back to an analog watch after this.
Also published in August 2016 Issue
Words by Ren Alcantara