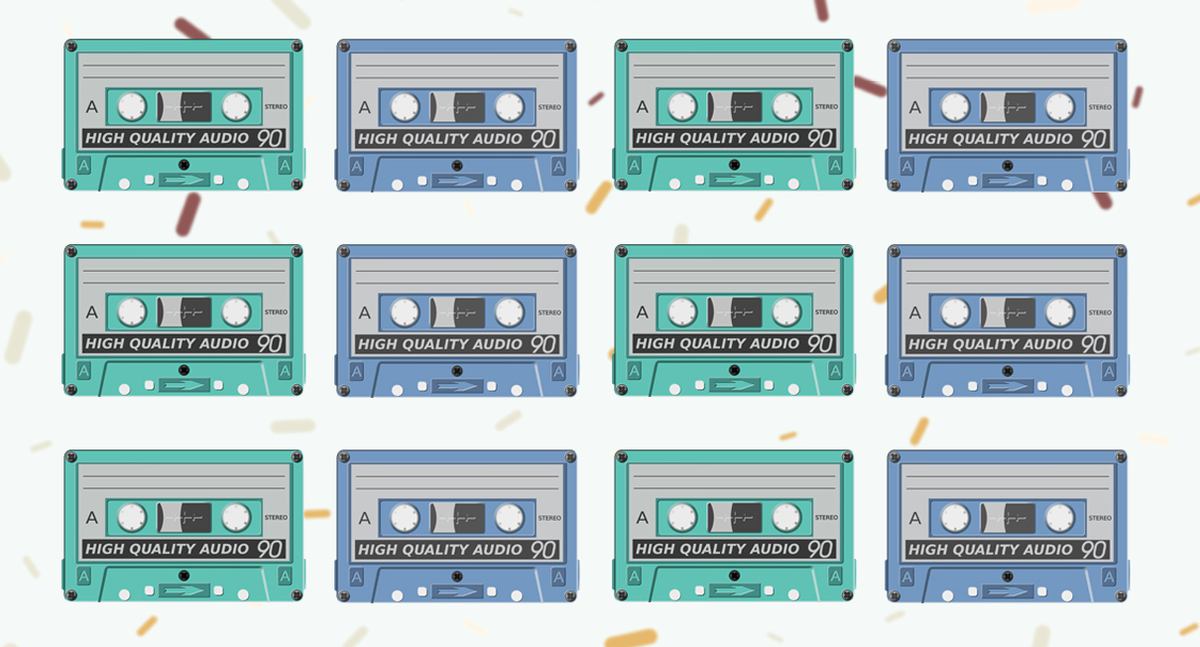 At the risk of sounding awfully pretentious, I'm just going to go ahead and say it: creating a mixtape—or a playlist, as most would call it these days—is a fine art.
My preference for the nominative "mixtape" is a subtle way of denoting effort over the former. Back in the day, the mixtape required careful planning and a considerable amount of time. It involved a careful curating of songs; playing the corresponding albums; pressing, holding and releasing the "Record" button for the blank cassette; and repeating the process until all of the tape has gone to the take-up spool.
These days, storage space isn't much of an issue especially if you're using streaming services; but should that eliminate the manual and highly rewarding (post procedural frustration) effort of selecting songs and reviewing the compilation in its entirety? Nope, nopety, nope, nope.
Making a "best of" or single-genre compilation is simple enough—manageable within the confines of the single artist's body of work or of a shared musical style. The real skill comes when creating playlists following a theme: for work, a dinner party, the commute, and so on.
Planning the Mixtape
Every element of your mixtape should have a point. Each song should be in line with whatever story, message or emotion you want to convey. Understanding the purpose of your playlist is the first step to figuring out what songs are good to put in.
In the case of a road trip, ask yourself a few questions to get started: where are you going? What do you expect to do on the way there and when you get there? What kind of atmosphere do you want to create?
It is at this point that you should also be writing down a few good-fit songs in mind; nothing gratuitous, every song has to have a point. You wouldn't be putting summery surf songs into a "December Baguio and Sagada Adventure" playlist would you?
Curating and Organizing the Mixtape
Having a massive music library and finding the perfect songs for your playlist is challenging. However, by following the guidelines you have provided yourself, this tedious task should be less chaotic.
There are no rules in choosing your music. You can cross genres, eras and cultural movements as much as you like as long as there is a logical transition between songs.
Imagine having played the Sergio Mendes and Brasil '66 version of País Tropical and then going straight to Dead Kennedys' Holiday in Cambodia. How did you even link those disparate genres? You might as well play your whole music library on shuffle. Remember, you are creating a linear narrative with your mixtape. Think more along the lines of playing Feist's I Feel It All after The Libertines' Don't Look Back into the Sun. Let your good taste be the judge.
A good mixtape is a collection of songs that one can listen through from start to finish and feel good about having done so. Borrowing terminology from Nick Hornby's High Fidelity, it should start with a corker: something to call the listener's attention and keep it there. Again, to put emphasis, the ordering and choice of songs has to be just right for the listener to not have the urge to press "Skip."
The corker will pretty much dictate how the rest of the playlist will sound, or what image it will convey. If track one on your mixtape is I Know It's Over by The Smiths, me as a listener would expect the drear and melancholy, post-punky, indie poppy feel would continue on, maybe building towards The Cure or Cocteau Twins. Having said that, a mixtape's pace and mood can still change smoothly through a transition track or tracks.
A transition track is the logical link between two relatively dissimilar tracks. Think of it as the middle partition of a Venn diagram. It can perhaps share some melodious or thematic similarities with the previous track and the same tempo or percussive style as the upcoming track.
The transition track can also take the form of a sudden break from continuity. The playlist could have gone through a mellow period ending in a fade to silence, and then it suddenly it breaks out into a warm twang of the guitar or loud bangs on the snare.
As with the corker, so should the wine at the bottom of the bottle still taste as good as the first sip. In closing out your mixtape, you should decide whether you want to come full circle or end in a different tone altogether: it really is all about how you progressed your narrative. Do you want to end in a slow fade or in an abrupt drop?
It's all a matter of personal taste.
Reviewing the Mixtape
Creating your mixtape in the digital age doesn't have to be as hit and miss as it was before. Back then, getting the order or song choice wrong required having to record over parts of the cassette or starting all over again. Nevertheless, it is still important to review your mixtape before playing it for friends or giving it to a special someone.
From the birth of the medium decades ago, the mixtape has evolved into an art form of its own. Authors of mixtapes are themselves artists who create their own stories and convey their own emotions through the arrangement and repurposing of songs from various artists.
The visual appeal of the mixtape has died with the cassette and in the ashes rose digital music player playlists; although it does not necessarily mean that the song choices should feel cold and algorithmically produced: they should remain heartfelt and personal.
Skin
1. Toots and the Maytals- Pressure Drop
2. Al Barry and the Cimerons- Morning Sun
3. The Paragons- The Tide is High
4. Hopeton Lewis- Take It Easy
5. Roy Shirley- Hold Them
Dad Rock
1. Bruce Springsteen- I'm on Fire
2. Little River Band- Reminiscing
3. Doobie Brothers- What a Fool Believes
4. Hall & Oates- Rich Girl
5. Huey Lewis & The News- Do You Believe in Love
Casual Stroll
1. Kings of Convenience- Misread
2. Beirut- Gibraltar
3. Maps & Atlases- Pigeon
4. Vampire Weekend- Ottoman
5. Local Natives- Ceilings
Sweet & Lows
1. The Pains of Being Pure at Heart- Heart in
Your Heartbreak
2. The Cure- In Between Days
3. The Smiths- Ask
4. Belle and Sebastian- The Boy With the Arab Strap
5. Stars- Elevator Love Letter
Classics
1. Spencer Davis Group-Keep on Running
2. Tommy James & the Shondells-I Think We're Alone Now
3. Stevie Wonder- Signed, Sealed, Delivered I'm Yours
4. Jackie Wilson- Your Love Keeps Lifting Me Higher
5. Redbone- Come and Get Your Love
In a Cabin, Under the Stars
1. Bombay Bicycle Club- Flaws
2. William Fitzsimmons x Priscilla Ahn- I Don't Feel It Anymore
3. Iron & Wine- Flightless Bird, American Mouth
4. Bon Iver- Beach Baby
5. Lucy Rose- Shiver
Surf!
1. Oberhofer- Landline
2. French Films- 99
3. Day Wave- Drag
4. Happy Hands Club- Astrology
5. The Drums- Forever and Ever Amen
Jump in the Pool
1. The Maccabees- Latchmere
2. Klaxons- Golden Skans
3. Friendly Fires- Jump in the Pool
4. The Strokes- Machu Picchu
5. Band of Horses- Casual Party
Also published in GADGETS MAGAZINE April 2017 Issue.
Words by Robby Vaflor