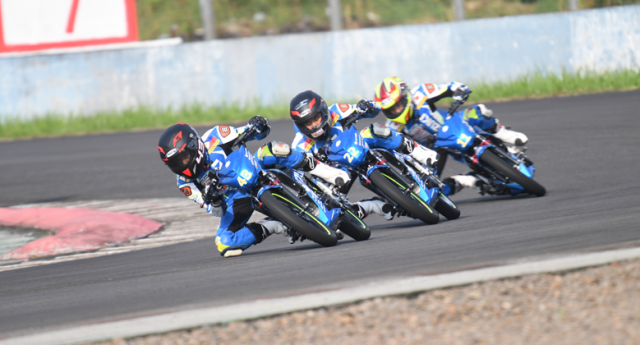 Team Suzuki Pilipinas' trio of April King Mascardo, Eane Jaye Sobretodo, and Mario Borbon Jr. kept their momentum through the fourth round of the Suzuki Asian Challenge, further improving their times and overall ranking, as well as finishing on the podium once again.
The first heat of the race was bumpy and tricky but first timer Sobretodo was able to lead the pack of riders when teammate Mascardo got an overshoot after leading the first few laps. However, the course's chicane caused him to overshoot as well, sending him to a crash. The team concluded with fifth for Mascardo, ninth for Borbon Jr. and 11th for Sobretodo—all riders with improved lap times.
On race two, Sobretodo took the lead but was cornered by his equally aggressive contenders. This gave Mascardo the chance to advance into the race. Positioned first on the last lap, April went fast and got out of the pack giving chance to Jefri Tosema of Indonesia and Rozaliman Zakaria of Malaysia to get in the lead. Mascardo was able to finish third for the heat, while Sobretodo and Borbon placed sixth and eighth, respectively; all with faster lap times than their records during race one. Mascardo was even able to achieve the fastest lap on this race.
Suzuki Philippines president Hiroshi Suzuki was very thrilled during the races and was very happy with the team's performance.
After round four, Team Suzuki Pilipinas' overall standings are: Sobretodo on fourth, Mascardo on fifth, and Borbon on seventh. The team will hit the SAC tracks in December for the final leg of this season.