CROOZ, in cooperation with Yield Guild Games (YGG) Philippines, will be giving away a total of PHP1-million in cash prizes to up to 500 players of its new Web3 PVP game PROJECT XENO.
PROJECT XENO, currently the number one blockchain game in Japan, combines GameFi and esports in a beginner-friendly tactical NFT game. It has the same play-to-earn features that give players rewards from victories in the arena, but it is a free-to-play web3 game that does not require buying NFTs to start playing.
The giveaway marks PROJECT XENO's exciting launch in the Philippine market and introduction to the hardcore gaming community in the Philippines. The YGG Pilipinas Community expressed excitement to have more passionate and dedicated Filipino gamers play and get a chance to win some prizes in the process.
To join the giveaway, players simply need to download PROJECT XENO on the App Store for iOS devices or Google Play for Android devices and participate in battle arena mode until they reach level 3. Players then need to take a screenshot of their level 3 XENO account and submit the photo along with their contact information to https://bit.ly/xenoyggpromo.
Deadline of submissions is on September 22, 2023 while the raffle draw will be on September 29, 2023.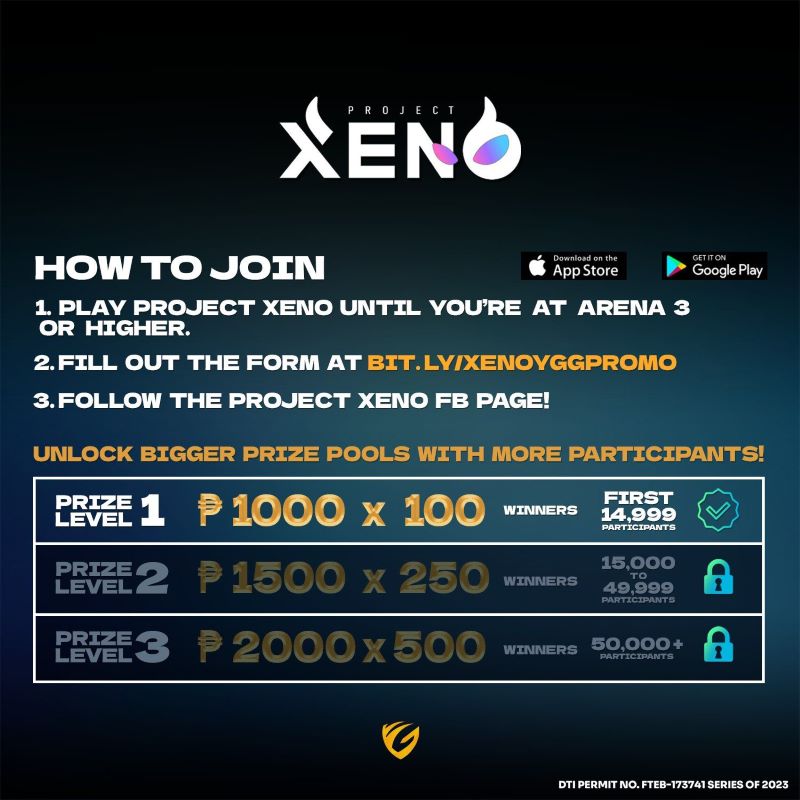 Depending on the number of participants, a higher number of total cash prizes and winners will be announced by September 30, 2023. If less than 15,000 players join the giveaway, 100 winners will be randomly chosen and awarded PHP1,000 each. If at least 15,000 people join the giveaway, the total number of winners will be increased to 250 and awarded PHP1,500 each. Finally, if over 50,000 people join, the total number of winners will be further increased to 500 and awarded PHP2,000 each.
PROJECT XENO's giveaway will run from August 15 to September 22, 2023, per DTI Fair Trade Permit No. FTEB-173741 Series of 2023. For more information on PROJECT XENO, visit project-xeno.com or follow @PROJECTXENO_GLB on Twitter for up-to-date information and updates.