The advancement in computing and tech has introduced so many innovations to daily living that tasks carried out with huge equipments before can now be done with tools meagre in size but capable in every way. As an example, years ago, capturing photographs were done using large folding cameras that is just impossible to lug around with you. Then came smaller analog, film cameras, which was soon followed by digital cameras, DSLRs, compact mirrorless cameras, and smartphones. But as with any photography enthusiast, the image quality smartphone cameras produce can never equal that of DSLRs. This is where mirrorless cameras come in handy. Mirrorless cameras are easily the go-to option for consumers who want the functionality of a DSLR camera in a discreet, lightweight, compact, and travel-friendly form factor.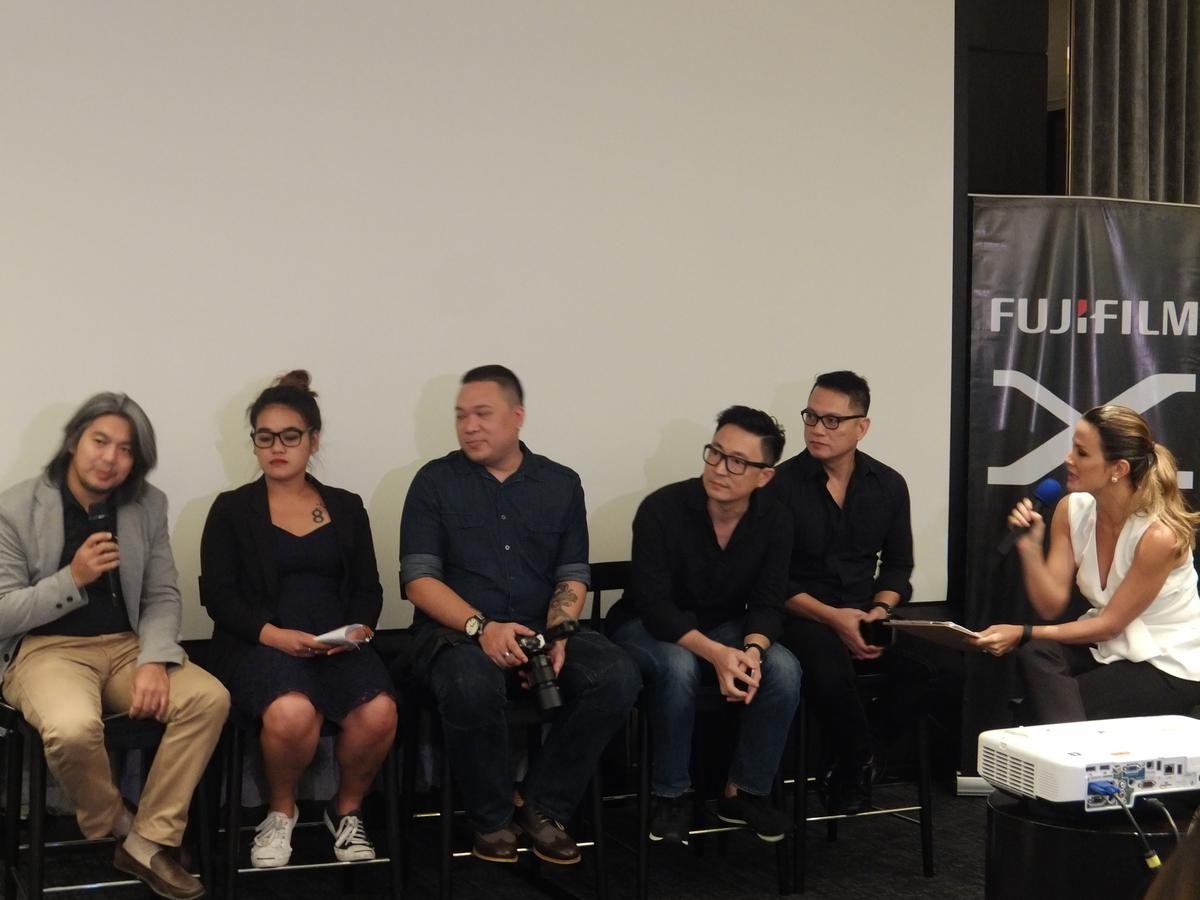 Fujifilm X ambassadors: (L-R) Rommel Bundialan, Xyza Cruz Bacano, Niko Villegas, Jan Gonzales, and Lito Sy, sharing the conveniences and their experiences with Fujifilm mirrorless cameras.
Fujifilm fuses the stunning uniqueness of cameras of old with new imaging technologies to create cameras anyone would enjoy. Applying the same formula to their mirrorless cameras, Fujifilm's X Series offers one of the best image qualities in the field of imaging, today, thanks to its proprietary X-Trans CMOS sensor which produces accurate and natural colors.
The X Series also offers 18 high quality premium lenses packed with superior technology, such as the Nano-GI coating for sharper images and Optical Image Stabilization technology that helps detect and correct low frequency camera-shake elements, rendering stunningly clear pictures. Like the X Series cameras, Fujinon lenses are compact and lightweight, and come equipped with over 80 years of lens development history.
Finding the Fujifilm X mirrorless camera that's perfect for you:
Fujifilm X-A2
If you are a self-confessed social media bug–documenting your everyday activities and posting it online–this stylish camera might just for you. Be it for self-portraits, landscapes, macro shots, low-light, or flash photography, the Fujifilm X-A2 is a more than capable camera that allows you capture just about anything perfectly with superb image quality. It's the first X Series model to feature an LCD screen that flips up to 175 degrees, making it easier to take selfies. It also comes with a wide-angle kit lens that enables you to include scenic backgrounds in the shot and take groufies. Add to that, it comes with 16.3MP sensor, eye detection AF, and Portrait Enhancer mode that makes skin appear brighter. And when you're ready to share your photos, you can easily select up to 30 images in your camera and transfer them to your smartphone, without wires, for quick posting.
Fujifilm X-T10
The Fujifilm X-T10 is for the jetsetter shutterbug.  Apart from a good-looking modern-retro design, the X-T10 comes equipped with a new autofocus system for high speed and precision shots, as well as for capturing moving subjects. It boasts a 16MP APS-C X-Trans CMOS II image processor that enables it to shoot 8 frames per second in burst mode and record videos in frames up to 1080p full HD (60fps). Complementing its powerful hardware are Film Simulation settings that allow you to brilliantly capture images from your picture-perfect vacation without the need for photo editing of which you can view on a built-in 3-inch 920k-dot display you can tilt up and down. Plus, it has plenty of dials and levers for setting up the camera the way you want it and Wi-Fi plus iOS and Android connectivity for controlling the camera from afar and uploading your photos on the fly. You can also upgrade and get the most from your Fujifilm X-T10 with a wide selection of Fujinon interchangeable lenses.
Fujifilm X-T1
Adrenaline seekers who documents their adventures deserves the Fujifilm X-T1. This X series camera boasts the world's highest viewfinder magnification ratio of 0.77x and fastest display with a lag-time of just 0.005 sec. It is packed in a compact, weather-resistant black or graphite silver body that's sure to withstand rough handling. It is both dust and water resistant, and still functional even in temperatures as low as -10°C. Apart from its rugged features, it comes with a Real Time Viewfinder for viewing your subjects and a newly designed Graphic User Interface that user-friendly.
Fujifilm X-E2
An all-rounder, the X-E2 is equipped with all the fancy functions you want in a high-performing camera such as an enhanced Electronic Viewfinder (EVF) that has a lag-time of just 0.005 sec. and firmware upgrades that will shorten the display lag for FUJIFILM X-E2's EVF to less than 1/10 and an X-Trans CMOS II that delivers unmatched color reproduction and high definition images. Pair this with an advanced Lens Modulation Optimizer (LMO) for images with incredible sharpness and you've got a camera that truly delivers.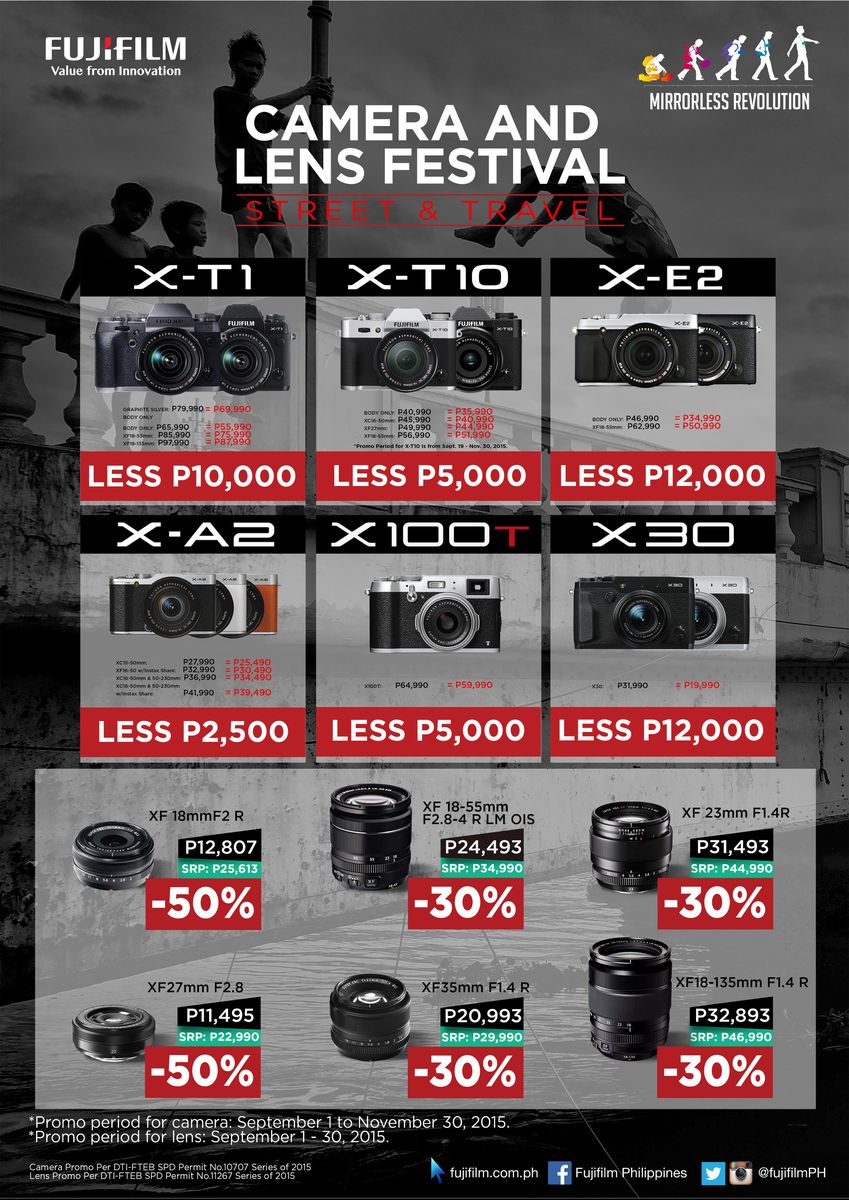 To further convince you to make the mirrorless switch, Fujifilm is offering select mirrorless cameras and lenses at a much lower price until November 30, 2015 and September 30, 2015, respectively.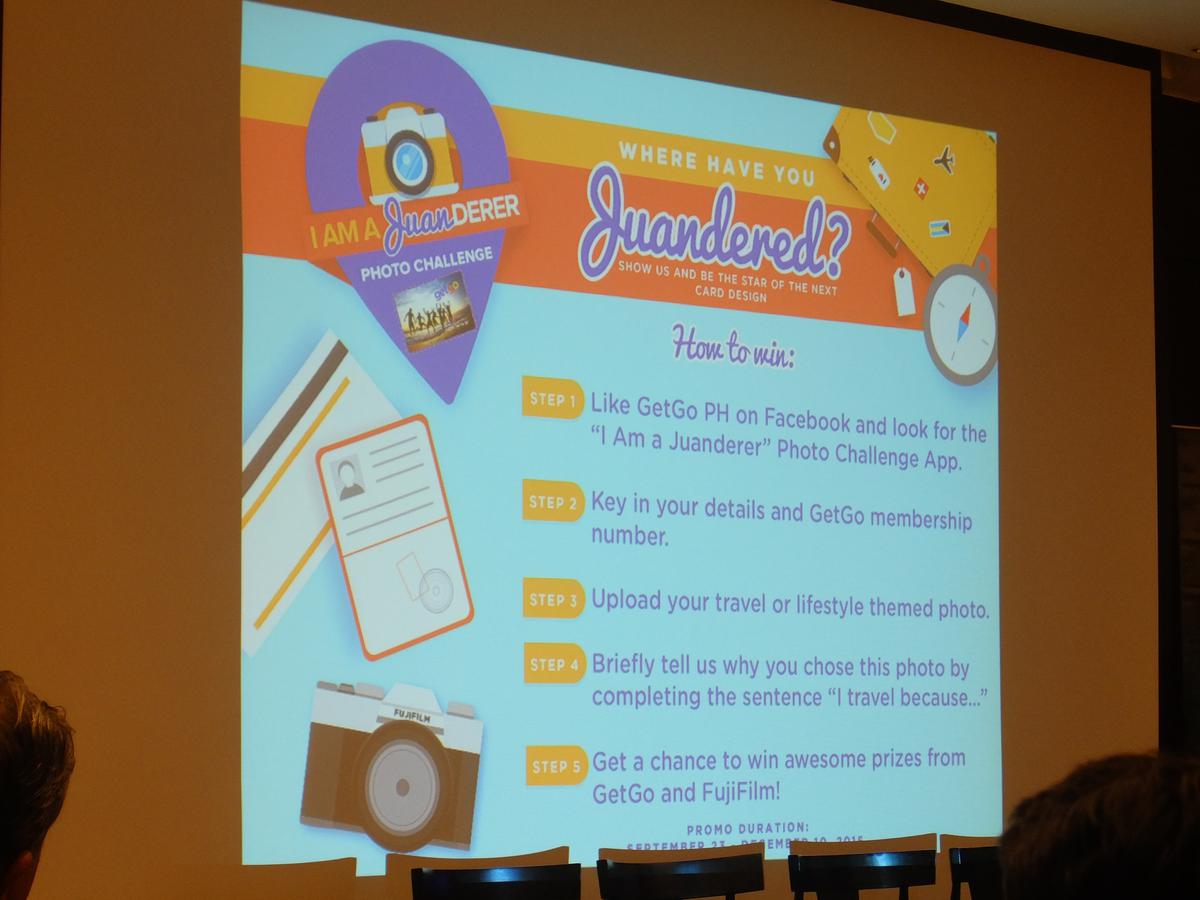 Also, Fujifilm partnered with GetGo—Cebu Pacific's lifestyle rewards program—to launch the "I AM A JuanDerer" photo challenge that will give participants a chance to fly for free and take part in a photowalk in Japan with Fujifilm X ambassadors, win a Fujifilm camera, and more. For promo details, like GetGo PH on Facebook or log on to cebupacificair.com.