The Department of Education (DepEd), through its Disaster Risk Reduction and Management Service (DRRMS), has launched a Climate Change Education microsite containing educational materials on conservation and climate literacy that can be accessed by educators for their classes.
The resources made available on the DepEd DRRMS Climate Change Education learning hub were curated with the help of partners from the public and private sectors, aiming to train the students and teachers to be more grounded on climate change and engage them in climate action activities.
Included in the collection are materials provided by the partners of DepEd DRRMS, such as sample lesson plans, videos, interactive online activities, and reference guides for teachers that they can integrate into their lesson plans and modules.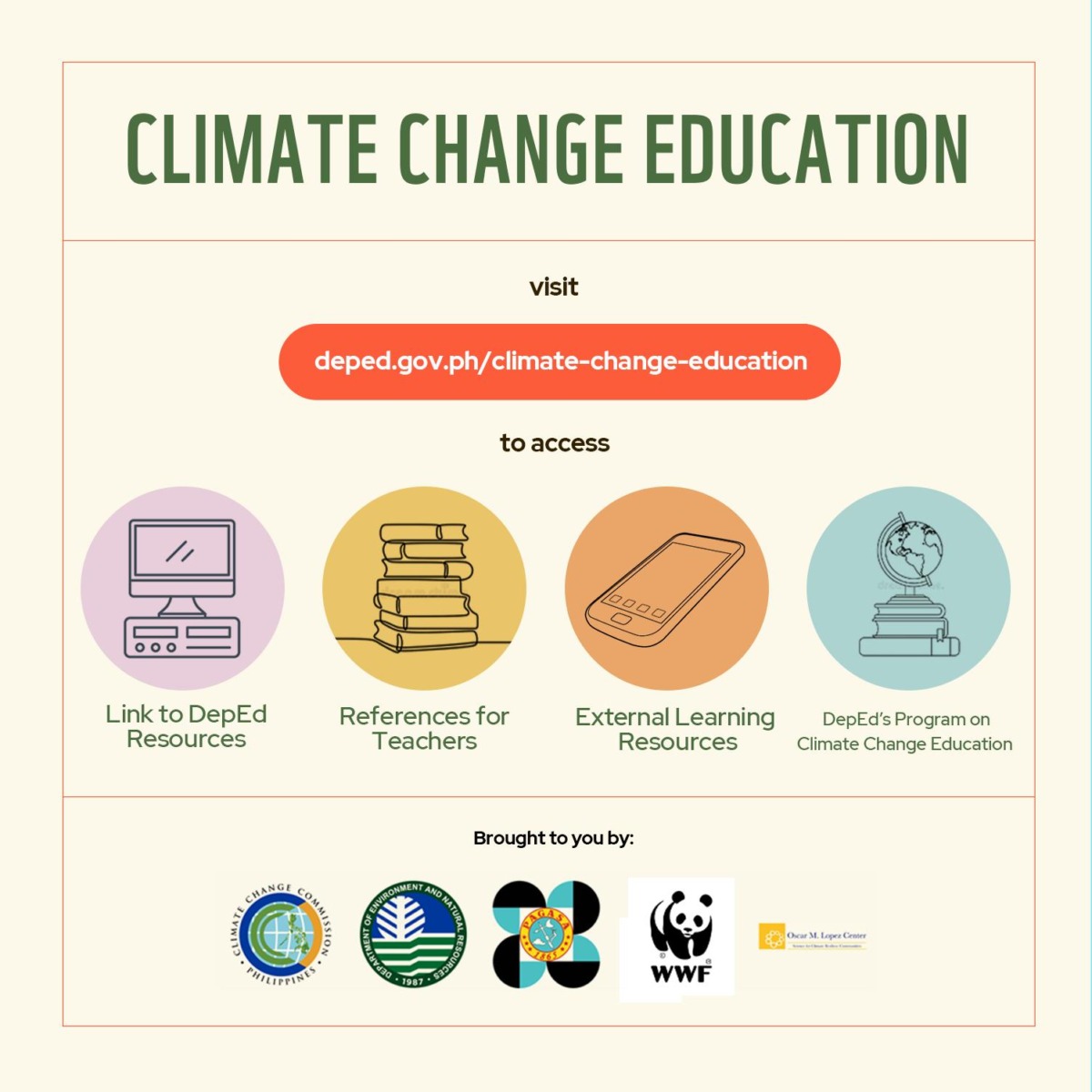 The World Wide Fund for Nature (WWF)-Philippines has been closely working with DepEd to streamline conservation and climate action into the countries' education system and support Republic Act 9512: Environmental Awareness and Education Act of 2008. Through workshops, awareness-raising, and capacity-building activities with students and educators conducted by the WWF-Philippines Education for Sustainable Development (ESD) team, it aims to increase local capacities toward taking action against the climate crisis.
In support of the newly-launched DRRMS microsite, WWF-Philippines has provided a series of modules about climate change. This initiative of providing public access to education materials will help promote climate action across the country.
"We're grateful to the Department of Education for their efforts in making climate change education so accessible to the public. The youth will be inheriting the planet, and their teachers are the ones who can guide them toward being good stewards of the environment. This new microsite will go a long way in preparing the next generation toward being good leaders of this planet," said WWF-Philippines project manager Dino Calderon.
WWF-Philippines is training and empowering the next generation of environmental leaders. By working with the youth, WWF-Philippines hopes to ensure a sustainable future for the planet. Support WWF-Philippines, and help build a future where man lives in harmony with nature.
The DepEd DRRMS Climate Change Education microsite is available here: https://www.deped.gov.ph/climate-change-education/
Additional materials can also be accessed via this link: https://bit.ly/wwf_depedcommons