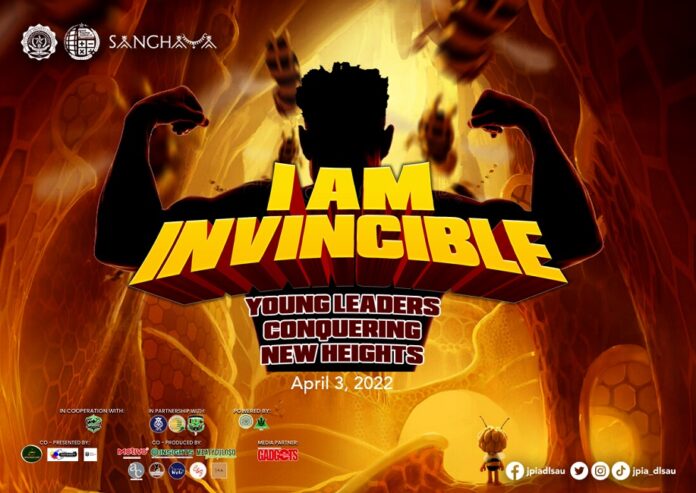 Previously, the Junior Philippine Institute of Accountants – De La Salle Araneta University (JPIA-DLSAU) held the first two segments of their leadership training entitled I AM HERE: Breaking Through Excellence and I AM READY: Rising Up to Lead. And now on their last segment for the 3-part leadership training, JPIA-DLSAU presents to you the I AM INVINCIBLE: Young Leaders Conquering New Heights.
Scheduled last April 3, 2022 (Sunday), through Zoom Cloud Meetings and Facebook Live from 1:00 PM to 5:30 PM, this event aims to build the confidence and hone the skills of the young leaders of the JPIA, help the participants become more competent which is what will pave their way into becoming better leaders, develop skills and techniques that will definitely help the participants become a true leader, teach them how to respond with conflicts while working towards the best possible resolution, to learn how to be collaborative with a group of people, and also to discover and explore the strengths of the participants. This event aims not only for the participants to become leaders inside the university, but also out in the "real" world— the professional field.
Here are the following talks and their speakers at the I AM INVINCIBLE: Young Leaders Conquering New Heights:
Time and Energy Management by Ms. Axl Flores (NFJPIA President F.Y. 2021-2022)
Stress Management by Ms. Diana Parangue (NFJPIA-NCR Regional Vice President for Communications F.Y. 2021-2022)
Critical Thinking by Atty. Ranny Libayan (Trial Lawyer, BATASnatin)
Conflict Resolution / Problem Solving by Atty. Mae Diane Azores (RFBT Reviewer at REO, 2019 Bar Examinations Topnotcher)
Come and join so that you can further sharpen the skills that you already possess, or even gain new skills you never knew you hold. Connect with your fellow young leaders through the "I AM INVINCIBLE: Young Leaders Conquering New Heights" to become a better version of yourself. Take note that learning how to be a true leader and becoming one will also help you identify who are the real leaders out there.
This event is headed by:
Ms. Anne Danette S. Macaranas, JPIA-DLSAU's VP for Information and Publicity
Ms. Andrea Beatrice C. Idanan, JPIA-DLSAU's VP for Internal Affairs
Ms. Vanessa Rose P. Dela Cruz, JPIA-DLSAU's Associate for Sponsorship. This event is free of charge for all the JPIAns nationwide. Click this link https://bit.ly/3pLSJGP to register. Also, follow the Facebook page (https://www.facebook.com/jpiadlsau/), Instagram (@jpia_dlsau), and Twitter (@jpia_dlsau) of JPIA-DLSAU for updates and for further inquiries!