InfoTechnOlympics 2021 was a two-day event held last April 22 and 23 via Zoom and Google Meet. This activity encouraged University of Makati students to compete in different IT-related categories. InfoTechnOlympics aims to assess the acquired skills and knowledge of students in line with their course interests. Winners of the event will have the chance to represent the university in the IT Skills Olympics.
The UMak College of Computer Science – Student Council (CCS-SC or UMakCCSSC) is pleased to announce the winners for the InfoTechnOlympics 2021, as follows:
Web Design Category
Champion – [Team IV-ACSAD] – Victor Jet P. Biñas | John Carlo A. Sarandi
1st Runner Up – [Team UIX DUO]- Michelle Nicole T. Serrano | Christopher Robin D. Chase
Android App Category
Champion – [Team CODE ON SIGHT]- Kristian Kurt Amaba | Brandon Ian Peñalosa
1st Runner Up – [Team JOLIE FUSION] – Crolie P. Dela Cruz | Jobet Adrian E. Papellero
Computer Networking Category
Champion – Justine Jan Delprado
1st Runner Up – Michael Jeff Moreno
Java Programming Category
Champion – [Team JJ] – Lorenz Jedd M. Alvarez | Justine Louise Carunungan
1st Runner Up – [Team ME.TOPMOST] – James Francis F. Ga | Timothy Walter G. Cuizon
2nd Runner Up – [Team Androinks] – Fernan R. Retardo | Florenz C. De Jesus
IT Quiz Bee Category
Champion – Lourdes Marie Sison
1st Runner Up – Kelly Rose S. Callueng
2nd Runner Up – Jericho M. Romero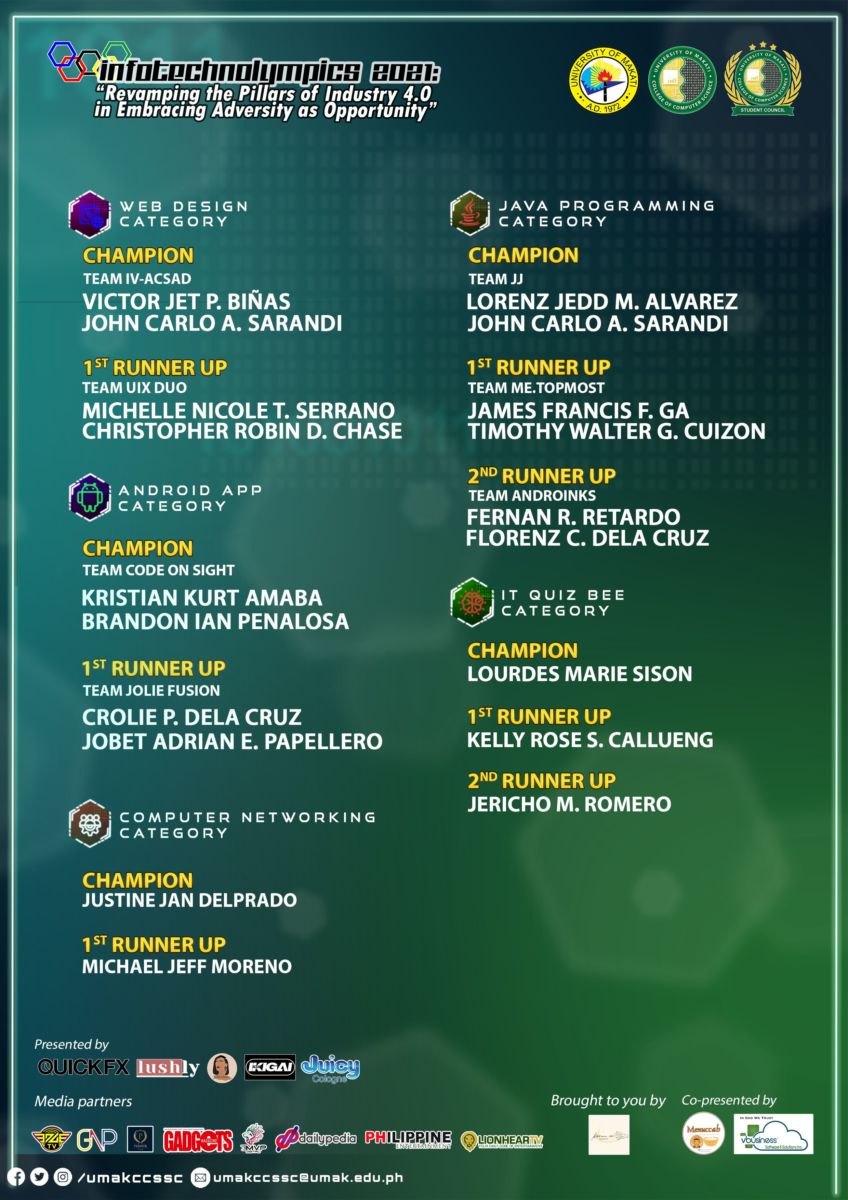 InfoTechnOlympics 2021 is presented by (QUICK FX, Lushly, Glameur, Ikigai, and Juicy Cologne); co-presented by (Menuccah and vbusiness); in partnership with (EdgeTv, GNP, Premier, Gadgets Magazine, EMVP Digital, DailyPedia, Philippine Entertainment and LIONHEARTV).