Recently, HP published the 21st edition of its annual report highlighting the company's progress across the core pillars of the HP Sustainable Impact strategy. It is part of HP's commitment to sustainability and priority to provide transparency for its progressive efforts to combat climate change, advance human rights and accelerate digital equity.
The 2021 HP Sustainable Impact Report shows that consumers increasingly make buying decisions based on the social responsibility of brands. In 2021 alone, HP attributed USD3.5B in new sales to their sustainability practices, a three-fold increase over 2020. Sustainability has become a growing business imperative and more than just the right thing to do to help the planet and the people.
"HP is driving some of the industry's most aggressive and comprehensive climate action goals, in our quest to become the most sustainable and just tech company by 2030. Through our Sustainable Impact strategy, we are committed to helping solve the enormous global challenges before us. We take part in the global initiative of launching products with eco-conscious designs, made from ocean-bound plastics. We will also continue these efforts to strengthen the communities we operate in while driving innovation and growth in our business, creating a better future for all," said Christian Reyes, managing director of HP Philippines.
As a key highlight of the 2021 Sustainable Impact Report, HP recorded a significant reduction in single-use plastics. The company has successfully reduced single-use plastic packaging by 44% in 2021 vs. 2018. In its quest to enable better learning outcomes, HP reported an increase to 74.3M toward its goal of 100M students and adult learners that have benefited from the brand's education programs and solutions.
Furthermore, the report identifies areas where HP seeks to improve, with the intention to move its sustainability efforts quicker, especially on climate action, considering the high stakes of climate change. Below are the highlights of HP's 2021 Sustainable Impact report.
Accelerating digital equity
Last year, HP committed to a new goal of accelerating digital equity for 150M people by 2030. After the first year, they've already reached 4.2M people. The company has recently announced the first cohort of nonprofits to expand access to digital equity to women, marginalized communities, people with disabilities, educators, and practitioners. In the Philippines, HP continues its partnership with Childhope Philippines and Atayde Foundation, providing monetary or volunteer support, and resources aimed at educating young children. They also have HP Printables, which offers free worksheets across the country; and HP LIFE, a global skill-training program that provides free access to IT and business training courses to people all over the world.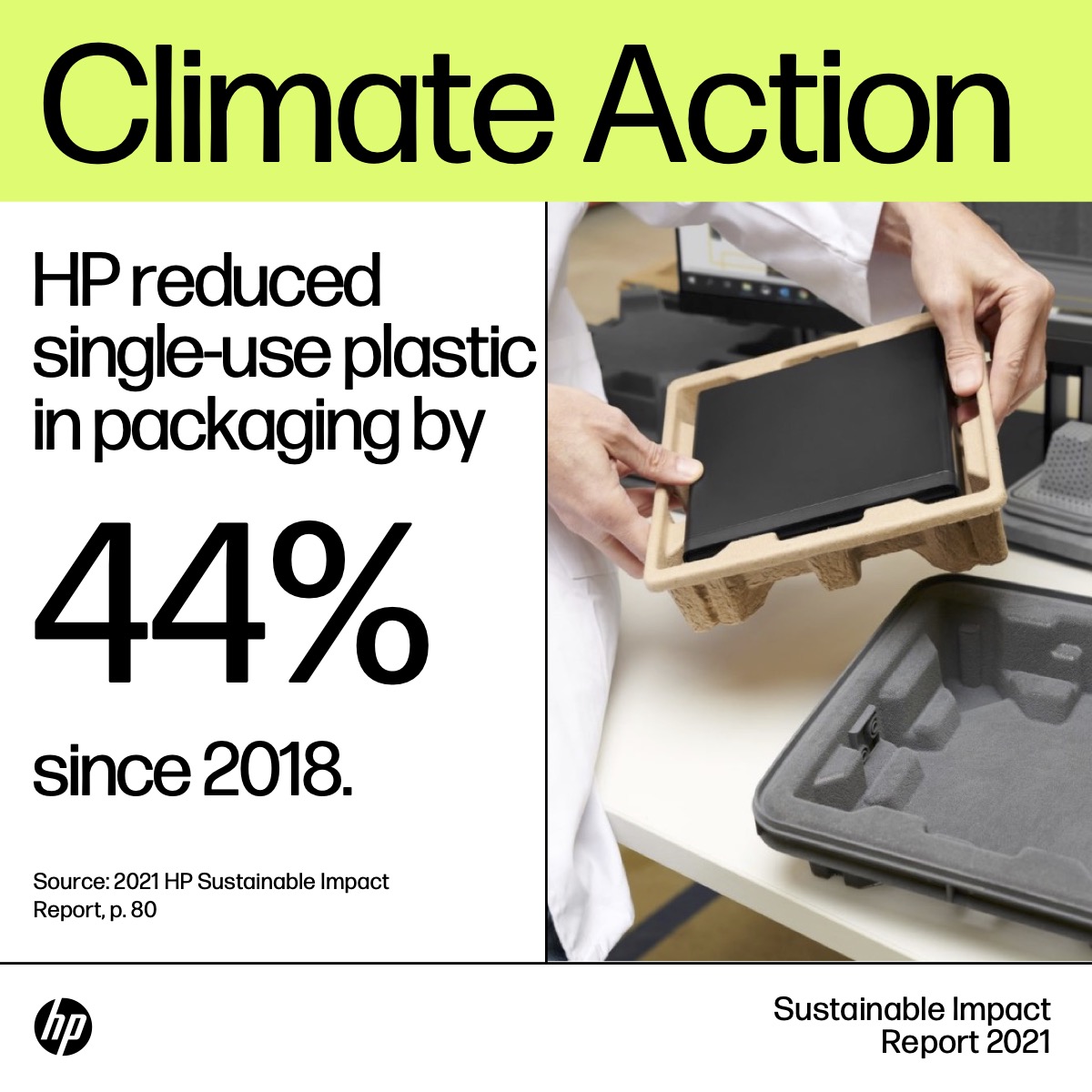 Addressing climate crisis
Product and packaging circularity: HP pledged to reach 75% circularity for products and packaging by 2030. This means that 75% of its total annual product and packaging content, by weight, will come from recycled and renewable materials and reused products and parts. The company has already reached 39% circular by weight in 2021.
Journey to net zero: HP aims to accelerate efforts to reduce 50% greenhouse gas (GHG) emissions by 2030 and to achieve net zero GHG by 2040. In 2021, HP reduced product-use emissions intensity by 39% compared to 2015, exceeding its goal of a 30% reduction by 2025.
Forest restoration and conservation: HP has committed to going beyond their own footprint by counteracting possible deforestation for non-HP paper used in our products and print services by 2030. One of HP's strategies involves an expanded partnership with World Wildlife Fund (WWF) to address the potential impacts on forests from printing with HP printers. In 2021, HP addressed 23% of its total fiber footprint for paper used in its products and print services. HP's programs counteracted deforestation for non-HP paper representing 19% of this footprint.
Advancing human rights
Gender equality: HP is the first Fortune 100 tech company to commit to achieving 50/50 gender equality in leadership by 2030. In 2021, women represented 32.5% of director-level and above positions globally. Women also represented 22.7% of technical and engineering roles at HP, on track to go beyond 30% by 2030. HP Philippines boosts female leadership through its Women's Impact Network (WIN PH), a Business Impact Network for women and male allies.
Workplace empowerment: HP Philippines recently placed 5th on Great Place to Work's 2022 list of best medium business workplaces.
Culture of inclusion: This year, HP Philippines launched Next Generation Business Impact Network Philippines (NextGen PH), an employee network that supports HP's Diversity, Equity, and inclusion strategy by advancing professional skills, driving generational inclusion, and building connections.