Quezon City may be one of the busiest places in the metro, constantly buzzing with motorists and commuters. Apart from being the most populous city in the National Capital Region, it also serves as home to the stars, being home to the main offices of two gigantic TV networks. The many fitness and beauty establishments around Timog area is to be expected, given its proximity to on-screen personalities and highly stressed network types. Not to far from the busy street, we discovered a new wellness destination fit for anyone who needs a quick break from the stress of the city.
Clara International Skin and Body Centre is a Malaysian franchise brought to the Philippines by Anne Lorraine Yu-Sia and her friends in 2003. Having met Dr. Clara Chee, the founder and namesake of the global beauty clinic in an overseas beauty convention, the friends decided to bring the service to Quezon City.
Warm and inviting, the newly-renovated clinic is comfortable and cozy. Soft piano music keeps customers company as they await their turn in the relaxing reception area.
Offering a wide range of services to its customers, Clara International takes pride in their state-of-the-art and non-invasive procedures that guarantee effective results. Passing world-renowned professional standards such as CIDESCO and UKAS, and garnering recognition from Superbrands, clients can be assured they're in good hands. "We provide safe and effective products, as well as treatments to our clients that deliver obvious results without taking any shortcuts," shared by Yu-Sia.
To further enhance their services, the skin and body centre practices a "know your machine" campaign among its employees. Their consultants are all highly-trained in both the procedures, and use of the equipment at the center. From the top-of-the-line hair removal machines by Alma Lasers, to the lifting machines by CACi from the UK, the combination of training and medical devices make sure customers get the best service. They also house the machines for Luminous 4D treatment by Fotona, Hydraoxyglow by Geneo, and Oxyjet by Nora Bode from Germany.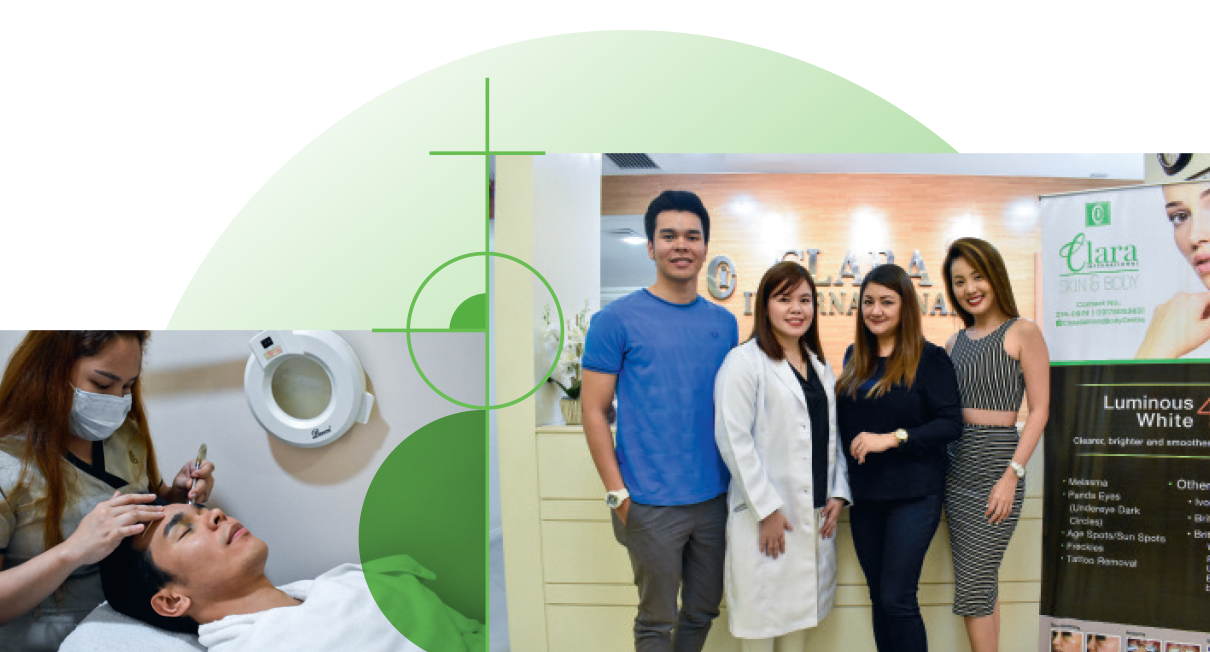 Their services include Diode Laser Hair Removal that eliminates unwanted facial and body hair, Luminous 4D White Facial which lightens dark spots, as well as acne scars and dark circles under the eyes, and the hydrating JetPeel, the clinic's own version of Diamond Peel with the use of gas suction.
Jennifer Sevilla-Go, actress and one of their loyal patrons, had nothing but praise for the center.
"I've been a client for a year and I experienced firsthand the refreshing and rejuvenating facials that they have, as well as their other treatments.The good thing here is that all of their products are natural and hypoallergenic. The same goes to the machines that they use," she shared.
The clinic also offers special services focused on improving your figure, and other common problem areas for women.  This includes painless body contouring, skin rejuvenation, facial sculpting, and non-surgical face lift. Some of their treatments also eliminates toxins in the body.
According to Yu-Sia, many men are now also becoming more open about their skin problems. Most of them, who first came at the behest of their spouses, now also enjoy the clinic's natural approach to beauty. About 40 percent of their regular customers are men, brought in by their loyal female clients.
When asked on their expansion plans, Anne's answer spoke of their commitment to quality service. "Even if we already exist for a long time, we still feel blessed to welcome new partnerships. We might only have two branches in the country, one here in Quezon City and the other one in Greenhills, but we are always focused on giving high-grade services to our clients."
In celebration of its 15th anniversary, customers are in for a treat.  The aesthetic beauty clinic will be giving a 50 percent discount on all their services offered until October 31, 2018.
Schedule
Monday: 1 PM-7 PM
Tuesday– Thursday: 10AM-7PM
Friday: 8AM-7PM
Saturday: 8AM-5PM
Follow them on:
facebook.com/ClaraSkinandBodyCentre
Also published in Gadgets Magazine October 2018 issue
Words by Jewel Sta. Ana
Photos by Theresa Eloriaga