Honda Cars Philippines, Inc. (HCPI) welcomes 2023 with the local debut of its high-performance icon, the 6th Generation Honda Civic Type R, which is by far the most powerful model in Type R's 30-year history.  
Exterior design that combines function and form
The sporty looks of the All-New Civic Type R serve a purpose. Designed with input from aerodynamic development members of the HRC Sakura Super GT race team, the 6th generation model is more aerodynamically efficient, generating significantly more downforce, which improves high-speed stability. Based on the Civic Hatchback, it has a new bumper that reduces side wake, functional front fender air outlets, and a side sill garnish that enhances efficiency, contributing to a lower overall coefficient of drag.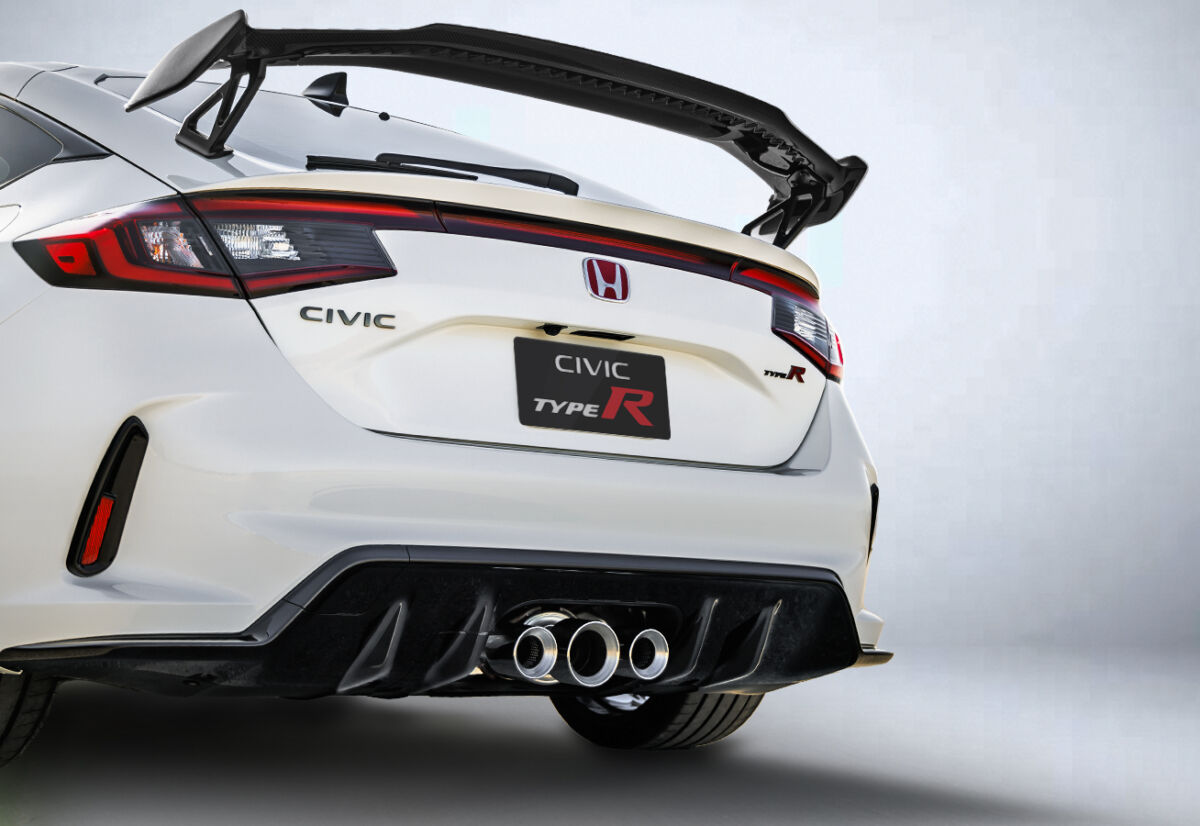 Compared to its predecessor, the All-new Honda Civic Type R is 0.8-inches longer, 0.6-inches wider, and 0.5-inches lower. Its A-pillars have been pulled rearward by 1.96-inches to improve visibility. This also gives the sports hatch a more elongated hood which improves its overall stance. It has a more aggressive front bumper design that features a sporty honeycomb grille mesh echoing the intricate honeycomb trim inside the cabin. The more aggressive stance is accentuated by wider rear doors and a reshaped rear bumper revealing its updated signature three-round exhaust outlets. You will also be greeted with a redesigned rear spoiler with aluminum stanchions and a new rear diffuser that increases downforce and reduces drag.
Other notable exterior features of the Civic Type R include LED headlamps and its redesigned LED taillamps, Matte Black finished 19-inch alloy wheels wrapped in 265/30 high-performance tires, a tailgate spoiler, its tri-tip tailpipe diffuser, and the Type R badges found both on the front grille and tailgate along with the red Honda logo.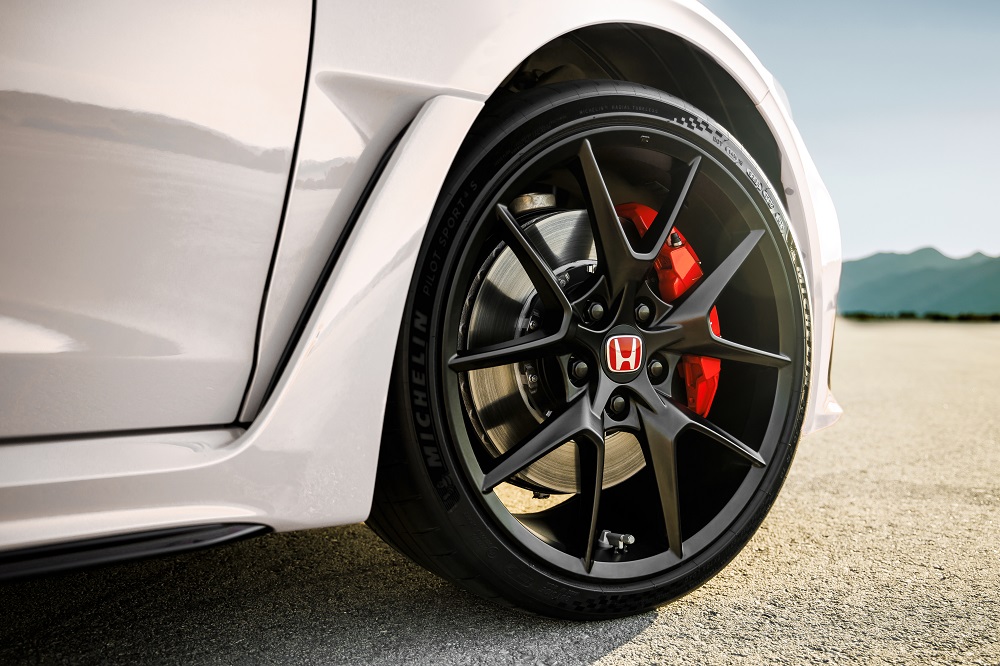 The All-New Civic Type R combines its class-leading, track-ready performance with a sleeker, more sophisticated look that beautifully integrates advanced aerodynamics for a powerful low and wide form. Its muscular exterior is more aerodynamically efficient, generating significantly more downforce to improve high-speed stability. Improved power-to-weight ratio has also been achieved, all thanks to the usage of lightweight resin.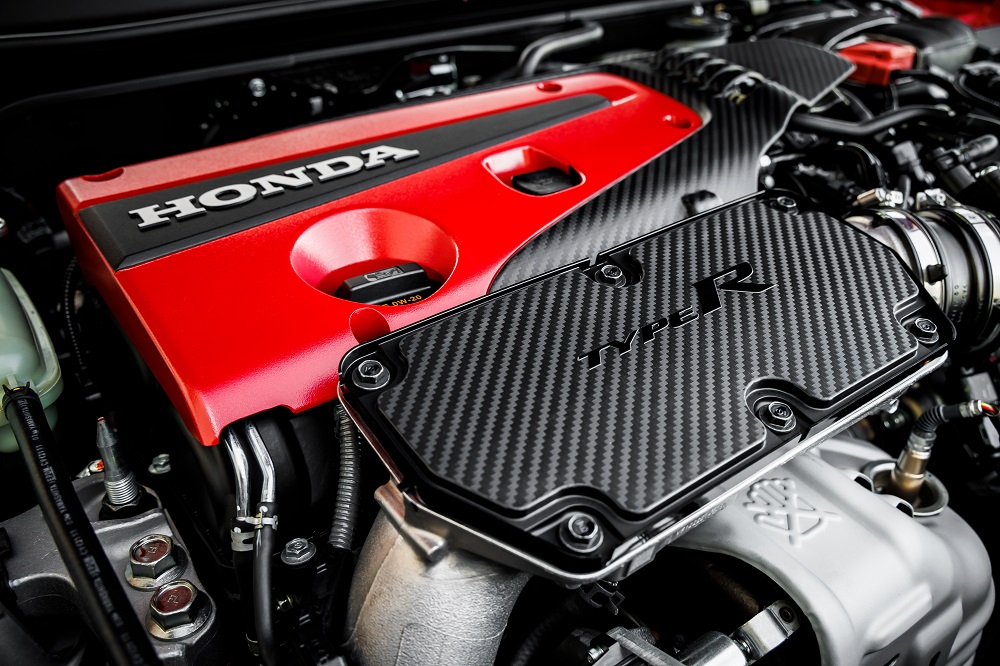 Be in control with its immersive cabin
Step inside and experience sportiness and refinement to a whole new level. The cabin of the All-New Civic Type R was designed to support intense driving experiences, which enhances the exhilaration of driving with emotive, performance-focused details. Interior ergonomics were developed based on two core principles, including "instantaneous recognition" and "intuitive operation." This combines easy-to-understand information with natural-feeling controls providing the ultimate pleasure for the driver.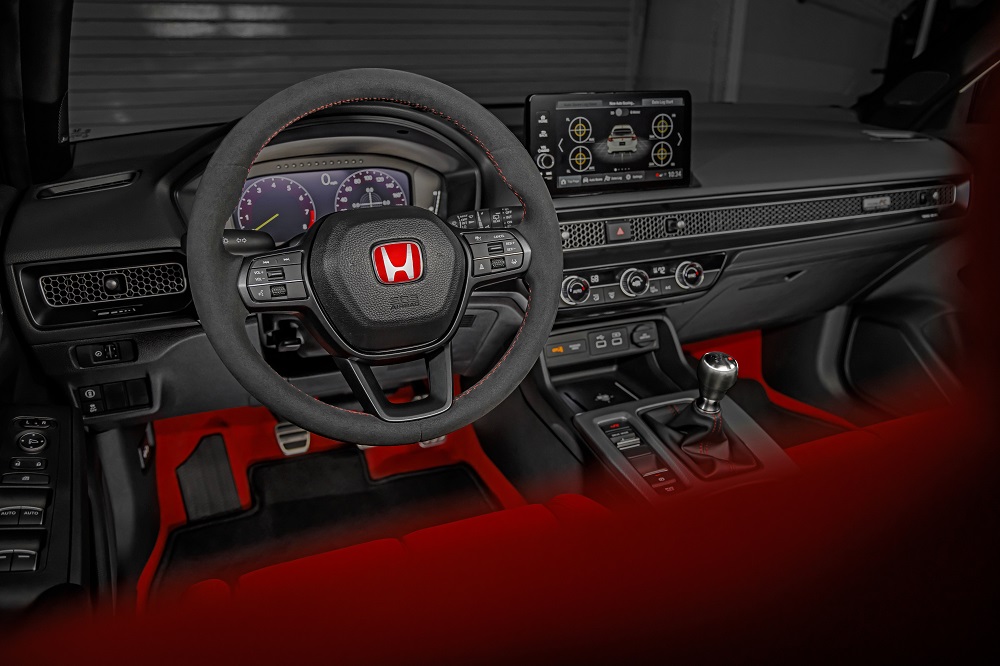 It shares a familiar cabin layout with the standard Civic with some exclusive and interesting quirks. It has an aluminum shift knob for that added sportiness and a serialized Type R plate on the dashboard. The overall theme of the interior supports a black and red motif, with the red color dominating the racing-inspired Type R bucket seats treated in Alcantara, carpeting, and other finishes in the cabin.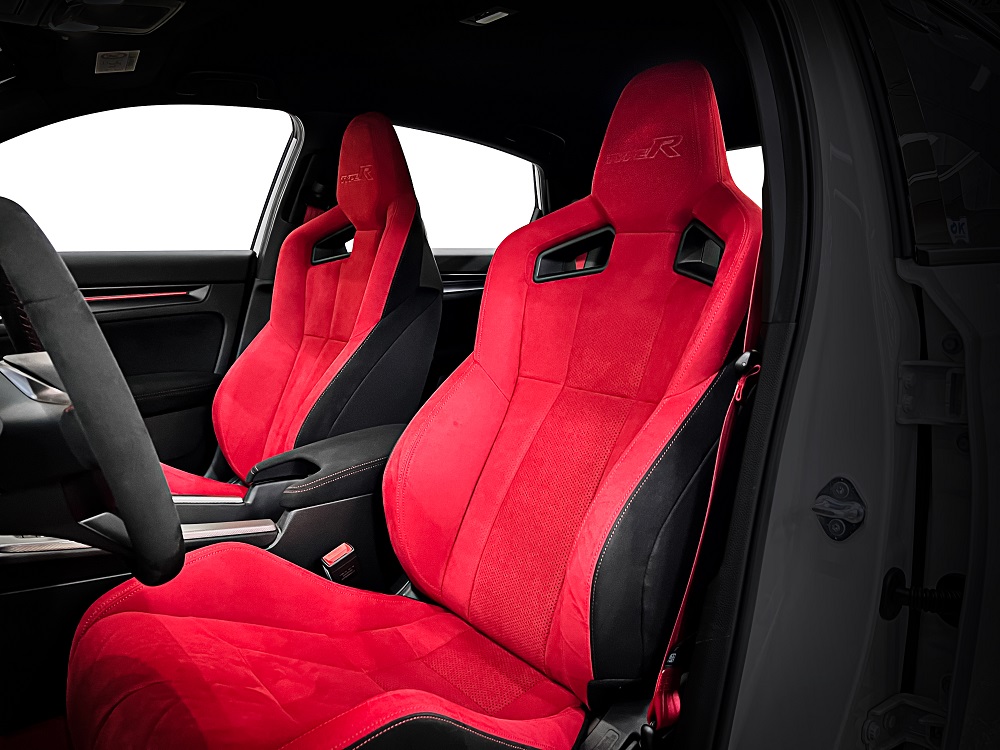 Storage space is also good on this sports hatchback. It features a new center console with deep and wide cupholders allowing it to accommodate bigger bottles and other items. Along with that, visibility has also been improved, all thanks to its flat dashboard, pulled-back A-pillars, and low hood, resulting in a better horizontal viewing angle compared to the previous Type R.
Changes to the exterior and interior maximize driver performance and engagement. Thinner pillars, outer mirrors relocated to the doors, and a lower hood provide greatly improved visibility. Blind spots have been minimized, and reflective elements reduced. New lightweight, heavily bolstered front sports seats with suede-effect upholstery offer exceptional support and comfort on the track and during long drives, helping drivers sharpen their concentration levels.
Tech that delivers ultimate driving pleasure
The 6th Generation Honda Civic Type R is equipped with a generous amount of technology features. For in-car entertainment, it comes with a 9-inch touchscreen that supports various multimedia functions such as Wireless Apple CarPlay and Android Auto. Enjoy your favorite tunes with its 12-speaker Bose sound system, delivering a smooth and crisp musical experience inside the cabin. Other creature comforts include a 10.2-inch fully-digital instrument cluster, automatic air-conditioning, smart entry with a smart key card and one push start system, a wireless charging pad, and many more.
Honda LogR Performance Datalogger
Exclusive on the All-New Civic Type R is a new enhanced version of the Honda LogR Performance Datalogger which combines its onboard computer and sensors with a new built-in vehicle app that help drivers monitor and record a variety of performance parameters in real-time when driving on the road, on track and other closed courses, helping to improve driving skills. Key features are as follows:
Performance Monitor – provides vehicle information to the driver, such as 3D Display, Tire Friction Circle, cornering G-forces, the status of oil and coolant temperatures, oil pressure, and more.
Auto Score – Shows how the car behaves and helps you improve your driving skills. Autoscore measures your driving performance using key driving parameters.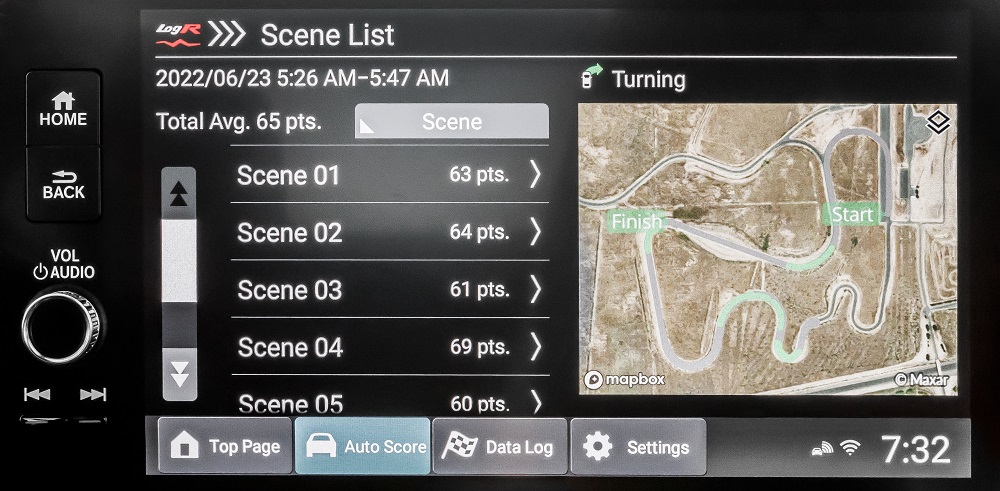 Data Log – analyzes driving data to help you understand your driving habits. It also scores your track performance, and provides lap time and Heat Map.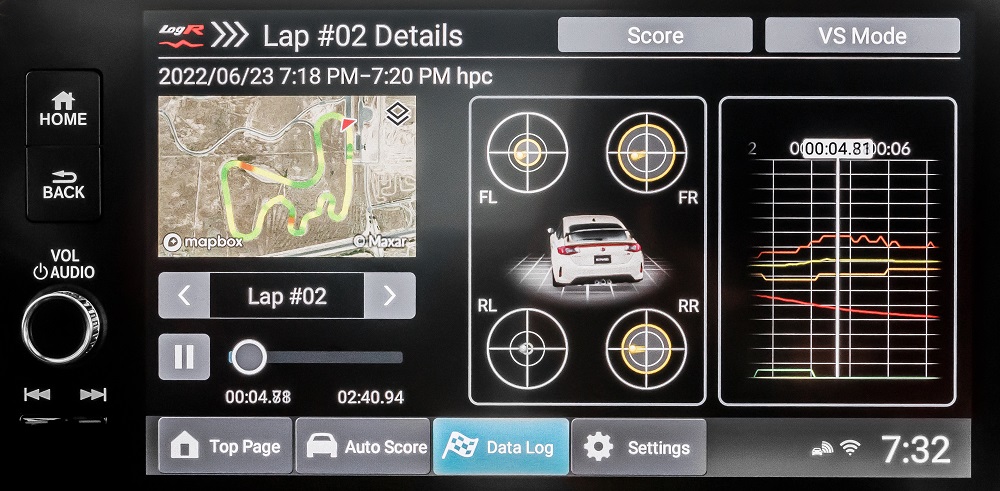 A thrilling powertrain for a thrilling drive
Under the hood of this beautiful beast is a 2.0-liter 16-valve DOHC VTEC, Turbo Charged In-line 4 Cylinder engine that churns out a mighty 320PS and 420Nm of torque. Power is sent to the front wheels. The said mill is then paired with a 6-speed manual transmission with a Rev Match Control System, which has been improved compared to the outgoing model for more precise and smoother shifting while on the go. 
On top of its thrilling powertrain, the All-New Civic Type R comes with four driving modes which include Comfort, Sport, +R, and a new individual mode customizable by the driver. Notably, this is the most powerful model in Type R's 30-year history.
It's a big step in terms of safety
The standard Honda Sensing® suite of driver-assistive and safety technologies has been thoroughly reengineered for the 2023 Civic Type R, which uses a single camera mounted behind the windshield coupled with an exceptionally fast processor and sonar sensors. The new single-camera system features a field of view that is twice as wide (100 degrees vs. 50 degrees) and can see farther down the road. 
Its camera detects feature points of a target and recognizes attributes of objects such as a vehicle or pedestrian, while the sonar sensor system, on the other hand, detects objects, including other vehicles, located near the front. The fast processor, meanwhile, allows the system to measure the distance and the lateral position of objects based on the change in the size of the target object, how long it takes for the change to occur, and the speed of the vehicle. This enables the camera to recognize white lines, road boundaries such as curbs, other vehicles, pedestrians, bicyclists, and road signs.
Given the new mechanism, the system now has better recognition as compared with the previous version. Honda SENSING features included are as follows: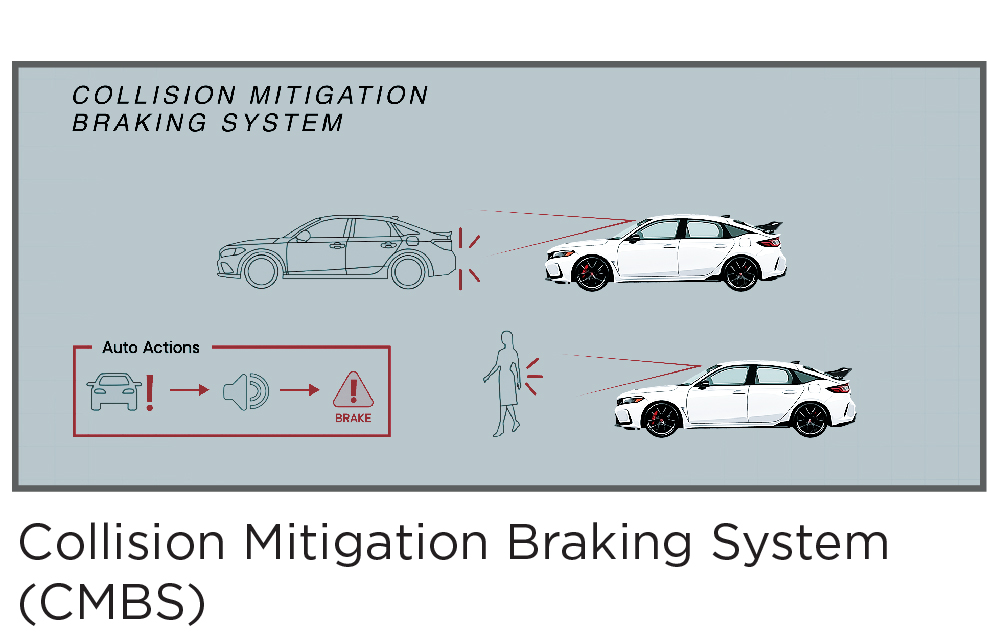 Collision Mitigation Braking System (CMBS) – Helps in time of a possible vehicle collision or when pedestrians are detected in front. CMBS is designed to provide warning to prevent a potential collision or reduce vehicle speed to lessen the impact of an unavoidable collision.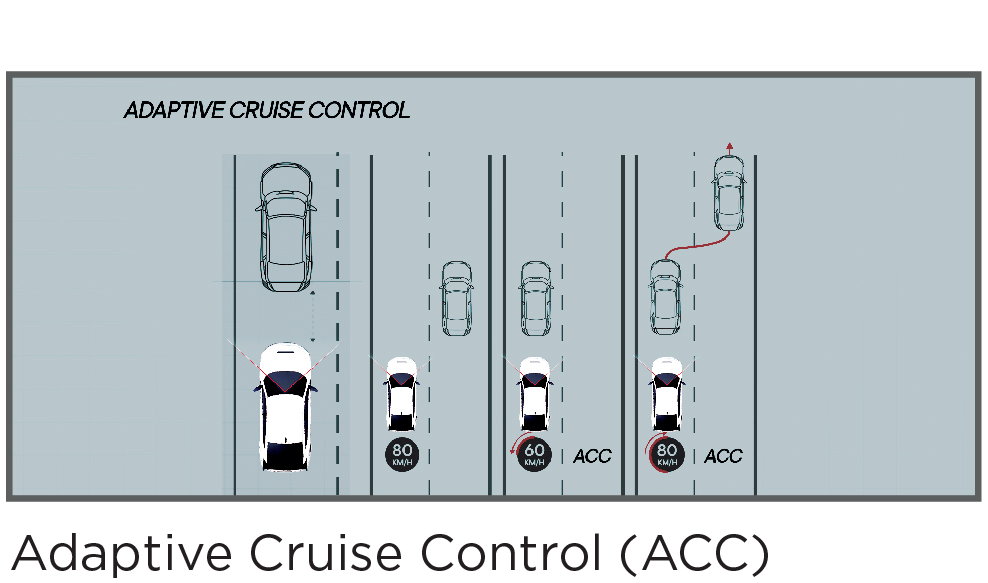 Adaptive Cruise Control (ACC) – Helps maintain a stable speed at a driver-determined distance from the vehicle in front.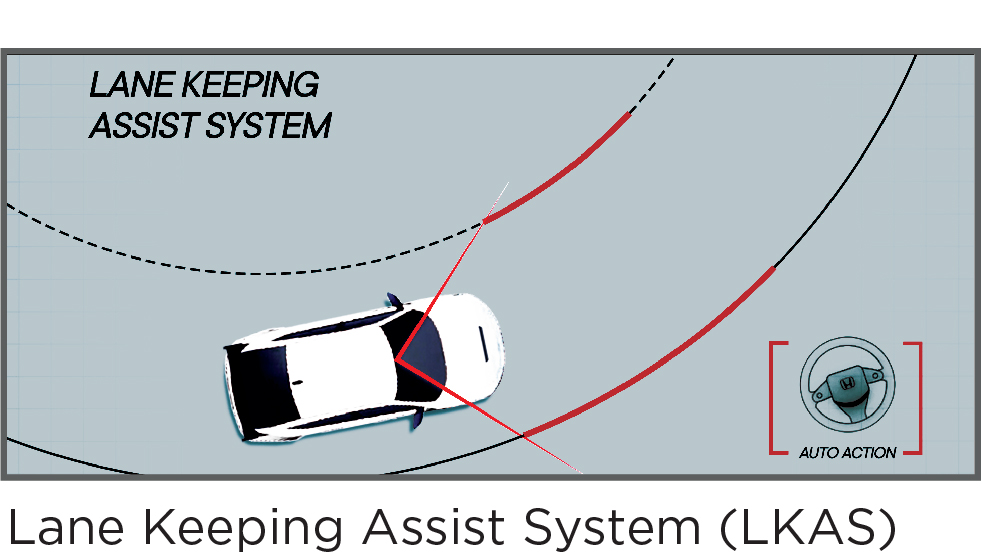 Lane Keeping Assist (LKAS) – Keeps the vehicle at the center of the visible road lanes and in the best driving position as it guides you to follow the flow of the road.
Road Departure Mitigation (RDM) – RDM helps the driver avoid collision by providing audible and visual warnings whenever the car swerves to the other lane without the proper use of signal lights, while the LDW or Lane Departure warning notifies you when going off-course.
Lane Departure Warning (LDW) – This feature operates when the car is at speeds from 40 to 90 mph. It is designed to alert the driver if the vehicle is leaving a detected lane without the turn signal being activated.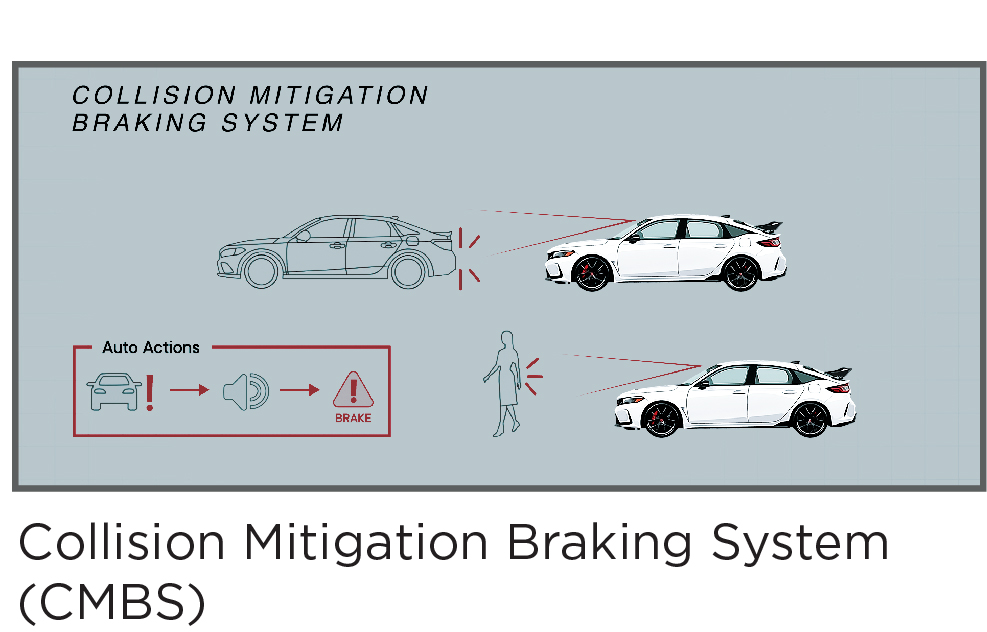 Forward Collision Warning (FCW) – When the system determines a possible collision with the preceding vehicle, visual and audible alerts from the FCW system prompt the driver to take corrective actions.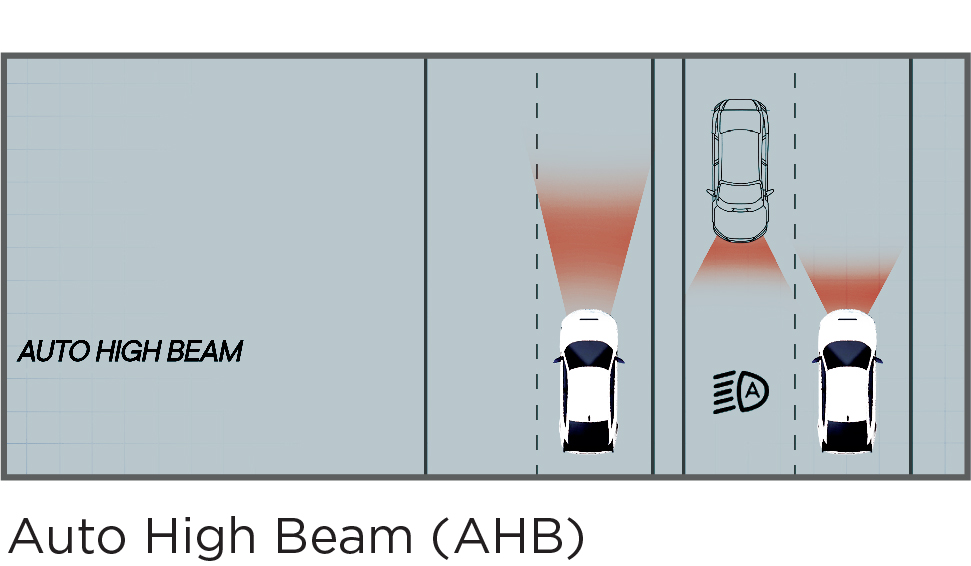 Auto-High Beam (AHB) – this system allows the driver to automatically turn on the high beams when there are no other vehicles ahead and lower the beam appropriately when encountering oncoming traffic.
Aside from its state-of-the-art driver-assist features, the Honda Civic Type R also comes with a multi-view rear camera, walk-away auto lock, driver attention monitor, airbags (front, side, side curtain, knee), rear seat reminder, Anti-lock Brake System (ABS), Electronic Brake-Force Distribution (EBD), Vehicle Stability Assist (VSA), Hill Start Assist (HSA), ISOFIX Child Seat Anchor, security alarm, and an Electric Parking Brake (EPB) with Auto Brake Hold (ABH).
The superior safety features of the 6th Generation Honda Civic Type R reflect Honda's global goal of achieving 'Safety for Everyone' sharing the road. By 2050, the brand envisions zero traffic collision fatalities involving Honda vehicles, and this shall be done through the continuous reinforcement of safety technologies on its vehicles.
In line with its global direction, Honda is driven by its desire to expand the potential of people's lives, this allows the Japanese automaker to continue taking on challenges to share joy and excitement with customers. Along with that, the All-New Civic Type R was developed based on Honda's challenging spirit, leveraging its deep roots in competition with racetrack-proven engineering that maximizes performance without sacrificing Type R's civilized road manners.
"Tonight, we welcome 2023 with the launch of the most powerful Civic Type R. It embodies Honda's DNA, demonstrating the brand's strong determination to craft machines that attain the ultimate in speed and the joy of driving," said Masahiko Nakamura, president of Honda Cars Philippines, Inc.

The 2023 Civic Type R is available in two colors: Championship White and Racing Blue Pearl.  It retails at PHP3,880,000.
For more information, visit any of the 37 Honda Cars dealerships nationwide or HCPI's VIRTUAL SHOWROOM at www.hondaphil.com