Hyundai leaps into the New Year with the County New Breeze, upgraded with features for more safety, convenience, and performance on the road. 
Since Hariphil Asia Resources, Inc. (HARI, formerly Hyundai Asia Resources, Inc.) assumed the official distributorship of Hyundai commercial vehicles in the country in 2016, its flagship minibus, the County, has built a name for itself as a leader in the bus segment, with sales of over 800 in the last six years, or averaging 136 units a year. At the height of the pandemic, HARI converted the County into a COVID-ready public transport to serve health workers and front liners via HARI's Biyahe ng Bayani program. To this day, the County remains a trusted and dependable people mover for government and private business as well as in the education and tourism sectors.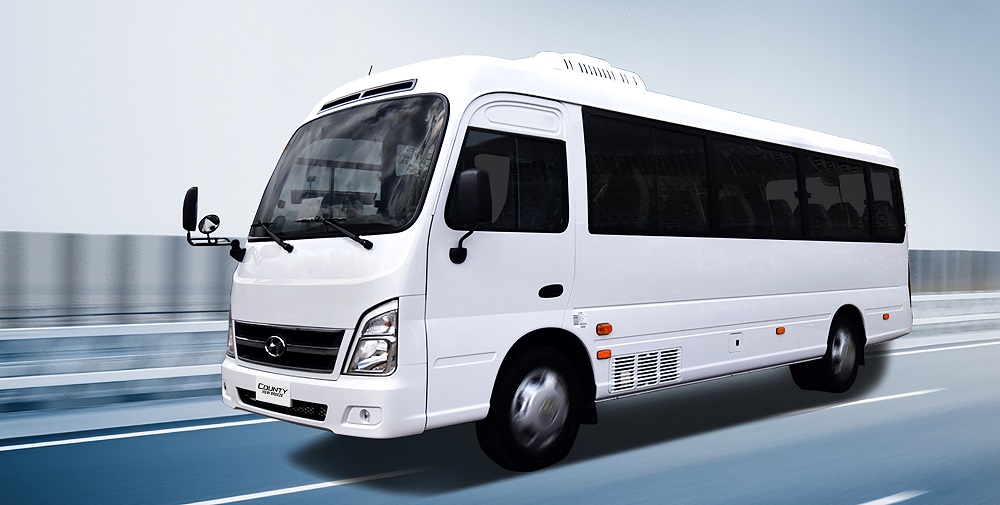 More to look forward to
The County New Breeze sports a fresh new face that continues to delight with its cool, friendly stance and improved body dimensions that can accommodate 29 passengers plus the driver. Gross vehicle weight (GVW) is 6,190kg — 10kg heavier than the previous model — while the curb weight of 4,305kg maintains good balance and stability, especially when the vehicle is loaded with passengers and cargo. It stands taller at 2,870mm, factoring in the roof electric ventilator and condenser unit for the air conditioning. Relocating the A/C condenser unit to the roof reduces exposure to dirt,, makings the cooling system more efficient. It's also 25mm longer compared to the previous mode. 
The Extra Long variant of the County New Breeze provides extra space for 29+1 reclining seats or an additional row that allows for 32+1 standard seats.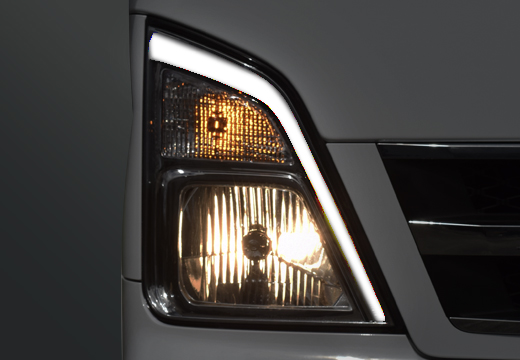 At the front, new headlamps fitted with LED positioning lamps and projector-type fog lamps ensure better road visibility. Front lights are grouped in a unique aesthetic, with the new square design inspired by the golden ratio and a horizontal bezel that blends seamlessly with the radiator grille. Completing this luxurious design is a delicate surface treatment, endowing the County New Breeze with new crispness and composure.
Head to the back to appreciate the rear combination lamps, vertically designed to provide maximum visibility. They also come with rear fog lamps on both sides for added visibility. The cargo flap door can be conveniently flung wide open for more effortless loading and access to luggage.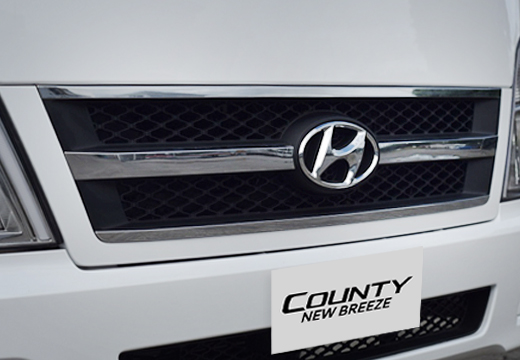 Other thoughtful complements include the chrome and matte black grille, new micro antenna design, full-size window wipers that come in handy during heavy rain, and rear reflectors for added safety.
More comfort

Inside, the County New Breeze is generously spacious and relaxing. Seats are upholstered with modern PVC material that perfectly withstands the wear and tear of travel.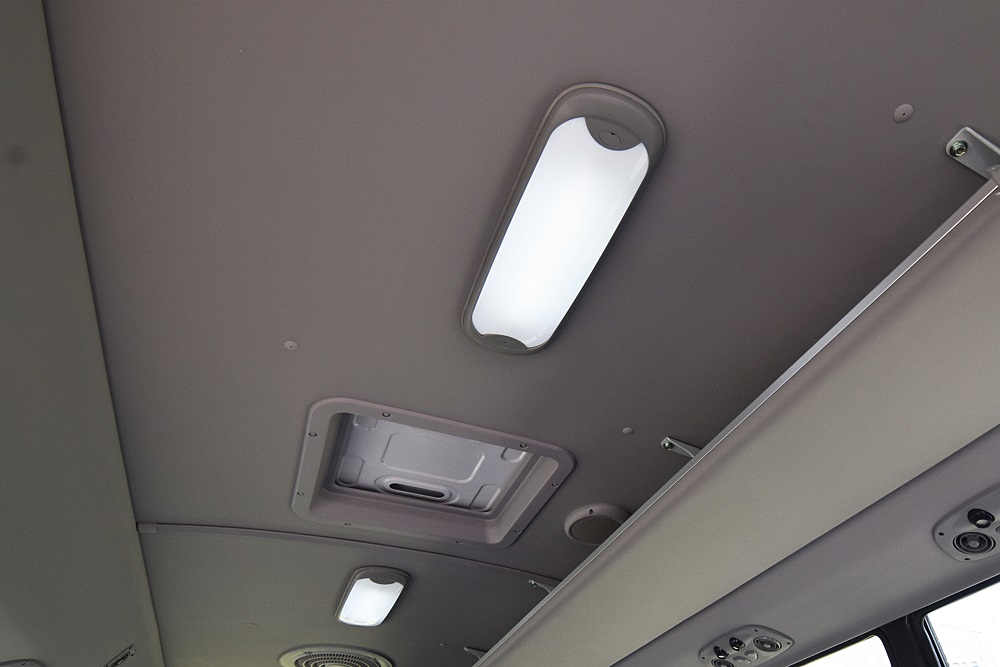 The redesigned cabin is airy and comfortable. Additional overhead lighting enhances the cheery, restful space, which passengers most welcome, especially during long-haul trips.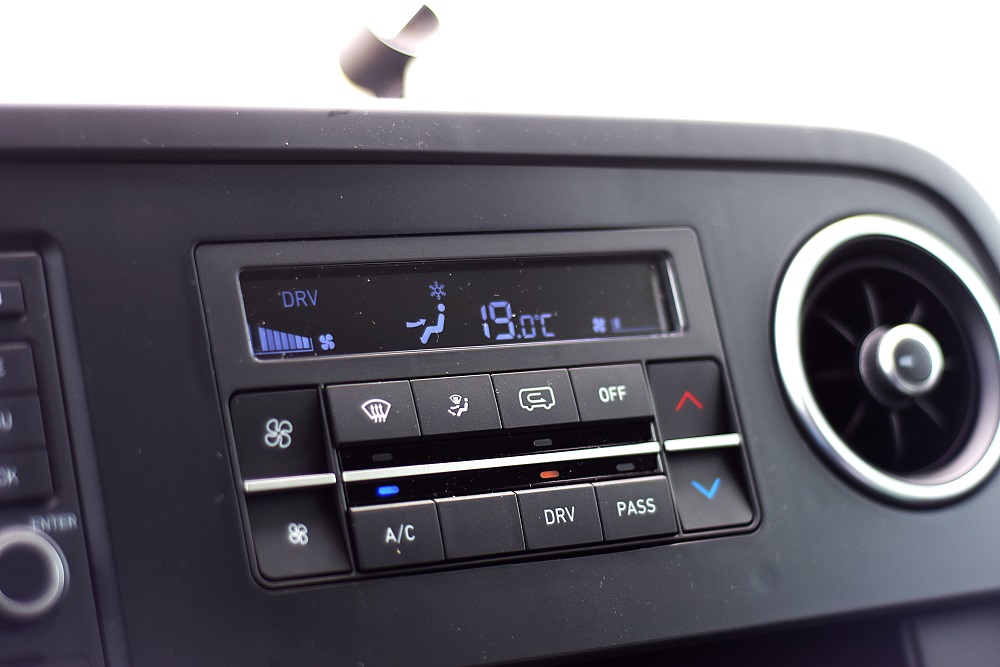 The air conditioning system with high cooling capacity can be easily adjusted via the digital dual climate controls for the driver and passenger and the LCD, which monitors the heating, ventilation, and air conditioning (HVAC) system status. Circular-type adjustable air vents help circulate cool air more effectively in the cabin.
More convenience
Drivers will likewise appreciate the thoughtful improvements applied on the County New Breeze, starting with the newly designed layout featuring the new crash pad and instrument cluster and a more functional tilt-adjustable telescopic steering wheel with a new four-spoke design and button controls.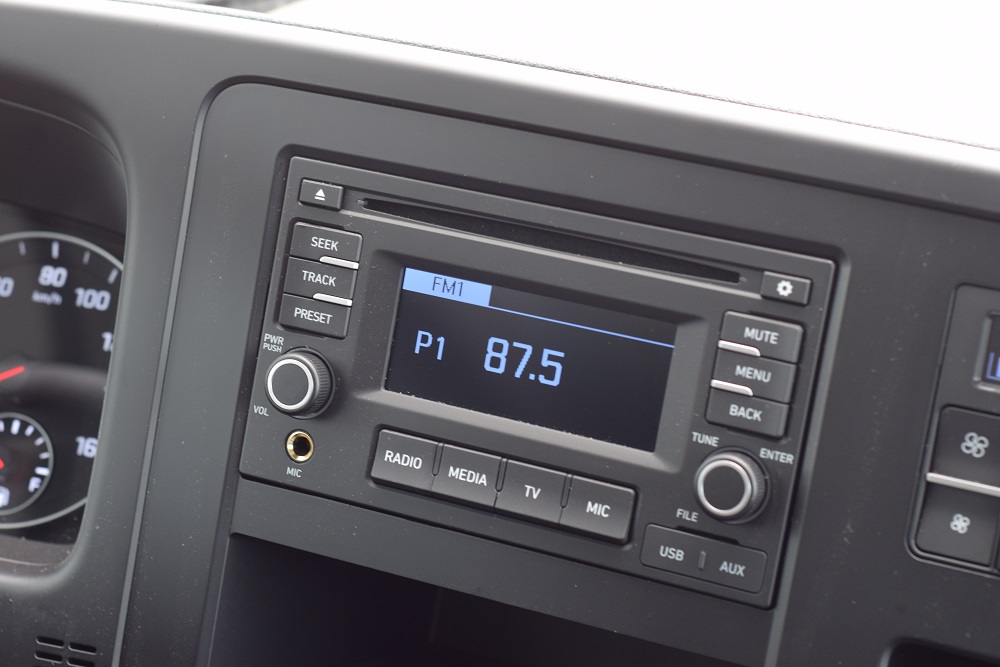 At the center is a 3.5-inch Supervision LCD cluster that displays a wide range of information, like odometer reading, trip data, and other vehicle functions, with digital precision, speed, and colorful, razor-sharp clarity. No fumbling on switches, as the County New Breeze also comes with a revised switch layout that features a horizontal row of switches on the right hand, all logically arranged and identified for quick, intuitive use. The left side, with twin rows of four switches, is likewise easy to operate.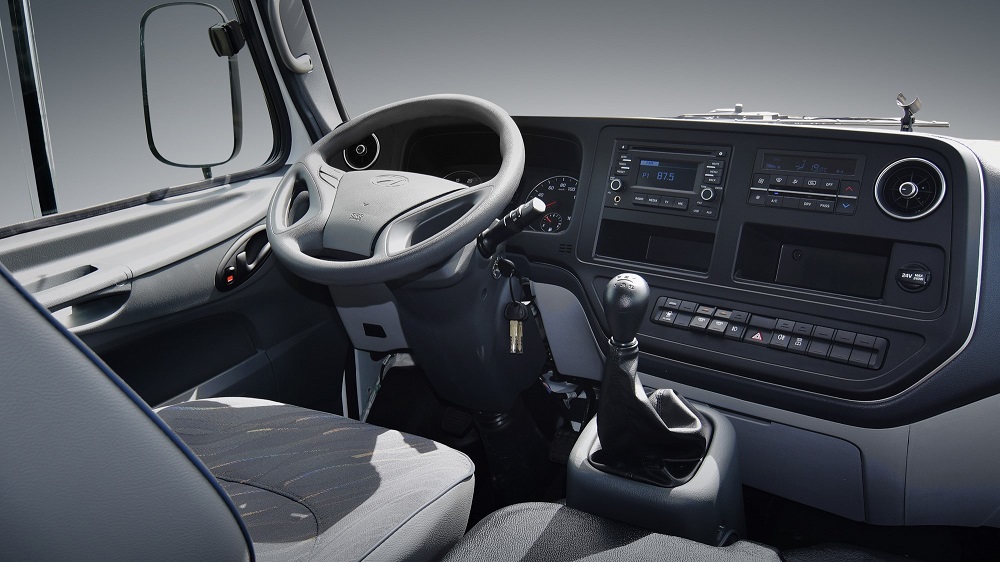 The driver also has access to the audio system fitted with a radio, CD player, TV, driver speaker, aux input, USB, and hand microphone, which make it easier to communicate with passengers while maintaining a calm and relaxed atmosphere.
More safety and stability
The County New Breeze is equipped with dual front airbags (for driver and front passenger) designed in the latest depowered type mechanism that minimizes the risk of injury from airbag deployment.
The Anti-Lock Braking System (ABS) is standard to instantly detect and prevent dangerous wheel lock-ups when driving on slippery roads, keep directional stability and bring the vehicle to a safe, controlled stop.
Speaking of stability, the front of County New Breeze rides on semi-elliptic laminated leaf springs with mono-tube shock absorbers, while the rear setup has long-span tapered leaf springs to ensure good handling and a smooth, stable ride.
Front disc brakes add more safety, as they improve stopping power and come with auto adjusters and pad wear indicators.
More power
At the heart of the County New Breeze is a powerful turbocharged, intercooled CRDi diesel engine that gives off maximum power of 140ps at 2,700rpm, and maximum torque of 38kg-m at 1,600rpm for dependable performance on the road.
And because it's a Hyundai CRDi engine, it's designed for the precise use and clean combustion of diesel for a fuel-saving and eco-friendly ride.
There's certainly more to a good day's travel. The Hyundai County New Breeze will make it worthwhile with more to count on in terms of comfort, safety, and overall performance that goes a long way. 
Know more about the County New Breeze! Drop in on Facebook at https://www.facebook.com/hyundaitrucksandbusesph/ or email [email protected]. You may also visit any authorized Hyundai Trucks and Buses Dealers nationwide.