All British Cars, the exclusive Philippine of Jaguar and Land Rover cars, has announced the arrival of new electric vehicles in the country.
Jaguar I-PACE
The Jaguar I-PACE is an all-electric five-seater smart sports car, that is able to deliver power unmatched by conventional vehicles. Able to deliver 97% of electric power at the wheels (versus only 70-75% from cars with engines and gearboxes), the I-PACE produces 400ps of power an d696Nm of torque, capable of accelerating from 0-100kph in just 4.8 seconds—all without noxious emissions.
As in the best handling sports cars, I-PACE keeps its weight between the wheels with the battery sitting low between the axles, allowing a near perfect 50:50 weight distribution. Two electric motors deliver power to where maximum grip is available among all four wheels. The body, made from alloy and steel, was fashioned to maximize strength and safety without compromise on weight. It was designed to maintain downforce as the vehicle increases speed.
Powering the I-PACE is a 90kW lithium ion high-voltage battery. Charging from zero to full would take 12 hours and 48 minutes using the bundled 7kW charger, ideal for home charging. It is covered with an eight-year, 160,000-kilometer, 70 percent health state warranty. I-PACE is also capable of regenerative braking which allows it to harness energy during deceleration.
For convenience, users can leave the charger plugged and can set when the I-PACE will charge. The I-PACE can pre-condition the battery and cabin temperature prior to planned departure. The thermal management system ensures the battery is optimized for the journey. It can also update its software over the air, ensuring users to always have the latest version of telematics and battery energy control software.
The I-PACE units coming to Manila will be future-proof and will be equipped with the latest upgrades. It will sport an 11kW on-board charger to allow faster charging in the future and the new Pivi Pro infotainment system, which is created to be as intuitive and easy to use as a smartphone. Additionally, it also comes with a Type 2 Plug 7kW wall charger, for which installation costs weill vary per household.
The Jaguar I-PACE has a PHP 7,590,000 sticker price. 
Range Rover PHEV and Range Rover Sport PHEV
Meanwhile, the Land Rover brand is bringing in two new additions to its refined all-terrain SUVs, the Range Rover and Range Rover Sport Plug-In Hybrid Electric Vehicles.
Both are equipped with a 2.0-litre Ingenium turbocharged petrol engine complemented by an 85kW electric motor. Together, the Ingenium engine and electric motor are capable of 0-100kph acceleration in 6.7 and 6.8 seconds respectively, both with a top speed of 220kph.
Drivers of our PHEV models can choose from two driving modes:
[1] Parallel Hybrid mode (default driving mode) – combines petrol and electric drive. The driver can optimise battery charge or fuel economy by utilising one of two charge management functions:
SAVE function – prevents the battery charge dropping below a pre-selected level
Predictive Energy Optimisation (PEO) function – entering a destination in the navigation system enables this feature which uses in built GPS altitude data for the selected route, to intelligently combine the electric motor and petrol engine to maximize fuel economy
[2] EV (Electric Vehicle) mode – enables the vehicle to run solely on the electric motor using the energy stored in the battery, the ideal solution for quiet, zero-emission journeys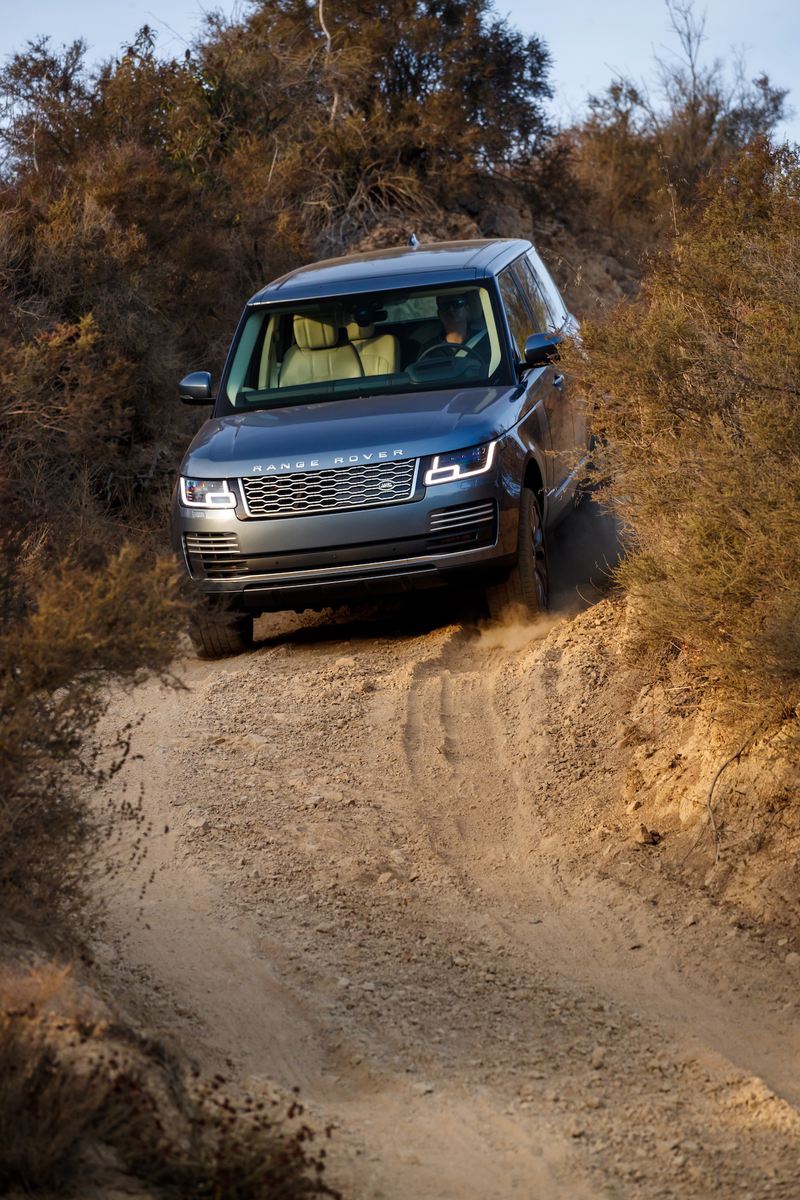 WIth their hybrid powertrain, the Range Rover PHEV and Range Rover Sport PHEV produce only 64g/km of CO2 emissions and reach 2.8L/100km fuel economy on the New European Driving Cycle (NEDC). In Parallel Hybrid Mode, both plug-in hybrid models can reach up to 700 kilometers.
In EV mode, it provides an all-electric range of up to 50km without the Ingenium petrol engine running. This range allows users to make short electric-only trips within Metro Manila with the luxury of near-silent driving. The hybrid powertrain offers exceptional power of 404ps and instantaneous torque of 640Nm.
The Range Rover PHEV and Range Rover PHEV have a 13kWH high-voltage lithium-ion battery that can be charged from zero to full in 2 hours and 45 minutes. It is covered with an eight-year, 160,000-kilometer, 70 percent health state warranty. Both models are capable of regenerative braking, harnessing the energy during deceleration.
The Range Rover PHEV is available in Vogue standard wheelbase at PHP 11,990,000 and Autobiography long wheelbase at PHP 15,190,000. The Range Rover Sport is priced at PHP 9,490,000. Each comes with a Type 2 Plug 7kWh wall charger, although installation costs are not included and may vary per household.
BGC Boutique Showroom
All British Cars is also expanding with their Jaguar Land Rover BGC Boutique Showroom. The second showroom follows the global Jaguar Land Rover ARCH retail design standard which was designed to excite customers and create memorable experiences while remaining customer-centric. It is located at 5th Avenue cor. 24th Street, Bonifacio Global City, Taguig. 
Clients may set an appointment before visiting the showroom or book a virtual appointment now by contacting (02) 8784 5003 or +63 919 068 2798 so representatives could introduce the new electric vehicle line up while they are at home.