The Auto Nation Group (ANG), official distributor of Jeep vehicles in the Philippines, has launched two new subcompact front wheel drive SUVs that embody city adventure and sophistication, the all-new Jeep Renegade and the new Jeep Compass. These will be available for viewing at all Jeep dealerships nationwide, and is being offered with a launch discount of PHP 50,000 for purchases made until 30 June 2020.
Hit the road in style with the all-new Jeep Renegade
The Jeep Renegade fits the younger lifestyle, targeted at young entrepreneurs, a modern day moms, or young professionals looking for their first vehicle. Its compact size makes it easier to drive and maneuver on tight corners and small streets, while bold color options make it stand out.
Starting with the iconic 7-slotted bright surround grille, the body takes on a more modern look while keeping the ruggedand sporty stance that all Jeep vehicles are known for. The all-new Jeep Renegade also comes with 17-inch aluminum alloy wheels and sporty headlamps with daytime running lamps. It also features a full sun roof.
The Renegade is powered by the new 1.4L Tjet turbo engine with engine stop start, mated with a 7-speed dual dry clutch transmission, producing a power output of 147hp and 230Nm of torque.
The infotainment system consists of a 7-inch touch screen display powered by UConnect 4 with Apple Car Play and even supporting Baidu carlife. The 6-speaker system has integrated voice command and Bluetooth. The Renegade boasts of its cargo space with compartment cover and lamp, and 60/40 folding rear seats allows flexibility for accommodating passengers and luggage.
The all-new Jeep Renegade is priced at PHP 1,640,000 for the Longitude variant, and PHP 1,790,000 for the Limited variant.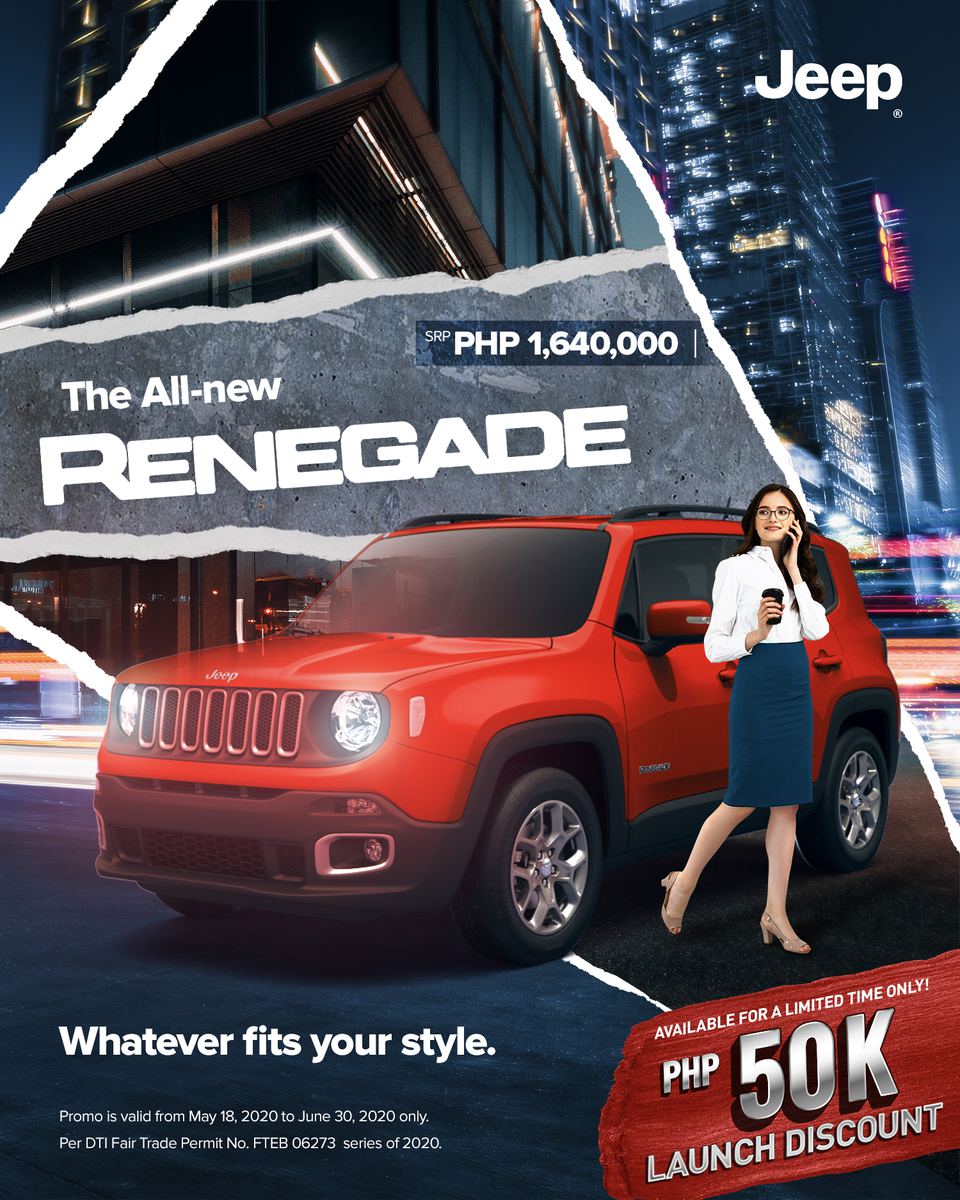 Never get lost with the Jeep Compass
Initially teased during the 2019 Manila International Auto Show, the Jeep Compass finally arrives on Philippine soil. It is positioned as the Jeep vehicle that fits all lifestyles.
Under the hood, the Jeep Compass is powered by a 1.4L MultiAir turbo engine with engine stop start, partnered with a7-speed dual dry clutch transmission, producing 162hp output and 250Nm of torque.
Crowned by the iconic 7-slot grille, the Jeep Compass strengthens its muscular profile with 17-inch fine silver aluminumwheels with all-season tires. Sporty headlamps with daylight running lamp, as well as LED tail lamps, plus a dual pane sunroof complete the look.
Inside, the Compass is equipped with a 7-inch touch screen display with 6 speakers infotainment system. It is poweredby UConnect 4 system with Apple Carplay – providing seamless experience and making navigation a breeze. The system is also equipped with Baidu carlife app.
The Compass also gives ample storage ready for your next adventure, as the rear seats can be folded 60/40 and comes with a compartment cover, lamp, and tie down loops. The side roof rails provide secure attachment points for your sports equipment, if you don't feel like putting them inside.
Suggested retail price for the Jeep Compass is PHP 1,850,000.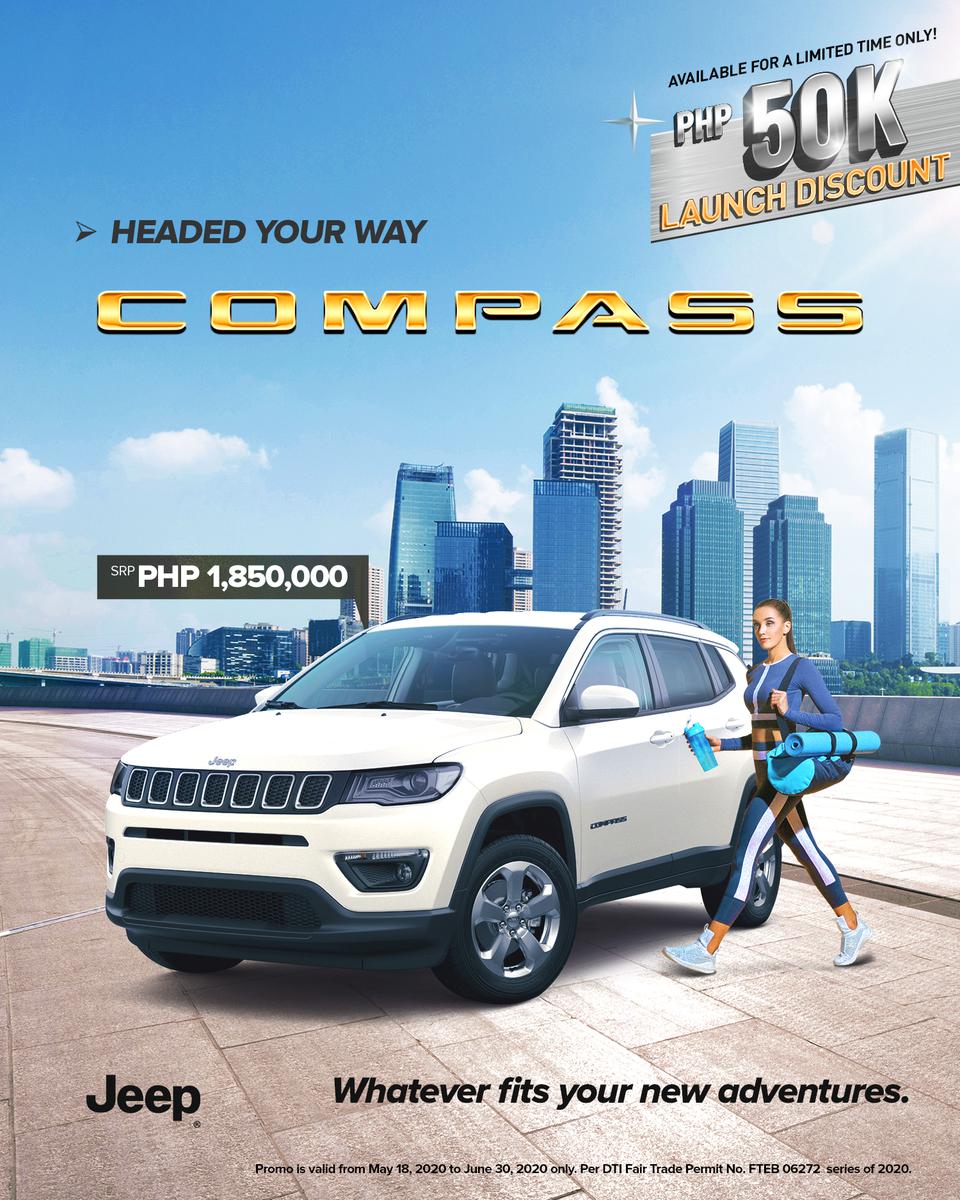 JEEP SAFE! (Keep safe!)
Just like all Jeeps, the Renegade and the Compass are equipped with a number of active safety features such as all speedtraction control, anti-lock 4-wheel disk brakes, battery run down protection, electronic park brake, electric power steering, electronic roll mitigation, electronic stability control, Parksense rear park assist system, Parkview rear back-up camera, and next generation airbags.
Auto Nation Group, the official distributor of Jeep vehicles in the Philippines, strictly enforces sanitation and disinfection measures for the general safety of the public. All vehicles that go in and out of the facility undergo disinfectant solution using mist blower. No need to worry when visiting the showroom as all personnel strictly adhere to proper hygiene practices within the workplace and social distancing measures are followed. Daily sanitation process is implemented across all dealerships.
For more information, contact your nearest Jeep dealership or visit www.jeep.com.ph