Nissan Philippines visited the City of Ormoc to participate in the community's annual Christmas tree lighting ceremony, bringing joy and hope to Ormocanons while advocating sustainable mobility with the 100% electric Nissan LEAF. The LEAF powered up the city's 50-foot Christmas tree through the EV's V2X technology that allows the LEAF to act as a power generator.
Nissan co-presented the Philippine EV Summit last October and has been frontlining the Nissan LEAF to promote its electrification plans for the country. With the trip to Ormoc City, Nissan is taking one of the many steps to reinforce the role of sustainable mobility in creating resilient societies through its Blue Switch initiative launched in January of this year.
The Nissan LEAF aims to provide an optimistic outlook for the future and people of Ormoc, an area that is often beset by typhoons, including Typhoon Odette, which devastated the city last December 2021.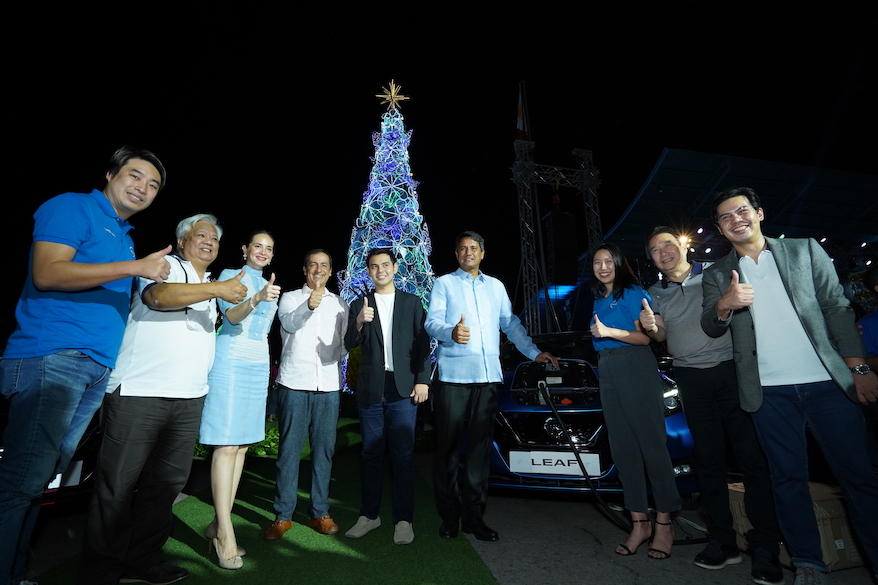 In attendance during the Tree Lighting Ceremony was Nissan Philippines' president Juan Manuel Hoyos, joined by Mayor Lucy Torres-Gomez, Congressman Richard Gomez from the 4th District of Leyte, Ormoc City SP Chairman Peter "Perok" Rodriguez, and Vice Mayor Leo Carmelo Locsin, Sr.
Also present are Michael Goho, vice-president and chief operating officer of Gateway Motors, the exclusive distributor of Nissan LEAF in the Philippines; Willard Chan, president of Topcars Autoworld Corporation, the owner and operator of the Nissan dealership in Ormoc City; Ryan Chan, managing director of Topcars Autoworld Corporation; and Charlene Chan, chief finance officer of Topcars Autoworld Corporation.
"We are very honored to have been a part of this special ceremony. We understand the significance of the event to the city of Ormoc and we're glad that the Nissan LEAF was able to bring joy to the local community. We look forward to helping the city in its recovery efforts and be more resilient with the help of our EV technologies," says Hoyos.