Summer is almost over, but promo offers from Toyota just keep coming in waves! This May, Toyota Motor Philippines (TMP) is offering exclusive deals, from low monthly payment options to trade-in rebates, so you can get the most out of this season.
Visit your favorite destinations with the ever-reliable Vios. Get the 1.3 XE CVT variant at PHP7,518 per month via the Pay Light option (low monthly plan at 50% down payment with 60 months to pay). Meanwhile, the G, E, and XLE variants come with an extended warranty coverage of 5 years or 150,000 km, whichever comes first. We're sure that even when the season is over, this compact sedan will still be a great companion.
Transporting goods for your summer volunteer work? The Wigo is here to help! For only PHP6,023 a month, you can own the 1.0 E MT variant that's big on space through the Pay Light option.
TMP's latest SUVs – the Raize and Veloz – are also available in the Pay Light option. Discover extraordinary with the Veloz 1.5 G CVT at PHP12,789 per month, or raise the game with the Raize 1.2 G CVT at PHP9,351 per month.
Get PHP10,000 in savings when you purchase any variant of the Rush in cash, and up to PHP45,000 for the Innova, depending on the variant. These seven-seaters are perfect for bringing the family together for gatherings or picking up friends for a reunion!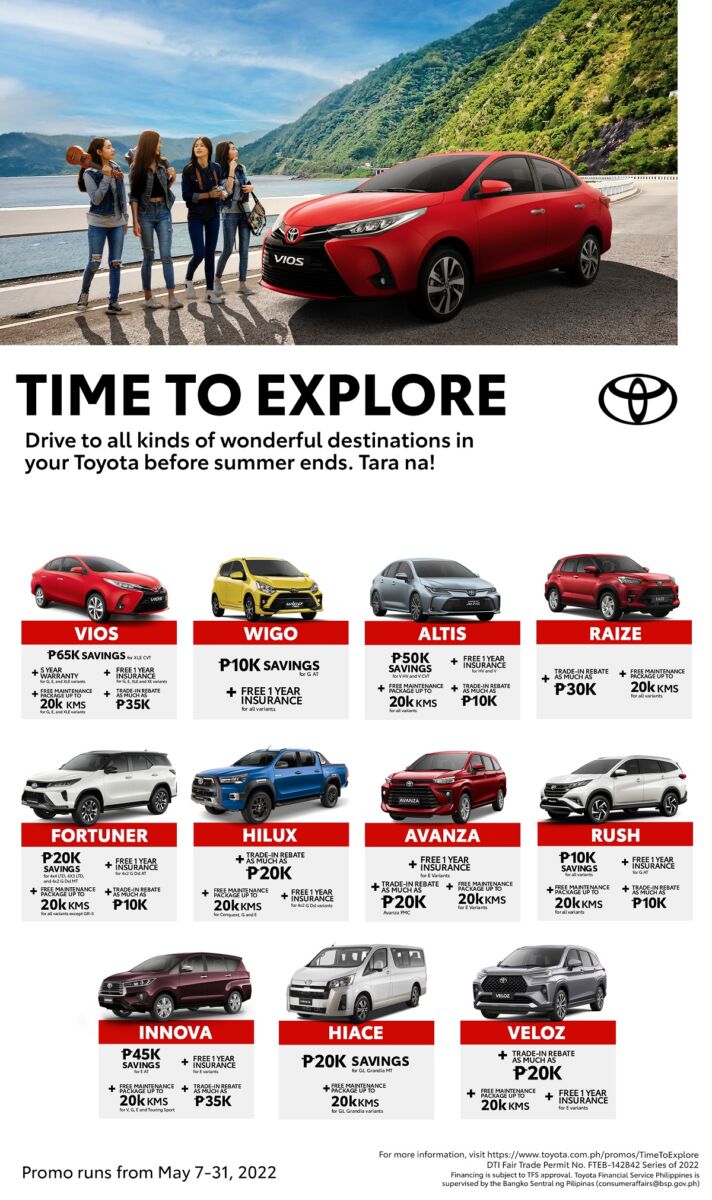 Toyota is also offering free periodic maintenance service of up to 20,000 km for participating variants of the Vios, Corolla Altis, Raize, Avanza, Veloz, Rush, Innova, Fortuner, Hilux, and Hiace. The service includes an inspection of your vehicle and a change oil job to guarantee maximum performance.
For those looking to trade in their vehicle, here's an exciting deal for you: get PHP30,000 rebate when you trade in your Vios for a Raize G CVT, or PHP20,000 when you trade in your Vios or Avanza for a Veloz. This rebate can be used as cash discount when you purchase the new vehicle. To know if your vehicle is qualified, have your old Toyota model assessed by Toyota Certified Used Vehicles.
All variants of the Wigo and Veloz, and select variants of the Vios, Corolla Altis, Innova, Hilux, Avanza, Rush, and Fortuner also come with free one-year insurance during this promo period.
Don't miss the chance to score a great deal! Promo runs from May 7 to 31, 2022. The full mechanics of these promos can be viewed at toyota.com.ph/promos/TimeToExplore
Check out other deals for more Toyota vehicles on the official website toyota.com.ph or contact any Toyota dealership near you. Follow TMP's official pages – Toyota Motor Philippines on Facebook and Instagram, toyota.com.ph, ToyotaMotorPH on Twitter, and Toyota PH on Viber – for regular updates on products and services, dealer operations, announcements, and events.