Unveiled to the world for the first time earlier this year, the highly anticipated Ford Ranger Raptor is set to arrive in markets across Asia Pacific. With Ford Performance DNA at its core, this high-speed desert racer pushes the limits in technology, innovation and driving excitement. Whether you're hitting the road for a bush bash or a desert drive, Ranger Raptor will make it a ride to remember.  
"We are proud to unleash the Ford Performance version of the highly successful Ford Ranger pickup truck to our customers around the world," said Trevor Worthington, vice president, Product Development, Ford Asia Pacific.  
Ready to set a new benchmark in high-speed, off-road pickup capability, Ranger Raptor packs a hefty punch that makes it the ultimate truck in its segment to drive.  
Take one look at the Ranger Raptor, and you know this off-road high-performance truck means business. Its imposing stance, with 283mm of ground clearance and 150mm wider front and rear track, lets you know that this is a serious off-road performance machine.
Performance-Bred Interior
Step inside Ranger Raptor, and you will enter a world where it is unmistakably Ford Performance. The sports seats are uniquely designed and trimmed in Technical Suede for maximum grip, providing optimum support during high-performance off-road driving, or while cruising in town.
Powerful Bi-Turbo Performance
Of course, it's not enough to merely look aggressive. It needs to deliver great performance and responsiveness too. To that end, the Ranger Raptor is equipped with a new 2.0-liter Bi-Turbo diesel engine that delivers a maximum of 213PS (157kW) of power and 500Nm of torque.
Get this, the Ranger Raptor has 10 gears. Yep, count 'em, 10. Its 10-speed automatic transmission is created with high-strength steel, aluminum alloys and composites to optimize durability and weight.  
Under the skin, the Ranger Raptor's unique chassis frame is newly-developed and extensively modified for high speeds and endurance off-road.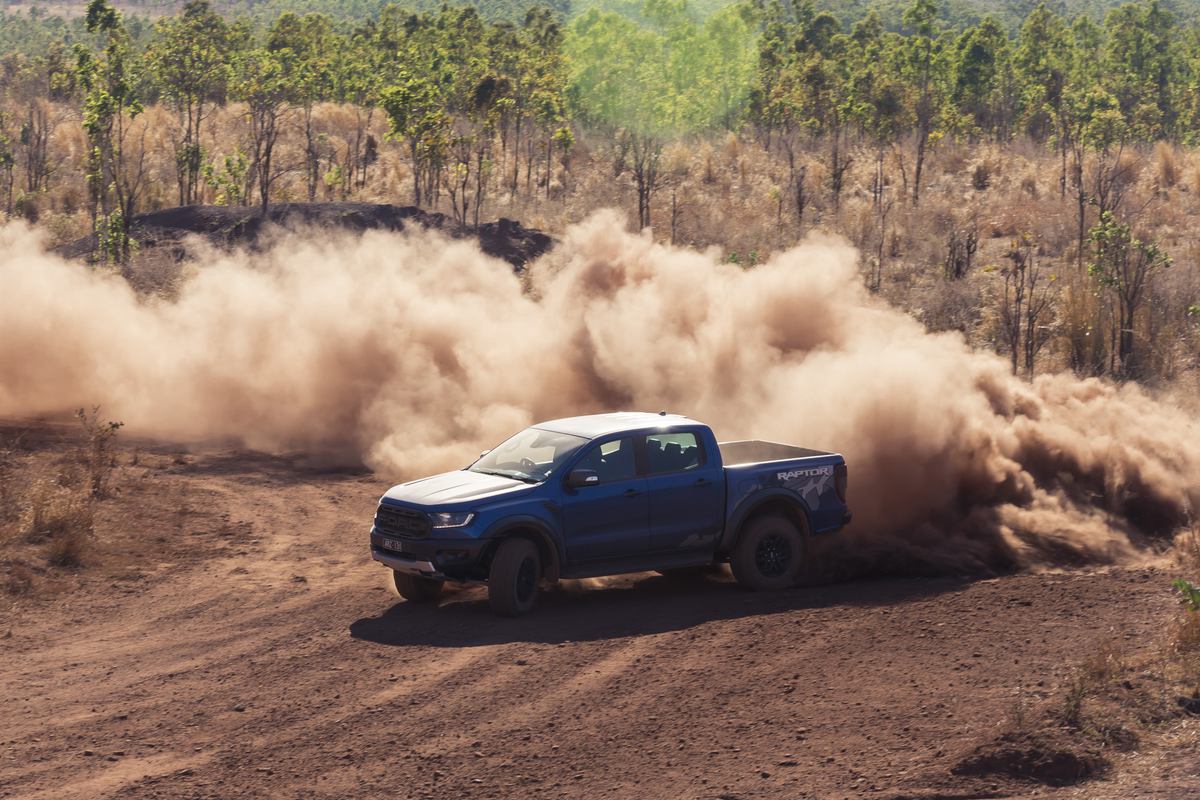 Just to further underline its desert rally credentials, the Ranger Raptor's Terrain Management System (TMS) includes an exciting Baja mode, inspired by Mexico's famous Baja Desert Rally, and enables ultra-responsive, high-speed off-road performance.
And, when you need to come to a halt, the braking system on the Ranger Raptor offers extreme stopping power through new and bespoke components. The front twin-piston calipers have been increased by 9.5mm in diameter and feature ventilated rotors in an impressive 332 x 32mm size. Also, for the first time on a Ranger, disc brakes at the rear include a brake actuation master cylinder and booster to increase braking performance, as well as ventilated 332 x 24mm rear rotors and a new 54mm caliper.
To better handle the crunching jumps and wild rides of your off-road pursuits, the Ranger Raptor's Position Sensitive Damping (PSD) shock absorbers are exclusively manufactured by FOX, designed to provide higher damping forces at full jounce and rebound to enable better off-road capabilities, and lower damping forces in the mid-travel zone for class-leading on-road comfort.
To tackle unforgiving terrain, Ranger Raptor's specially developed BF Goodrich All-Terrain 285/70 R17 KO2 tires offer a tough sidewall to navigate all environments with confidence.
Safety and Convenience First
The Ranger Raptor is loaded with safety and convenience features that make it suitable for both on and off-road. A host of Driver-Assist Technologies (DATs) are available at the push of a button, incorporating unique design features tailored for the Ranger Raptor.
"Our performance vehicles bring a different customer into Ford showrooms, and Ranger Raptor will help conquest new customers looking for a Ranger with immense off-road capability like no other. We have a passion for bringing the best to our customers, and Ranger Raptor showcases the best of Ford Performance's expertise in performance vehicle design and engineering," shared by Worthington