The Land Transportation Office has warned the public against patronizing fixers that have suddenly appeared on social media. LTO executive director Romeo Vera Cruz said they have monitored a number of Facebook accounts that have been offering "expedited approval and renewal" of Drivers Licenses. These accounts have been flagged for investigation and prosecution.
"This is clearly a scam. Obviously, this is not authorized by LTO. People who patronize this will suffer the consequence of their actions. The cards are patently fake. The services are clearly illegal. Our partner Dermalog is the only one authorized to process drivers licenses. No law abiding citizen should attempt to engage the illegal services offered," Vera Cruz said.
A number of Facebook and Twitter accounts have suddenly surfaced offering expedited services for driver's license application and renewal caught in the middle of the Enhanced Community Quarantine caused by the COVID-19 pandemic.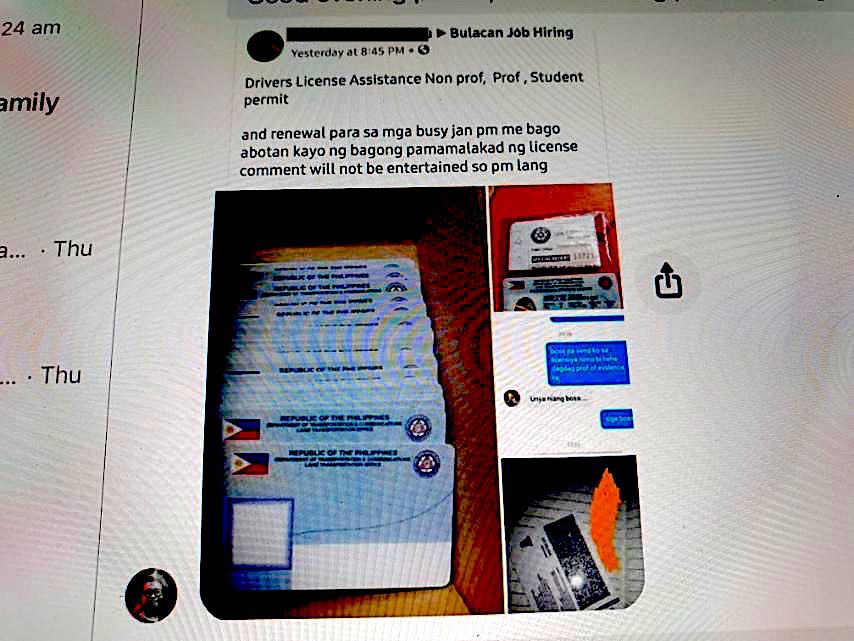 These social media accounts charge anywhere from P2,500 to P5,000 for a driver's license card.
Dermalog, the tech company providing this service for LTO, said these bogus cards can easily be caught by law enforcers because they lack the security features of the original license cards.
Dermalog also announced that they have distributed license card identification machines to LTO personnel which can verify the card's validity by swiping it on the machine or reading the QR codes on the license card.
LTO director Assistant Secretary Edgar Galvante said that "in view of the Enhanced Community Quarantine (ECQ) imposed due to coronavirus disease 2019 (COVID-19) pandemic, and until work resumption is authorized, the agency has temporarily suspended applications for and/or renewal of driver's licenses, other permits, and registration of motor vehicles."
This means all driver's licenses, permits, and registration of motor vehicles which expire during the ECQ shall remain valid.