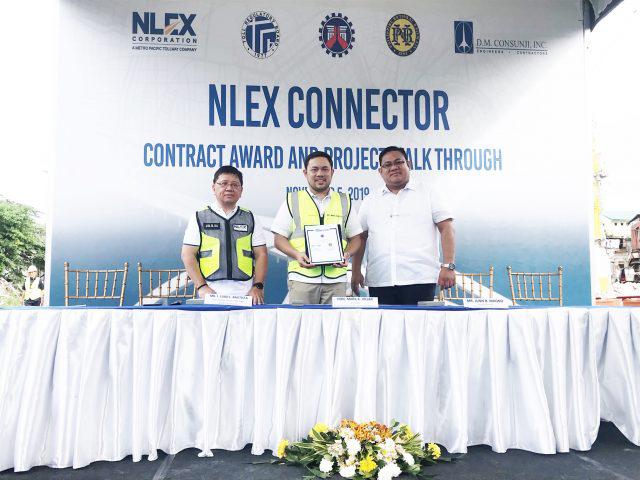 NLEX Corp. formally awarded the contract to D.M. Consunji Inc. (DMCI) for the construction of the eight-kilometer elevated expressway.
Aiming to provide an integrated expressway connection between the North and South Luzon expressways, the infrastructure will be an all-vehicle class and elevated expressway that stretch from Grace Park in Caloocan City to España St. in Sampaloc, Manila. The said road link project will then be connected to Metro Manila Skyway Stage 3 located at PUP Sta. Mesa in Manila.
The PNR right-of-way will be shared by the NLEX Connector project and the North-South Commuter Railway (NSCR) which is also currently under construction. According to the contract, DMCI covers the main civil works for the Caloocan-España section. The NLEX Connector will continue the NLEX southward from NLEX Harbor Link Segment 10 from the new Caloocan Interchange.
DPWH Secretary Mark Villar inspected the NLEX connector construction site along the Philippine National Railways tracks in Caloocan City. He was joined with officials from NLEX Corporation and construction company  DMCI. Also present during the formal awarding were Metro Pacific Tollways Corporation (MPTC) president and CEO Rodrigo E. Franco, NLEX Corporation president and general manager J. Luigi L. Bautista, NLEX Corporation
chief operating officer Raul L. Ignacio, DMCI president and CEO Jorge A. Consunji, DMCI associate managing director Christopher R. Rodriguez, DMCI SVP for Business Strategy & Development Rebecca E. Civil, and DMCI VP and Infrastructure Business Unit Head Dwight Taala
Also present at the future site of Caloocan Interchange were other Cabinet Secretaries of the "Build Build Build" team. The new Caloocan Interchange will serve as a strategic converging point for the 5.65-km NLEX Harbor Link Segment 10, the 2.6-km R-10 section, and the 8-km NLEX Connector.
"Upon full completion in 2021, the NLEX Connector will significantly cut travel time from NLEX to SLEX by at least 60 percent. Instead of the usual 2 hours, travel time will now be reduced to about 20 minutes. It will also provide improved accessibility for cargo trucks bound for the Manila Ports (North and South Harbor) and the international airports such as NAIA and Clark." Villar said.
The NLEX Connector is one of the first Public-Private Partnership (PPP) projects awarded by the Duterte administration in 2016.
Seen as a crucial infrastructure needed to solve traffic congestion in Metro Manila, the NLEX Connector is expected to motivate the economic development in the cities of Manila, Caloocan, Malabon, and Navotas, as well as its surrounding areas.
Once the expressway is done, around 35,000 motorists, especially cargo trucks, who are expected to benefit from the project, will be spared using Metro Manila's congested city roads.