Just when you thought Nissan's electric vehicle LEAF couldn't get any better, it gets a new powertrain. The enhanced powertrain gives the vehicle additional power and range of approximately 40-percent, hence the "e+."
The Nissan LEAF e+ features a new version of the Nissan LEAF's revolutionary electric powertrain. It offers more than 40-percent additional range of up to 458 km (WLTC Japan cycle) than its 2010 iteration. Its high-capacity battery and powerful motor work together to produce 160 kilowatts of power and 340 Nm of torque. The combination allows users to accelerate from 80 kph to 120 kph nearly 13% quicker. The LEAF e+'s top speed has also been increased by approximately 10% for comfortable cruising.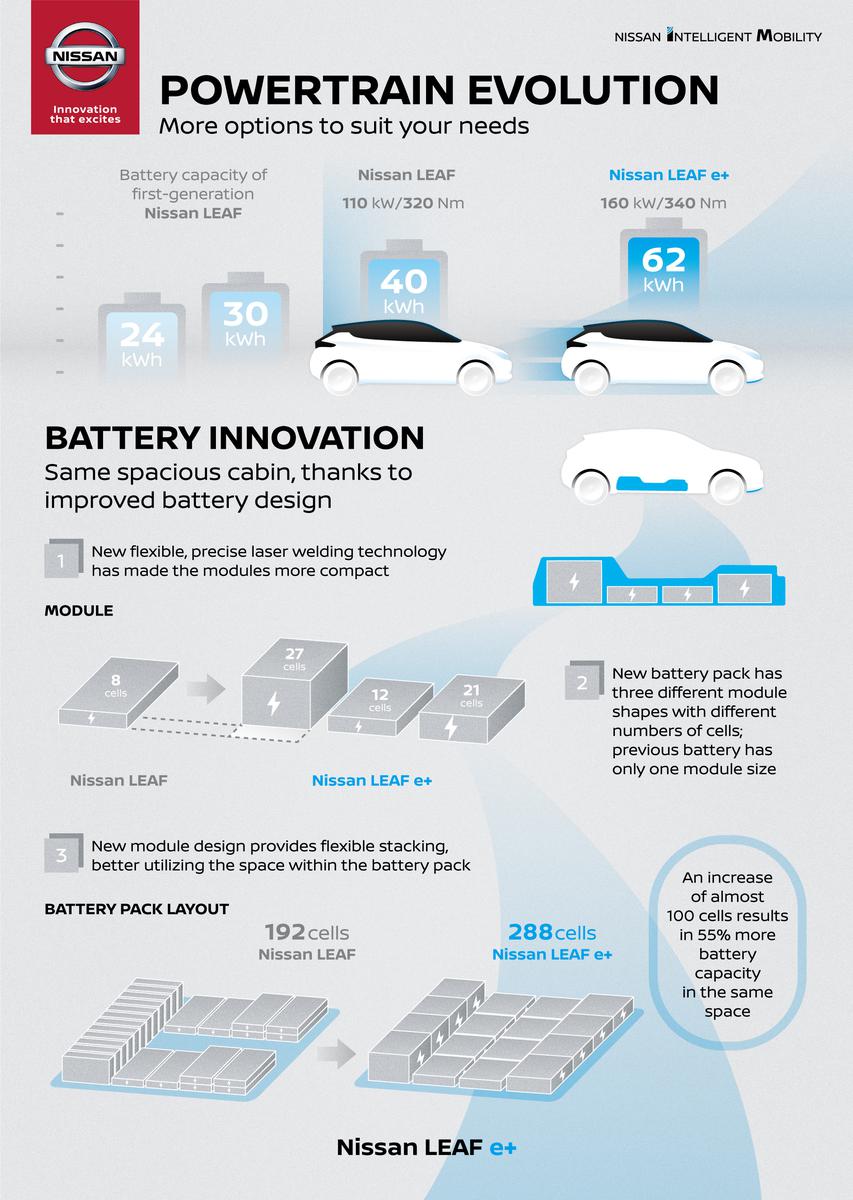 It comes with a 70 kW (100 kW peak) Quick Charging system, allowing it to charge more efficiently. The battery limited warranty of 8 years/160,000 km is standard for all versions.
The Nissan LEAF e+  with increased energy density and higher output meets various driving needs. "The LEAF e+ is more LEAF, offering customers more choice in terms of power and range," said Daniele Schillaci, executive vice president of Nissan. "By offering customers a choice of powertrains to suit their needs, the award-winning Nissan LEAF is now more convenient and appealing than ever."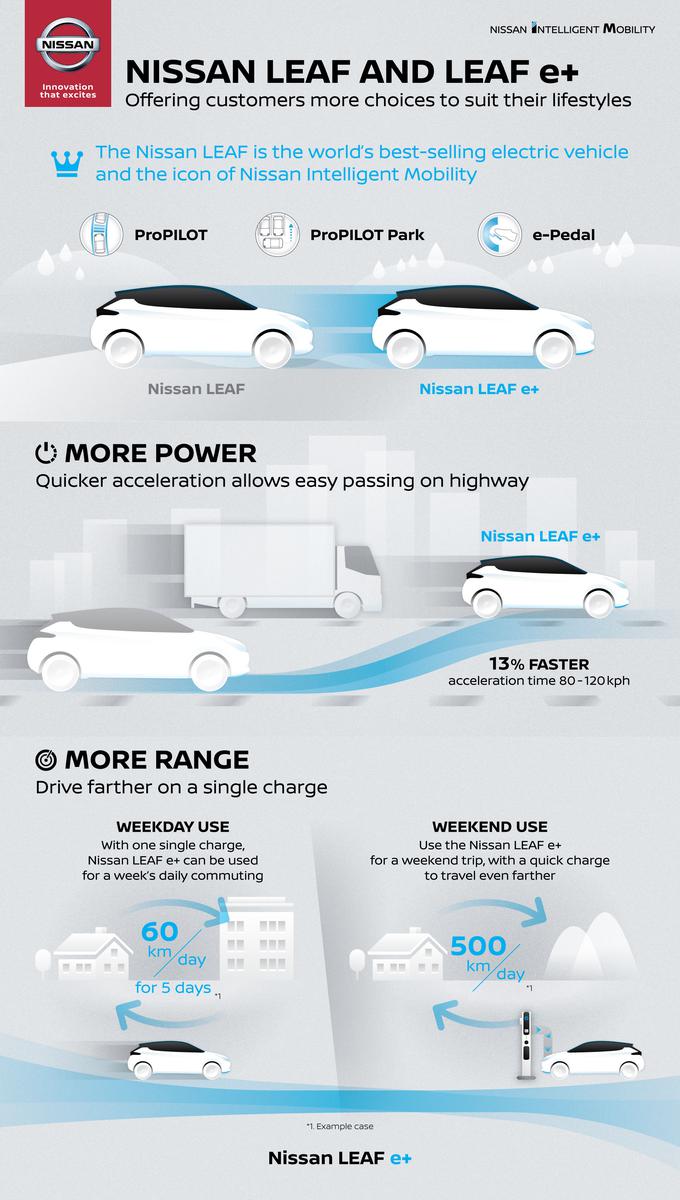 A true embodiment of Nissan's Intelligent Mobility, the LEAF e+ is equipped with advanced technologies including the ProPILOT  semi-autonomous driving system and e-Pedal mode for one-pedal driving.   
ProPILOT can automatically adjust the distance to the vehicle ahead, using a speed preset by the driver (between about 30 kph and 100 kph), help the driver steer and keep the vehicle centered, automatically apply the brakes if necessary and resume driving when the driver touches the steering wheel-mounted ProPILOT switch again or lightly presses the accelerator.
The e-Pedal on the LEAF e+ has been reprogrammed for smoother operation and enhanced pedal feedback, especially for operation in reverse, and for smoother and more rapid deceleration, making it easier to stop the car using e-Pedal, even when backing up.
Every Nissan LEAF vehicle are also built with Intelligent Lane Intervention, Lane Departure Warning, Intelligent Emergency Braking, Blind Spot Warning, Rear Cross Traffic Alert and Intelligent Around View Monitor with moving object detection.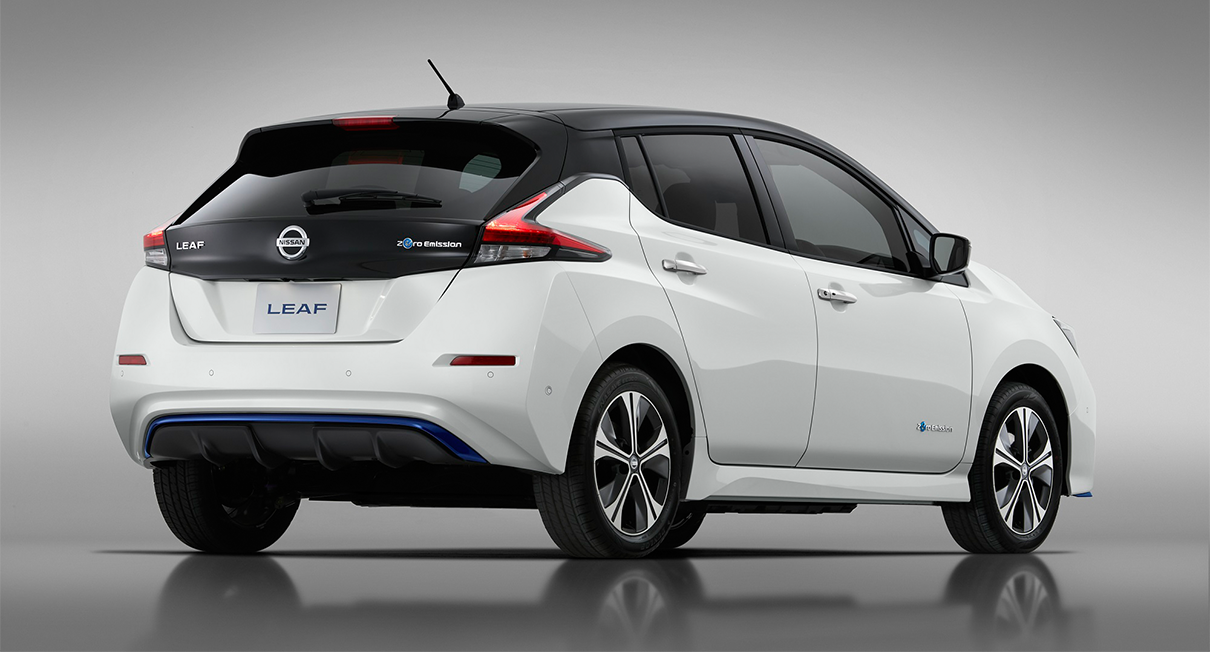 Beyond its intelligent and powerful features, the LEAF e+ flaunts eye-catching exterior elements. It features a revised front fascia with blue highlights and an "e+" logo plate on the underside of the charge port lid.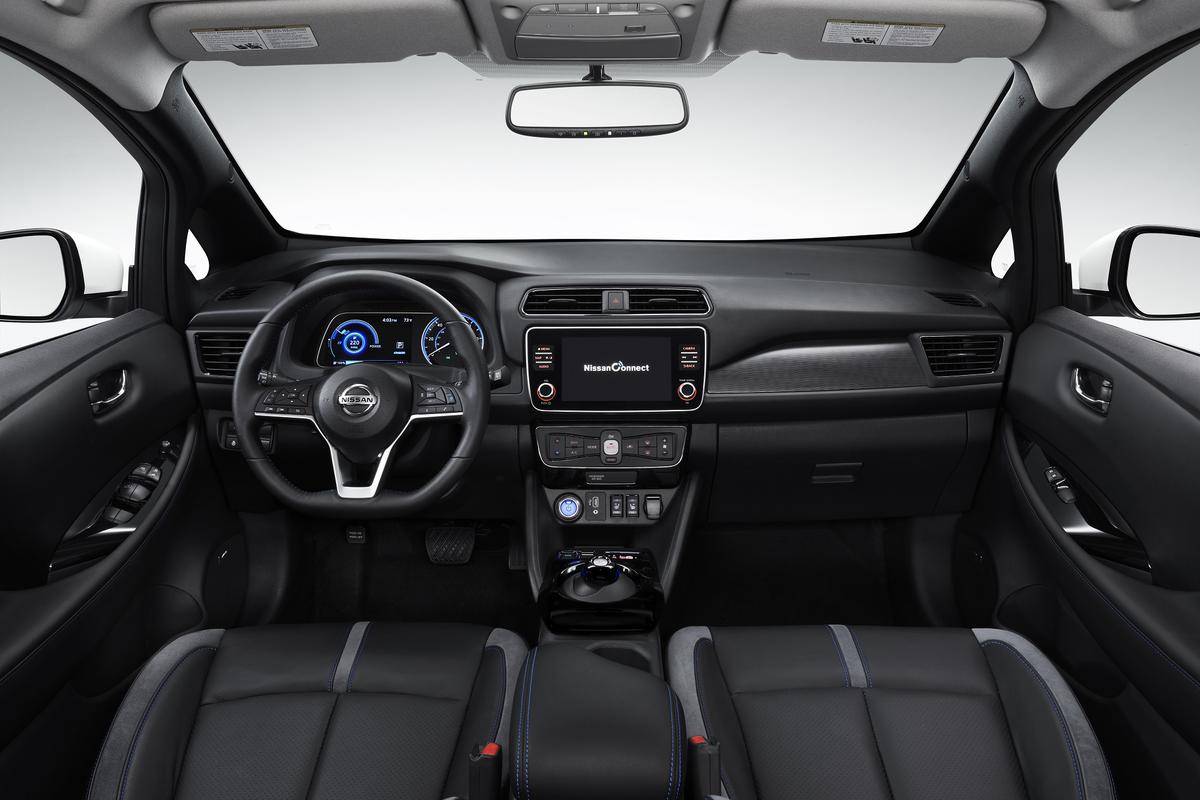 Inside, it is spacious, highly functional, and matches its advanced features with high tech, yet luxurious elements. Vibrant blue contrast stitching for the steering wheel, seats and door trim accentuate the car as a Nissan electric vehicle.
"The Nissan LEAF e+ takes Nissan Intelligent Mobility even further," Schillaci said. "The Nissan LEAF continues to play a leading role in paving the way toward an efficient and sustainable mobile society – creating a 'new normal.' This 'normal' goes beyond vehicle ownership, providing additional benefits for the customer and the world."
The LEAF e+ variant is scheduled to join the Nissan LEAF at Nissan dealerships in Japan in late January 2019. U.S. sales are expected to begin in the spring of 2019, and European sales will commence in mid-2019. Pricing of the Nissan LEAF e+ in Japan starts at ¥4,162,320. Features and components such as ProPILOT Park, 8-inch display with updated navigation system, Door-to-Door navigation, and more vary across regions.