Preparing a road trip for a baker's dozen meant that we needed to transport not just a lot of people, but also a lot of gear. Fortunately, our friends from Ssangyong sent over a Rodius 2.0L 5AT EX to help us with our logistical concerns.
Although the official product brochure bills the Rodius as a "dynamic SUV," it's more commonly classified as a van or MPV due to its low profile and 9-seat configuration. While its front and rear bear a family resemblance to its siblngs, the Tivoli and Korando, the overall impression is reminiscent of a more sedate station wagon or mom-mobile.
Powered by a 2.0-liter common rail turbo diesel engine mated to a 5-speed automatic transmission, the Rodius produces 155 hp at 4,000 rpm and 360 Nm of torque at 2,000 rpm from a rear-wheel drive system. The e-tronic automatic transmission is based on Mercedes-Benz technology, thanks to Ssangyong's previous collaboration with the German auto-maker. Built-in artificial intelligence learns the driver's shifting habits and uses the information for more precise gear changes.
Road bumps are cushioned by front double wishbones and rear independent multilink suspensions. Brakes are ventilated discs all around.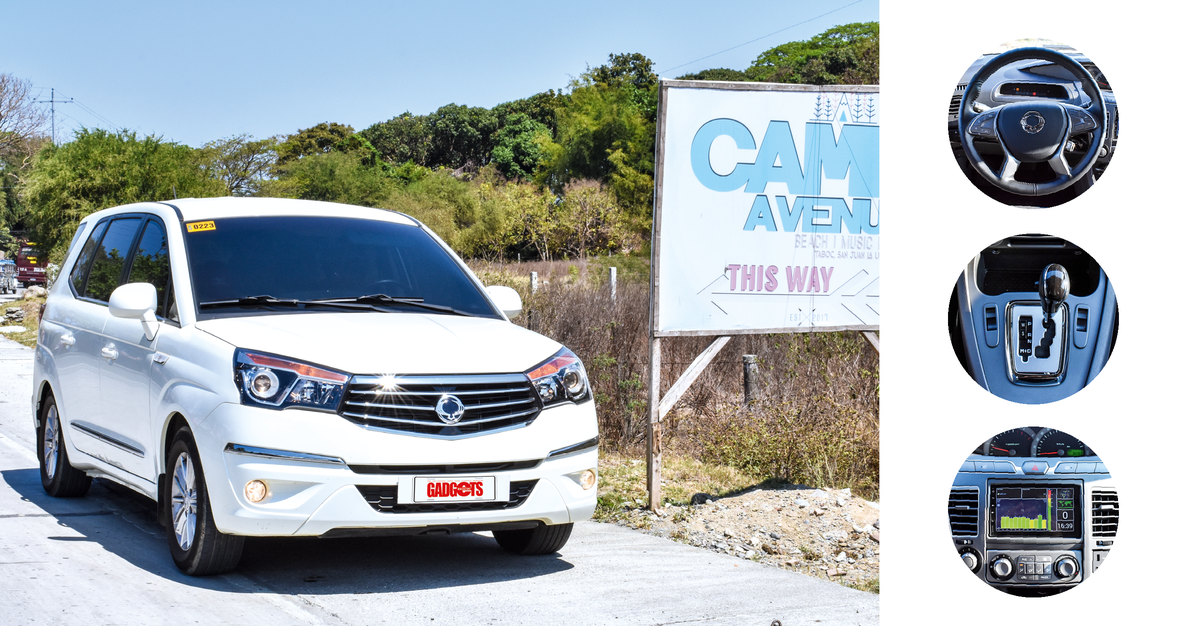 The best seats in the Rodius were the second and third row captain seats which can be reclined, have adjustable armrests, and can slide forward and back. The fourth row is a padded bench seat which can be folded down for additional cargo room. In front of each second row seat is a foldable table attached to the back of the front seats. These premium seats are convenient for easy entry and egress, and also have access to a charging socket and USB port.
To combat the summer heat, the Ssangyong Rodius 2.0L 5AT EX has an automatic single zone climate control system with 9 vents to help keep the cabin cool all over. The audio system consists of a 7-inch touchscreen LCD head unit with 6 speakers.
Standard safety features include seatbelts, driver and passenger airbags, anti-lock brakes, electronic stability program, remote keyless entry, and rear parking sensor.
It must be noted that the Ssangyong Rodius topped the 2017 DOE Fuel Economy Run, logging in 33.12 km/L.
Also published in Gadgets Magazine April 2018 issue
Words by Maribelle Alba
Photos by Ronel Bautista