When the good folks over at Chevy told me they were sending me THE Malibu for a week, I thought they said they were sending me TO Malibu for a week. WOW! But when the car was delivered to the house, I realized my mistake, and settled with driving around in Chevy's midsize luxury sedan. Still not a bad deal, me thinks.
Designing an executive car can be a tricky thing. An ideal sedan for the busy decision maker should have a perfect balance of power, sustainability, comfort, and space; it has to have the best safety features and amenities; plus it needs to have hands-free controls and a decent entertainment system. Oh and it wouldn't hurt if it looks good too. It's not an easy task since strategic pricing also has to be factored in.
Design: 4.5/5.0
The Chevrolet Malibu is a whole lot of car. Measuring 1465mm in height, 4865mm in length, a width of 1855mm, and a wheelbase of 2737mm, its size alone gives it its commanding presence. Partner that with the trademark Chevy grille and emblem, HID headlights, fog lamps, dual exhaust tail pipes, and Camaro-inspired tail lights, and you have a subdued, masculine car that you wouldn't mind being seen in.
Inside, the Malibu is loaded with amenities even the pickiest executive will enjoy. Its premium leather seats and high quality materials is nice to the touch, and its dark interior, highlighted by touches of chrome and ambient blue lighting exudes a premium look. With the eight-way adjustable power seats for the driver and front passenger, the start/stop button, cruise control, and Chevy's MyLink System which controls telephony, navigation and entertainment, the executive is pretty much set—regardless if he is driving or being driven. NVH (Noise, Vibration, and Harshness) is handled pretty well, as the cabin is quiet enabling passengers to enjoy the entertainment system.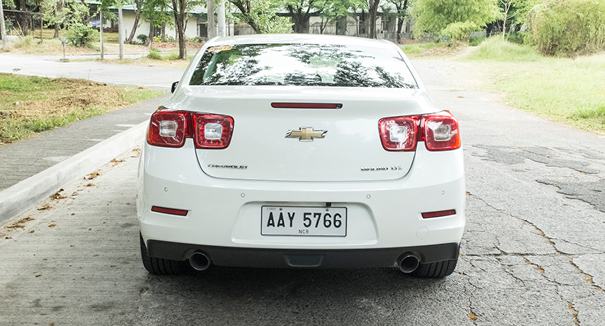 Hardware: 4.0/5.0
The Chevrolet Malibu is powered by a 2.4-liter ECOTEC DOHC 16 valve dual VVT engine that delivers 167Ps @ 5800rpm, and maximum torque of 225Nm @ 4600rpm. This Euro 3 compliant, lightweight aluminum engine is paired with a six-speed automatic gearbox with a manual override. Soft ride suspension is standard (for both variants), with MacPherson strut fronts and Multi Link suspension in the rear. The Malibu is fitted with front and rear disc brakes, and the LTZ variant ships with 18-inch wheels. To add to its upscale amenities, Chevy did away with the conventional hand break for this car, and installed electronic parking brakes.
A large car needs a large gas tank, right? And a large gas tank is what the Malibu has. Its 73-liter tank is even bigger than some SUVs in the market today.
Smart technology was not lost on the Malibu, as it features a keyless access system that also has a remote engine start function.
Safety features include front, side, and passenger curtain airbags, 4-way Anti-lock Braking System (ABS), brake assist, Electronic Brake Distribution (EBD), traction control, and electronic stability control. Other amenities include automatic on/off headlamps, auto-dimming rearview mirror, rear park assist, rear window defogger, and the Tire Pressure Monitoring System (TPMS).
User Experience: 4.5/5.0
Being used to driving a subcompact, the size of the Malibu takes getting used to. The feeling is comparable to driving an SUV, except that you are situated much closer to the ground. The cabin is roomy, and the recessed design of the dashboard makes the shotgun position even more spacious. Being fitted with a tilt and telescopic steering column, plus the fully adjustable seats makes finding the perfect driving position a breeze. The handling of the Malibu is responsive, and while it isn't the fastest in its segment, it still has a decent amount of juice on tap.
Value: 4.5/5.0
The Chevrolet Malibu is one of the more affordable executive sedans in the market today considering prices of the top tier offerings of the competition. Priced at PHP 1,398,888 for the 2.4-liter 4-Cylinder DOHC LT grade, and PHP 1,528,888 for the top-of-the-line LTZ variant, the Malibu also comes with Chevy's extended warranty of five years or 100,000 kilometers, which ever comes first.
What's Hot:
– Good price point
– Loaded with amenities
What's Not:
– Can be a bit sluggish
Bottomline :
With more and more people replacing their sedans with huge SUVs because of their amenities and cabin size, it's time for the segment to up the ante, and the Malibu has done just that.
Also published in GADGETS MAGAZINE June 2015 Issue.
Reviewed by Mika Fernandez-David | Photos Nicolo David