Honestly, I've been wanting to drive the Suzuki Jimny for years! Back in the day, my friends and I had so many fun adventures aboard its siblings, the Beaver and Samurai, so coming home to an all-new Jimny in my driveway was a thrill.
DESIGN – 4/5
The Suzuki Jimny is a small utility vehicle, designed to navigate narrow trails and difficult terrain inaccessible to larger vehicles. Its square, boxy body is purely utilitarian, with little regard for aerodynamic curves. Instead, practical design elements were taken into careful consideration, such as the large molded bumpers to guard against chips and scratches, the drip rail that prevents water from dripping off the roof, the large LED headlights with washers to ensure visibility even when driving through muddy tracks. Retaining its classic looks, the all-new Jimny is instantly recognizable as a "jeep" with its iconic round headlights and separate turn indicators, as well as the vertical front grille and clamshell bonnet. The two-tone version that I got as a test unit had a black roof atop a solid kinetic yellow body, exuding both toughness and fun.
The interior is spare and straightforward, consisting only of essential controls. The dashboard is similarly boxy, and its horizontal lines are supposed to help orient the driver in uneven terrain. The seats have also been designed to provide better shock absorption as well as free body movement in rough conditions. Seating is for two adults in the front bucket seats and two adults in the rear bench seats. The premium GLX variant has a leather steering wheel with audio controls and cruise control for just that teeny-weeny bit of luxe.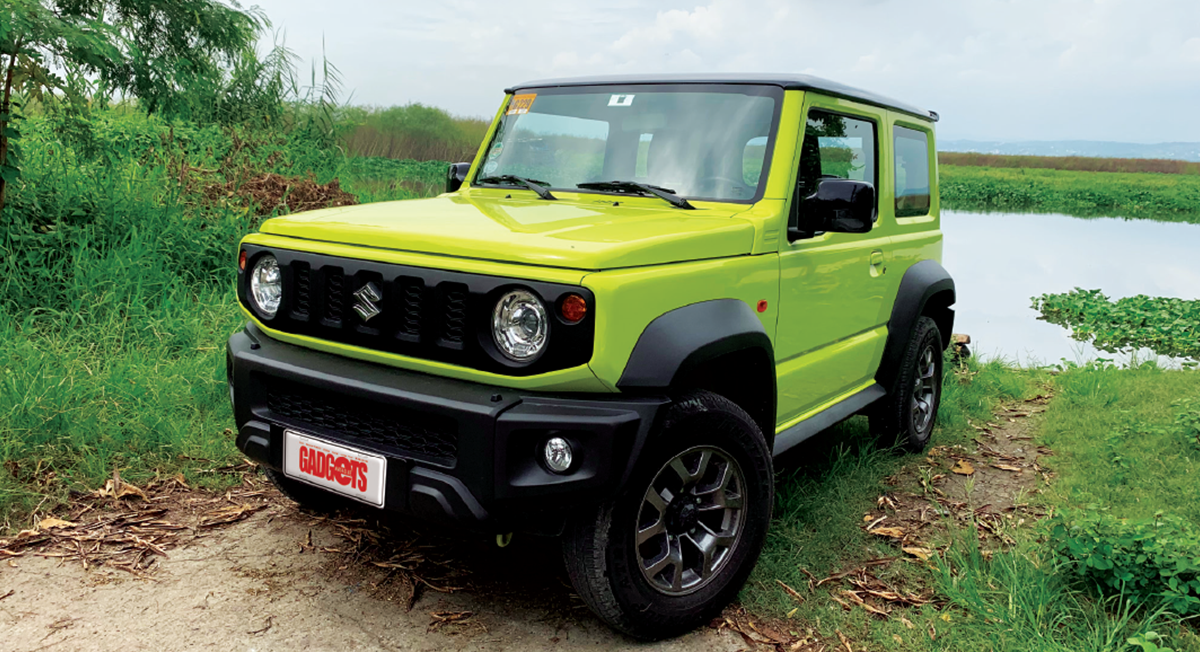 EQUIPMENT – 4/5
On the GLX 4AT, the Jimny's 1.5-liter 16-valve multi-point injection engine is mated to a 4-speed automatic transmission, and outputs up to 100 PS at 6,000 rpm and 130 Nm of torque at 4,400 rpm. The suspension system, intended to tackle rough driving conditions, consists of long-stroke 3-link rigid axles with coil springs on both front and rear. Front brakes are solid discs, while rear brakes are leading/trailing drum brakes.
The audio system is a large 9-inch multimedia touch screen with four speakers. It also has a clinometer display for pitching, rolling, compass, barometric pressure, and altitude. An offline navigation system offers driving directions without traffic information. It has USB and Bluetooth connectivity, plus Android Mirror Link. Reverse parking sensors and a reverse parking camera make backing out of tight spots easy.
The climate control system is an upscale automatic air conditioner with heater as well as pollen filter.
The Jimny features hill descent control, hill hold control, and brake LSD traction control—all intended to improve driver control and safety, particularly in challenging driving conditions.
Safety features on the GLX 4AT include 3-point seatbelts, dual front airbags, antilock brakes, electronic stability control, ISOFIX child seat anchors, LED high-mount stop lamp, and immobilizer, among others.
USER EXPERIENCE – 4/5
The Jimny's part-time 4WD system gives you the best of both worlds. When driving in the metro or on well-paved highways, 2WD delivers better cornering and fuel efficiency. For off-road driving, you can switch to 4WD for better traction and grip. And, when faced with really rough terrain, the 4L mode gives you extra pulling power. Where I live, there are a few rough spots that the Jimny handled gamely and confidently, even through some deep gutters made worse by the recent heavy rains.
I did not have great expectations about the Jimny's riding comfort as it is intended for off-road use, but the ride was not as harsh and bouncy as expected. In fact, on smooth city roads, handling was about the same as other utility vehicles I'd driven.
Looking for some off-road locations to test the Jimny's capabilities, we wandered into a really tight, narrow trail where we appreciated its small turning radius. It would have been a much more difficult getaway on a larger vehicle.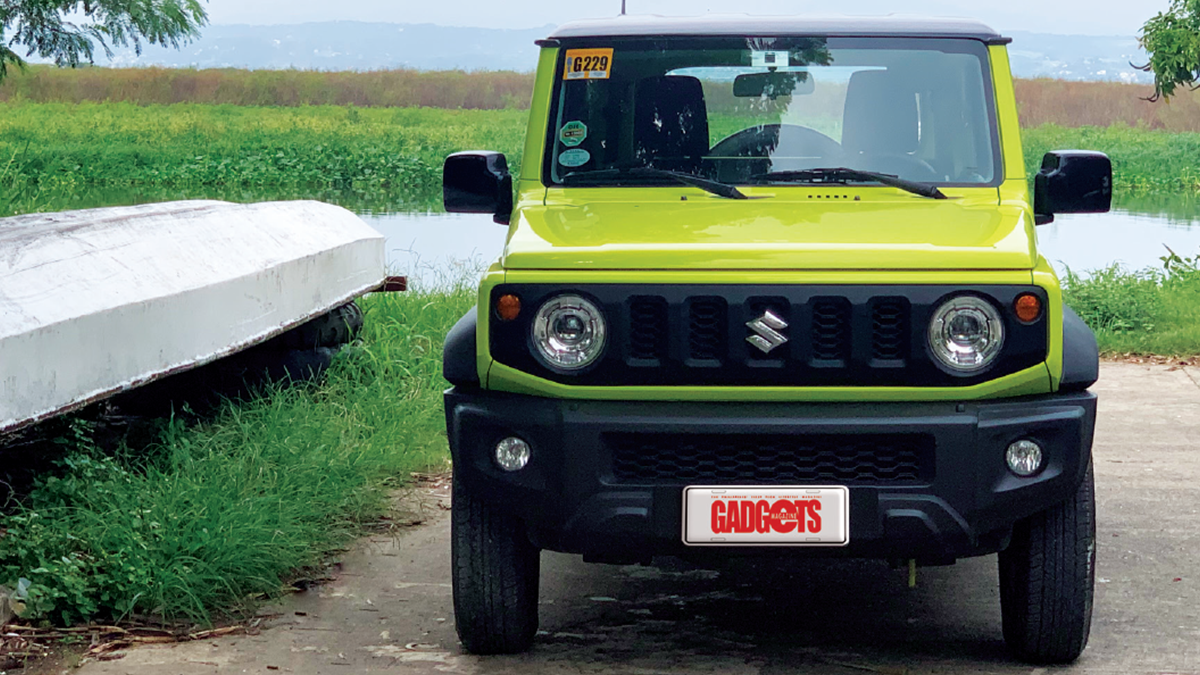 We also took the Jimny to the mall to shop for groceries, only to realize hat this was not a family car. There is literally no trunk space and we needed to fold down the rear seats to accommodate a week's worth of household supplies. Nevertheless, with its large rear door opening and fold-down rear seats, I can imagine field workers stowing large tools or machine parts at the back to deliver to some remote work site.
Because of its spare interior, the window switches are located in the front center console below the aircon controls—something one needs to get used to. Also, doors don't lock automatically, so you'll have to remember to lock your door each time you get rolling. And lastly, while the 9-inch display is large and bright, it can be a distraction when driving at night.
VALUE – 4.5/5
The all-new Suzuki Jimny starts at PHP 975,000 for the base GL 5MT variant, PHP 1,035,000 for the GL 4AT, and PHP 1,085,000 for the GLX 4AT. There's a PHP 10,000 premium on the two-tone GLX 4AT model, which is priced at PHP 1,095,000.
Considering that the Suzuki Jimny is built to be a real off-roader, these are unbeatable price points especially for enterprises that require a tough workhorse with a reputation for reliable performance.
What's Hot:
– One of a kind
– Real off-roader
What's Not:
– No cargo space (unless you fold the rear seats)
Bottomline:
There's nothing like the Suzuki Jimny, a tough little workhorse that's also appealing and appropriately specced for its intended use.
Review and photos by Maribelle Alba
Also Published in GADGETS MAGAZINE – October 2019