Key tourism industry leaders in the Philippines convened at the Airbnb Future of Travel event to discuss how to drive and future-proof the country's tourism growth as travel resumes. 
Organized by global platform Airbnb and joined by current and former industry and government leaders across the Department of Tourism, Economist Impact, and AirAsia Philippines, the Airbnb Future of Travel discussion revolved around the shifting of global and local travel trends since the start of the pandemic, and how all parties are adapting to drive sustainable domestic and international travel.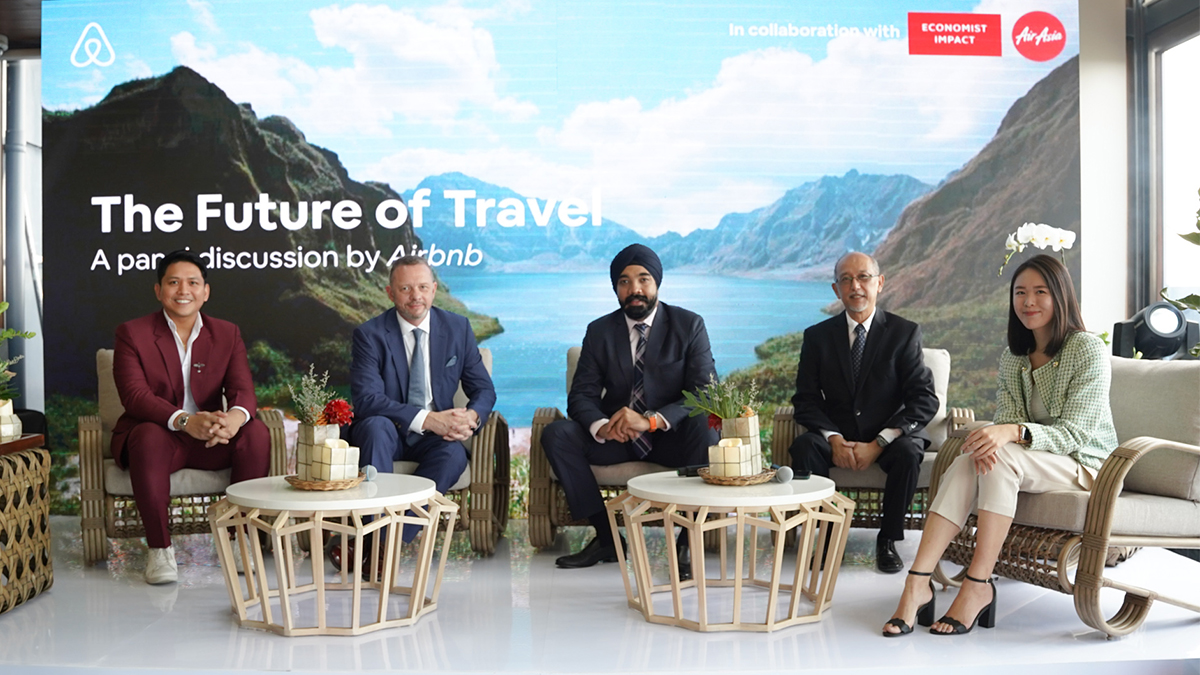 The Philippine tourism sector is taking off
As the lines between travel and living continue to blur with the growth of remote work, facilitating a surge in domestic stays and international visits, annual tourism arrivals in the Philippines hit 1.7 million last week to exceed the Department of Tourism's target for the entire year.
New data by Airbnb revealed that amidst the reopening of international destinations,  domestic travel remains top of mind for Filipinos:
Baguio emerged as the top searched destination by Filipinos on Airbnb this Q2 2022, followed by Quezon City and Tagaytay City.
Tagaytay leads with the largest surge in guest searches on Airbnb in Q2 2022 up from Q2 2019 pre-pandemic, followed by Dumaguete and Calaca.
Other trending destinations for Filipinos include destinations outside tourism hotspots such as Guagua in Pampanga, Unisan in Quezon, and Jala-jala in Rizal.
Longer travel remains a key trend. Long-term stays of 28 days or more comprise Airbnb's fastest-growing category by trip length compared to pre-pandemic, spiking 25 percent from a year ago and by almost 90 percent from Q2 2019. Notably, more than a third of Filipino travelers polled earlier this year said they stayed at an Airbnb to travel and work remotely. 
The future of travel: Balancing growth and sustainability
The Airbnb Future of Travel inaugural panel discussion featured Amanpreet Bajaj, Airbnb's General Manager for Southeast Asia, India, Hong Kong and Taiwan; Domingo Ramon C. Enerio, Former Assistant Secretary of the Department of Tourism and Former Chief Operating Officer of the Tourism Promotions Board; Andrew Staples, Ph.D., Economist Impact's Regional Policy and Insights Head; and Steve Dailisan, Head of Communications and Public Affairs at AirAsia Philippines.
With the ongoing travel resurgence underscoring the sector's role as a key economic driver, the panelists highlighted the importance of identifying shifting travel trends and new growth opportunities. The Airbnb Future of Travel discussion focused on ways to drive greater economic opportunity with public-private and cross-industry efforts, so as to build an inclusive, resilient and empowered tourism economy in more regions across the Philippines.
Citing the ongoing surge in domestic travel on the platform, Amanpreet Bajaj, Airbnb General Manager for Southeast Asia, India, Hong Kong and Taiwan, shared, "Almost three years on since the pandemic, we are seeing fundamental shifts in travel that are creating new opportunities for the tourism sector.  It is incredibly exciting to see that Filipinos are traveling longer and to more diverse locations, which bodes well for the sector's ongoing recovery. As we work to grow our passionate Host community and inventory of unique stays, we are committed to working with the DOT to promote lesser-known destinations and attractions, and spotlight the Philippines as a top-of-mind global destination for travel." 
Former DOT Assistant Secretary and Chief Operating Officer of the Tourism Promotions Board Domingo Ramon C. Enerio said, "I am heartened that the Department of Tourism under the leadership of Secretary Frasco continues to take steps to ensure the continued growth and recovery of the tourism industry post-pandemic. Secretary Frasco has outlined a focus on diversifying tourism offerings and maximizing tourism promotion for both well-known and off-the-beaten-path tourism sites. The Philippines is already well known as a country of warm hospitality and vibrant destinations; and the DOT's desire to showcase our rich culture builds on this strong foundation and is timely given the tourism recovery."
Andrew Staples, Ph.D., Economist Impact Regional Policy and Insights Head, highlighted the emergence of a more conscious traveler across Asia Pacific including the Philippines, "Research shows that since the pandemic, Filipino travelers have been thinking more about their impact on local communities, economies and the environment. This awakening of sorts has accelerated the push towards a more responsible form of travel, and the need for tourism stakeholders to jointly drive a future trajectory focussed on resilience and sustainable growth."
For regional carrier AirAsia, it aims to continue expanding its fleet and network across the Philippines. "As the travel rebound accelerates, we are widening our domestic reach and launching new routes to more local destinations. By providing a greater variety of travel options and digitizing traveler touchpoints through the AirAsia Super App, we aim to decentralize tourism traffic in the usual hotspots and help promote lesser-known destinations that are equally as exciting through a seamless travel experience," added Steve Dailisan, AirAsia Philippines Head of Communications and Public Affairs.