Crystal blue waters, fine white sand, breathtaking landscapes, and fresh seafood—this is what El Nido is all about. It's a perfect summer destination not only for beach bums but for everyone who wants to take a break from city life. Unfortunately, life can be a mess, as can be the weather, so when the sun did not appear during our stay in El Nido, my friend and I had to find ways to enjoy the place despite the rain. Luckily, we found some secret activities that you can do in the island, regardless of the climate.
The journey
The 5-hour van transfer from Puerto Princesa International Airport to El Nido's town proper is quite long, so you'll need some snacks for the trip. A visit to the nearby convenience store just across the arrival area of the airport wouldn't be a bad idea. To make the most out of your time there, we highly advise you to book the earliest flight to Puerto Princesa. Don't forget to save PHP 1000 beforehand for the roundtrip, and air-conditioned van transfer. A one way ticket to El Nido, on the other hand, costs PHP 500.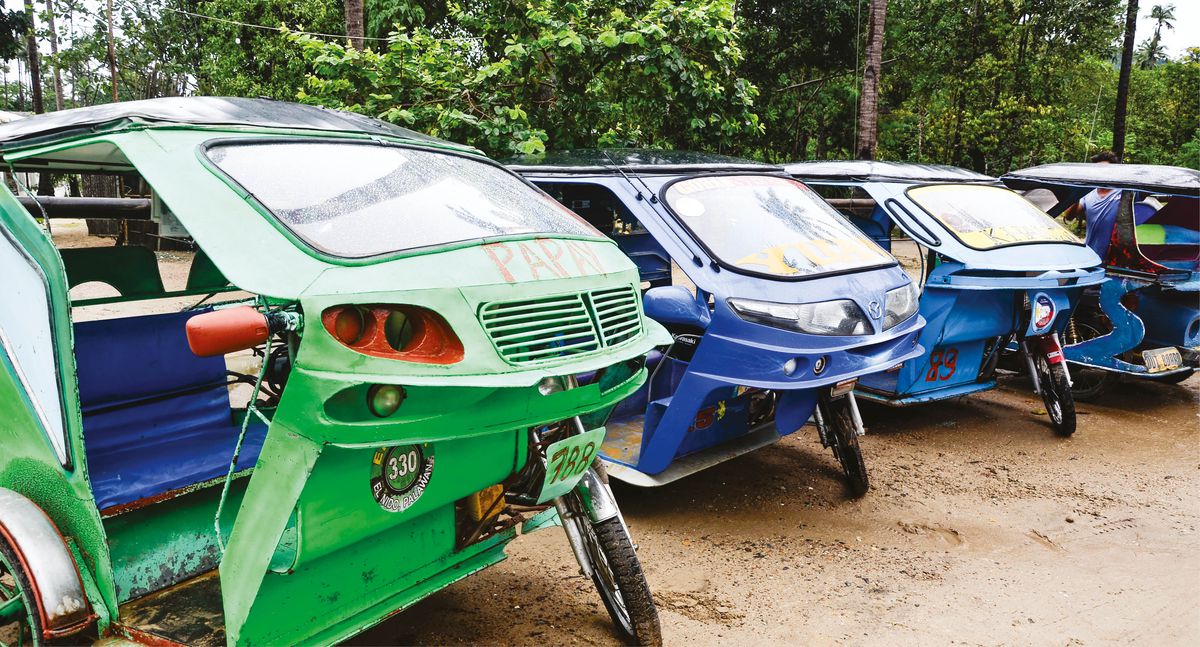 To save more, backpackers can usually score accommodation discounts from AirBnB and Agoda. We were fortunate enough to be able to get the help of a friend who happens to own a four-storey inn. Our lodging was only 5 minutes away from the city proper and is accessible from the main road, which made our lives easier. Given the steep terrain in the island, the main transportation in the area is the 4-seater tricycle.
Gastronomic surprises
El Nido is a destination of rich and varied cuisine. Not only it does refill your hungry tummy, the experience also gives you best memories to take back home. There's a strip of restaurants not far from the beach where you can find great places to dine. Jarace Grill, a famous local restaurant, serves freshly-caught seafood. We savored every bite of Buttered Shrimp, Cheesy Baked Mussels, Grilled Liempo, and Chicken Inasal while enjoying the view of Mt. Taraw in the background. At anywhere from PHP 200-400, their rice meals are budget-friendly and are good for sharing.
After finishing our traditional Filipino dinner, we went to the best pizza place on the island upon my foodie pal's suggestion. Commonly known as Alexander's Pizza, the pizza parlor offers hand-tossed pizza baked in a brick oven, just like the Italians do. We ordered a 12-inch tomato-based Alessandra, with pepperoni, onions, green bell peppers, and mushrooms, and the 4-Cheese Pizza, combining mozarella, stracchino, fontina, and blue cheese on a bed of mushrooms and ham.
The nightlife in El Nido is not as wild as in Boracay. Bars around the town proper are more relaxed than one expects. Sava Bar is perfect for introverts who just want to seize the moment and enjoy the view over cocktails. Their Filipino fusion dishes such as their scrumptious, deep fried Sisig Croquettes, hit the spot. We also satisfied our sweet tooth at one of El Nido's most famous dessert places, Gusto Gelato. Their must-try homemade gelatos, which cost PHP 120 for a single scoop or PHP 180 for a double scoop, won't disappoint you. We were able to try their best-sellers like the Snickers-flavored gelato which tastes like heaven in a cone. For chocolate lovers, there's the Mint Chocolate and Dark Chocolate gelatos.
We were supposed to sign up for a whole-day island tour, but it got cancelled the next day due to a gale warning issued by PAG-ASA. There's an ordinance in the municipality about cancellation of tours, which is strictly followed by everyone.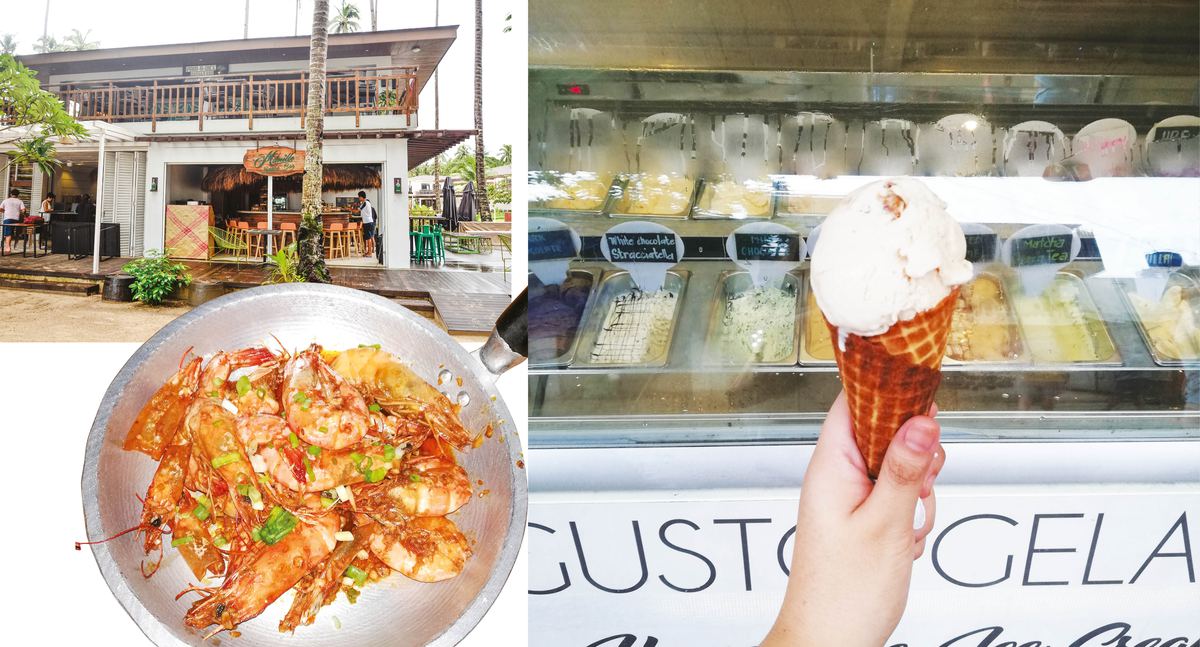 Must-try activities
Kindness and discipline are things that the people of El Nido live by. This is what we learned as we made our way to visit their wonderful, white beaches. We were lucky enough to meet Kuya Khanz, whom we hired as our personal tricycle driver for two days. He took us first to the recently-opened Lio Ecotourism Estate, an on-going project by Ayala Land located in the northernmost part of El Nido. The up-and-coming gem of Palawan showcases a magnificent view of the islets within El Nido Bay. According to our personal tour guide-slash-tricycle driver, the 325-hectare property offers almost everything you need–from traditional and contemporary hotels to international bars and restaurants. You can play beach volleyball, or try kayaking and paddleboarding to its untouched lagoons right from the estate. It's also located close to the island's own airport, making it a convenient destination for tourists.
Approximately 10 kilometers away from Lio, we found ourselves walking in the peaceful shore of Las Cabanas. It's on the southern part of the first class municipality, and is known for having the best sunset views. Unfortunately, the sun was flocked by the monsoon so we did not witness it on our trip. Despite the situation, we managed to enjoy the place by kayaking around the shore at a travel-friendly rate of PHP 150 per hour. Other safe yet adventurous activities that fellow tourists did was jet-skiing, and riding the 750 meter long zipline that gets you to the nearby Depeldet Island.
The last stop on our three-day escapade was the great canopy walk suggested by my friend's aunt. We have to warn you, though–it's not for the faint-hearted. Safety gear like helmet and harnesses are needed to be worn by visitors, and special instructions should be followed strictly. My friend backed out on the last minute, so I took all the remaining courage that I had and braved the 75-meter trail walk with Kuya Sedric, my tour guide. The strenuous, 10-minute climb up the safest part of Mt. Taraw cliff is worth it for seeing the wonderful panoramic view of El Nido island. According to our guide, the limestones that make up the cliff are about 350 million years old, and are now 100 feet above sea level. Crossing the longest hanging bridge in the island could be terrifying, but the sweat is nothing compared to the beauty that awaits you. Should you find yourself in El Nido, do not forget to put this place on your itinerary.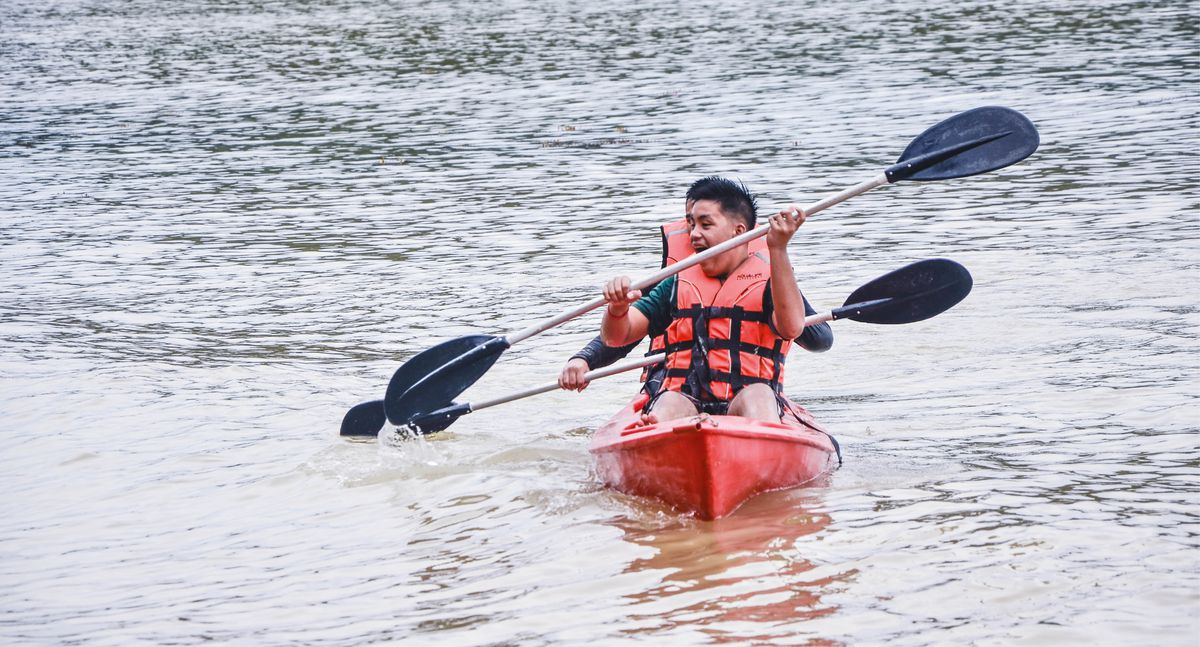 Words and Photos by Jewel Sta Ana
Art by Jael Mendoza
Also published in GADGETS MAGAZINE September 2018