With construction almost halfway through, the first 5-kilometer España Section of the NLEX Connector will be completed in the first quarter of next year, according to NLEX Corporation
This elevated expressway is a public-private partnership project between Metro Pacific Tollways led-NLEX Corporation and the Department of Public Works and Highways (DPWH). Participating in the government's "Build Build Build" program, NLEX has allotted PHP23 billion for this massive infrastructure investment.
"The first section of NLEX Connector from Caloocan Interchange to España Boulevard is nearly halfway done," said DPWH Secretary Mark A. Villar during the inspection of the project's Manila segment.
"We are targeting to deliver the full right-of-way (ROW) for this section by next month so we can further accelerate the project," he added.
"We are pleased that the construction activities are moving forward with the construction progress standing at 45 percent. Thanks to our government partner, DPWH, for securing the ROW requirements," said NLEX Corporation president and general manager J. Luigi L. Bautista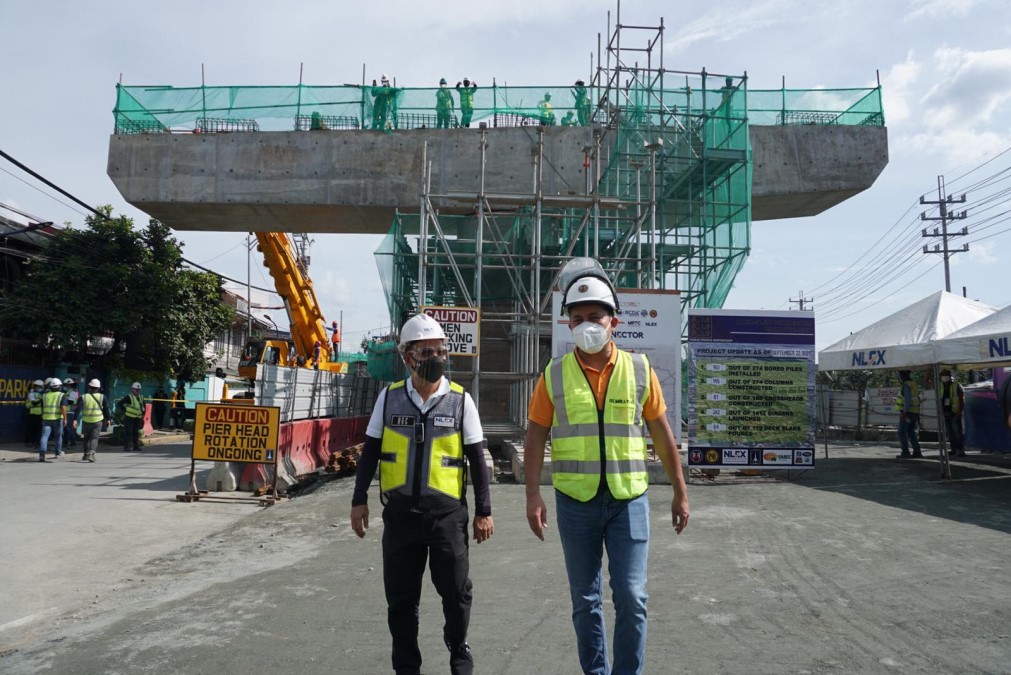 As the first section of NLEX Connector is being built inside the Philippine National Railways (PNR) ROW and passes through urbanized areas between Harbor Link-Caloocan Interchange along C3 Road/5th Avenue and España Boulevard in Sampaloc, Manila, the tollway company continues to tap technology to accelerate the construction.
NLEX Corporation said it is using the Indonesian technology called Sosrobahu in launching coping beams or pierheads in certain portions of the NLEX Connector as this rotating device enables the construction of expressways above existing roads with minimum disturbance to traffic. 
"This technology is highly beneficial since it will ramp up the construction progress and most importantly minimize traffic jams thus reduce economic losses. Despite the challenges posed by the ongoing pandemic, we can expect significant progress in the coming months because of this innovative solution," Bautista said.
Aside from the Sosrobahu, NLEX is also using Super T girders to expedite the construction of this vital infrastructure that will provide trucks with 24/7 alternative route and reduce travel time between NLEX and South Luzon from two hours to just 20 minutes. Super T girders are innovative, pre-stressed box girders that are widely used for bridges in Australia and New Zealand. More than 1,400 girders will be used for the entire project.
"We continue to find opportunities and improve the way we do things to accelerate the construction of the NLEX Connector. We are optimistic that the construction technology that we are employing will increase efficiency and boost productivity at the site," Bautista noted.
NLEX is also utilizing the PNR railway tracks in transporting major structural components from one site to another as part of its efforts to speed up the construction.
While the NLEX Connector España Section is progressing, the next 3km elevated section between España Interchange and the vicinity of the Polytechnic University of the Philippines in Sta. Mesa, Manila is seen to commence construction within the year.
Once completed, the NLEX Connector will have four toll plazas and interchanges in C3 and España. It is expected to serve 35,000 motorists daily and provide better access to Manila Ports and airports such as NAIA and Clark. This will also enable faster transport of goods and services between Metro Manila and Luzon provinces.