Manila, Philippines – April 25, 2018  – Schneider Electric, the leader in the digital transformation of energy management and automation, launched its Galaxy Easy UPS 3S, a 10-to-40kVA Uninterruptible Power Supply (UPS), offering robust electrical specifications at the Fairmont Hotel, Makati City. Easy to install, use, and maintain, business continuity has never been this easy for small and medium businesses especially when it comes to power interruptions, voltage overloading, monitoring of energy usage, longer battery and storage lifecycle, and even having remote control during emergencies.
The Galaxy Easy UPS 3S is an exceptional combination of an optimized footprint design and advanced product features, protecting critical equipment from damage due to power outages, surges and spikes. This unit delivers up to 96 percent efficiency in double conversion mode and up to 99 percent efficiency in energy-saving ECO Mode, taking the industry standards for the 10-to-40kVA UPS to a new level. Customers also benefit from the start-up service option to ensure the Galaxy Easy UPS 3S is properly and safely configured for optimal performance, reliability, safety, and peace of mind.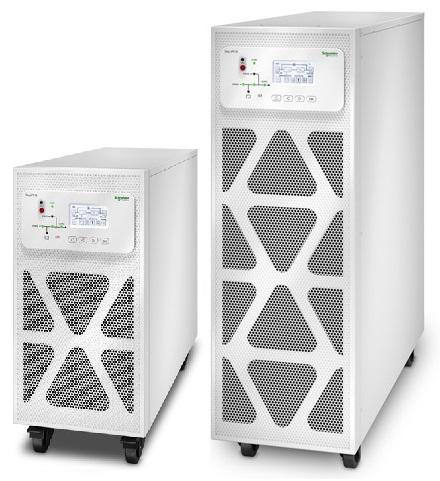 This offers a wide input voltage window and strong overload protection all in a compact and lightweight footprint, making it an excellent fit in both the data center space and in light industrial environments. It rolls into position quickly and installation is straightforward. It features an intuitive display interface for easy configuration and monitoring, and customers can monitor and manage the UPS status remotely through Schneider Electric's EcoStruxure™ IT cloud-based and on-premise software suites. The flexibility, versatility, and competitiveness of Galaxy Easy UPS 3S, including its short delivery time and wide variety of applications like those of small and medium data centers and computer rooms, manufacturing facilities, telecommunications infrastructure, commercial buildings, and healthcare, making it easily adaptable for any any small and medium business.
Yam Hong, Business Development Head, East Asia, Schneider Electric says: "The Galaxy Easy UPS 3S offers small and medium businesses, data centers, and manufacturing facilities best-in-class power availability, reliability, manageability, quality, and convenience in a wide range of applications. With this 10-to-40kVA UPS, the benefit of easy installation, configuration, management, and maintenance, as well as enhanced efficiency will be felt by each consumer who invests in it. Through this innovation, Schneider Electric is helping industries efficiently manage and sustain their energy consumption."
Innovative and user-friendly Easy UPS 3S features include:
Operating temperature up to 40ºC

Conformal coating for protection in rugged environments

Easy to replace dust filter

Easy service access via the magnetic front panel

Easy monitoring and management with EcoStruxure IT's cloud-based and on-premise software suites when you buy the optional Simple Network Management Protocol (SNMP) card.

Easy Loop test verifies UPS performance before you connect your load, without the need for a load bank
Championing innovations through product diversity
Apart from the Galaxy Easy 3S UPS, Schneider Electric Philippines also introduces two additional products that are now available locally — Easy UPS Online and Smart-UPS On-Line Li-Ion.
Easy UPS Online provides basic power protection for unstable power conditions, ensuring consistent and reliable connectivity at the most critical moments. It is a versatile high quality, cost competitive UPS developed to handle a wide voltage range, and inconsistent power conditions. It maximizes battery performance, life, and reliability through intelligent precision temperature-compensated charging and ensures seamless power to the load even in the event of a UPS failure. The Easy UPS Online also protects connected loads from surges, spikes, lightning and other power disturbances, and houses an energy saving mode, allowing input voltage regulation range to be adjusted through its LCD display.
Smart-UPS On-Line Lithium Ion (Li-Ion) UPS provides high-density, double conversion, online protection for servers, voice/data networks, medical labs, and light industrial applications. Lithium Ion batteries enables it to provide greater performance at higher temperatures and greater overall lifecycle. Its entire line of UPS provides a wide input voltage window, extremely tight output voltage regulation, frequency regulation, internal bypass and input power factor correction. It provides users with remote monitoring and control of the UPS such as: rebooting hung device without cycling the entire UPS, sequenced shutdown, shedding of non-critical loads, and scheduled shutdown for energy conservation. Smart-UPS On-Line Li-Ion UPS also has an emergency power off, built-in automatic and manual bypass for seamless power despite UPS functional failure.