ST Telemedia Global Data Centres Philippines, a joint venture between Globe, Ayala Corporation and Singapore-based ST Telemedia Global Data Centres (STT GDC), announced that it is expanding its footprint in Asia with the development of its largest and most interconnected carrier-neutral data center in the Philippines.
This announcement comes as the company celebrates its first anniversary milestone since the formation of the JV. The data center campus also marks STT GDCs' single largest data center project development to date across its global portfolio.
"With the Philippine digital industry set to grow at a projected compounded annual growth rate (CAGR) of 20% through 2030 we are seeing rapidly growing demand for high-quality colocation services in the Philippines as both cloud service providers and enterprises alike continually expand their business platforms to meet consumers' evolving demand for low-latency digital services," said Carlo Malana, chief executive officer, STT GDC Philippines. "We are confident that we will be able to capture new demand while helping our customers meet their own sustainability ambitions with this new and differentiated data center capacity. This also presents an opportunity to nurture local talent in digital and green skills that will be much needed in the future."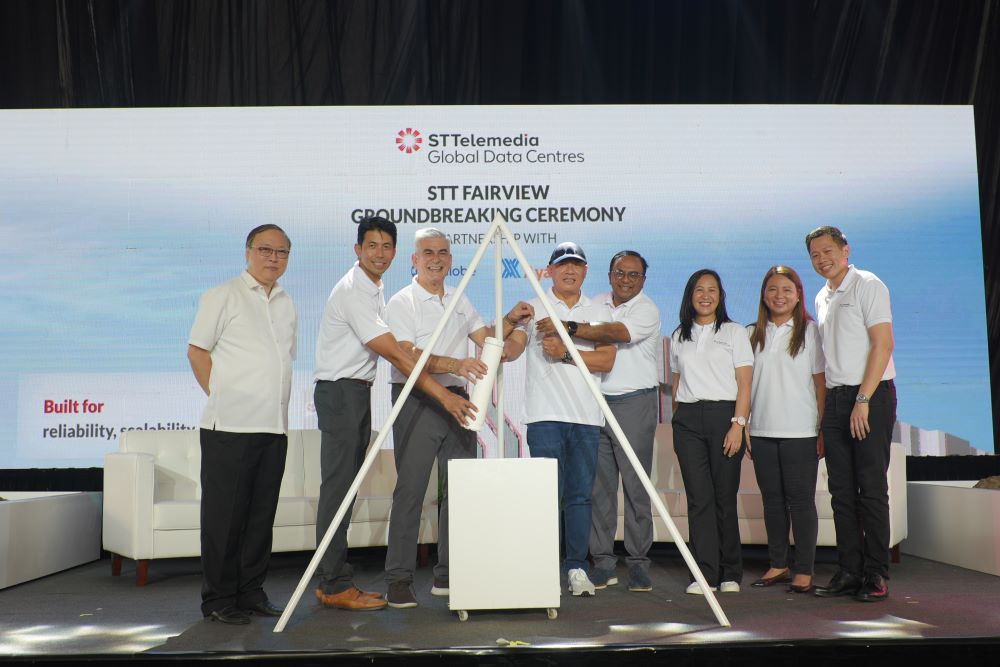 Sustained growth is projected across ASEAN and the Philippines' digital economy is seen to be a forerunner, with e-commerce expected to propel the country's gross merchandise value (GMV) to USD35 billion in 2025. The Philippine digital economy is also expected to grow twice as fast as GDP through 2030.
"With the Philippines' digital transformation gaining headway, STT GDC's new facility will be an important addition in the data center space in the country, where the market is underserved. This will provide crucial support for the growing digital industry not just in the country but also in the region, and will set a new standard of sustainability-driven data centers in the Philippines," said Globe Group president and ceo Ernest Cu.
The new data center campus, STT Fairview, will comprise over 83,000 square meters of gross floor area across four buildings, offering a development potential of 124 megawatts of IT load capacity once fully built out. It is strategically positioned within Quezon City with access to nearby substations, as well as critical telecommunications, transportation links, and logistics, business and industry hubs.
This new data center campus will cater to both hyperscalers and enterprises, providing flexible and scalable low latency colocation options that are also sustainably built and operated. In line with STT GDC's groupwide focus and commitment towards carbon-neutral data center operations by 2030, STT Fairview will support the company's sustainability goals with a market-leading design power usage effectiveness (PUE) and a host of sustainable features.
● Embodied carbon reductions – The use of innovative solutions such as hollow core concrete slabs,
recycled steel and HDPE 3 piping is among the many topics being explored which will lead to reductions in embodied carbon of the development.
● Liquid cooling-readiness – The new data center will have the ability to house liquid-cooled solutions and servers based on customer requirements. Liquid immersion cooling supports high performance computing applications such as AI, and can offer data centers and its customers, particularly those operating in the tropics, a sustainability boost by substantially reducing energy consumption and water consumption.
● AI readiness – The facility will be ready to leverage AI and machine learning (ML) technology and
advanced analytics to improve the data center's operational efficiency as well as optimize energy use to reduce its overall carbon footprint.
● Built to global industry standards – This new data center will be built to specifications that will meet international standards such as a LEED® Gold certification from the U.S. Green Building Council (USGBC), Uptime Institute Tier III, and TIA-942 Rated 3.
STT Fairview will include ready network connections to STT Makati, one of the most interconnected data centers in the Philippines, providing customers of the new data center campus immediate access to a rich selection of local and international network service providers, internet exchanges and submarine cable systems.
"The Philippine data center colocation market is poised for growth with a five-year CAGR of 25% through 2027 and hyperscale demand is on the uptrend. This is an opportune moment to support the Philippines' digital growth agenda with core data center infrastructure that is the linchpin of a digital society," said Lionel Yeo, chief executive officer – Southeast Asia, ST Telemedia Global Data Centres. "With its complex design and scale requirements, this new data center will offer market-leading efficiencies without the reliability trade-offs, bringing a new standard in data center capacity to the Philippines that will serve the country's digital and sustainability ambitions with its future-ready features."
STT GDC Philippines already operates five data centers with a total IT capacity of 22MW, with more than 95% of its power coming from renewable energy sources.