I've reviewed three of ASUS' new Vivobooks in the last year. I recommended every single one of them. The specs, performance, and pricing of the Vivobooks were just too good to miss out on, plus their portability and battery life made them a perfect daily driver. So how does it perform in the long run? Fortunately, our graphics artist has been using one for more than a month now so we thought what better way to see what the Asus Vivobook Pro 15 OLED can do in the long run?
Design: 4/5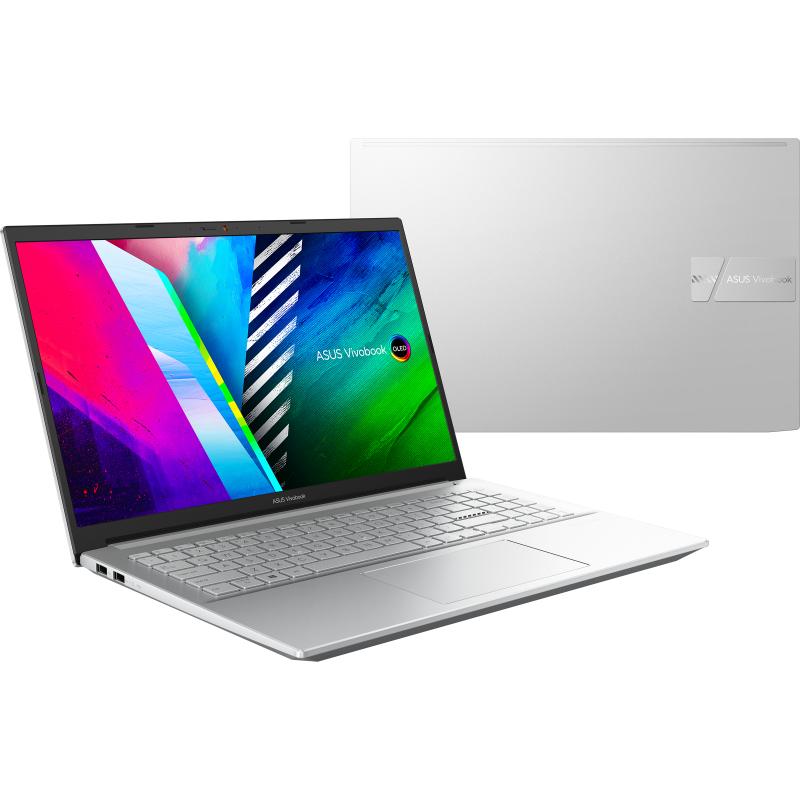 Our artist's unit comes in the cool silver color. For reference, our review unit came in the Quiet Blue color scheme which was more black than blue. The Cool Silver, on the other hand, is more akin to a matted metallic color. 
As a refresher, the ASUS Vivobook Pro 15 OLED has a 15.6-inch OLED display with a 100% DCI-P3 color gamut. It also has a faster 120Hz refresh rate, which is excellent for those who want to game on the side. On top of the display is the FHD webcam with the physical cover/shutter for extra security.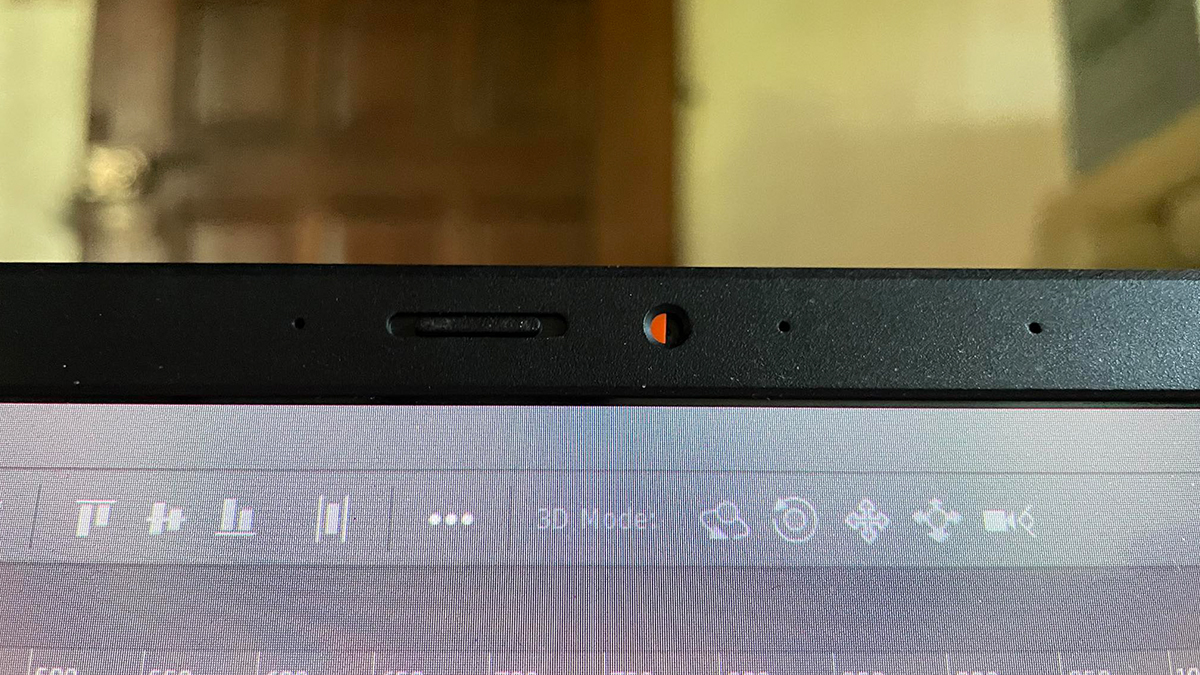 Port selection consists of two USB-A ports and the laptop's LED notification lights on the left; and on the right are the DC power, a USB Type-C with Power Delivery support, a microSD card reader, another -A port, a 3.5mm audio port, and the full-size HDMI port.
This laptop weighs around 1.8kg with an 18.2mm thickness.
Hardware: 4.5/5
Since the laptop is used as a main graphics machine, this is the AMD Ryzen 9-5900HX model with an NVIDIA RTX 3050. For storage, the laptop has 512GB of PCIe Gen 3 SSD. For memory, it also has 16GB of DDR4.
The ASUS Vivobook Pro 15 OLED could handle everything thrown at it. The laptop handled Photoshop, Indesign, and Illustrator all running simultaneously with no hiccups at all. Gaming-wise, the laptop can handle most AAA games out right now, including Sims 4, which it handled flawlessly.
For battery, the ASUS Vivobook Pro 15 OLED has a 63WHr battery, which can last for around 6 hours of use; on heavier use, this fell to around 4 hours. 
User Experience: 4.5/5
I already said my piece about the ASUS Vivobook Pro 15 OLED in an earlier review. It's a great all-around device. I already mentioned how the OLED display makes this a great laptop for Netflix and Disney+ binge-watching. 
After a month, it still is a great laptop for media consumption. During my initial time with it, I was not able to push it in terms of power and performance (except during benchmarks), but now I am happy to report that we were able to.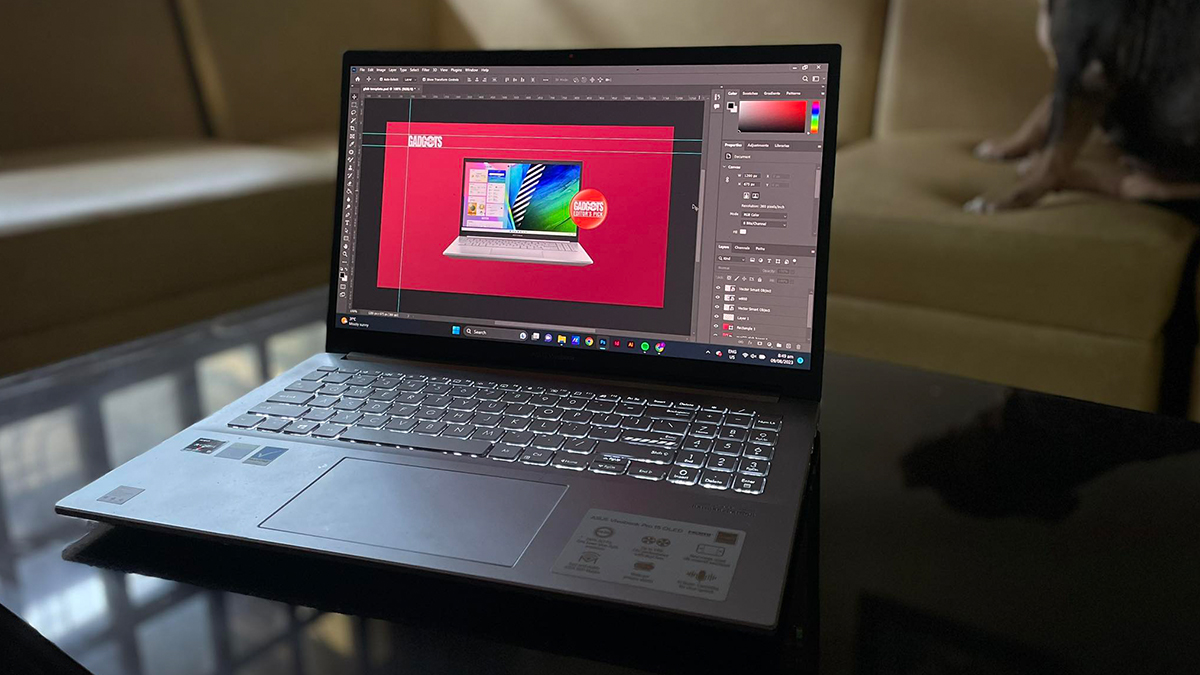 The ASUS Vivobook Pro 15 OLED is a great device for graphic-intensive work. The OLED display is accurate. It is Pantone validated and 100% in the DCI-P3 color gamut. Additionally, the bigger 15.6-inch display makes it a joy to work and edit on. 
What impressed me was the update on the cooling. The laptop did get noticeably warm but only during instances when multiple apps were running in the background. It also got a bit warm during instances when it was used simultaneously as it was charging. But overall it wasn't too warm to the point of concern.
Finally, in terms of portability, it needed some getting used to. Coming from a 14-incher, the 1.8kg weight is a bit heftier. That said, if you're not going to be running around with it every day, it's a manageable weight. In fact, the laptop is loads lighter than a gaming laptop while offering better battery performance.
Value: 4/5
As the top-spec'ed variant, this unit will set you back PHP71,995. For that price, you'd still be hard-pressed to find a similarly spec'ed laptop that offers the same performance as the Vivobook. That said, I would reiterate a statement in the earlier review. The price of the Vivobook Pro 14 OLED is close to the Vivobook Pro 15 OLED, though surprisingly, the similarly spec'ed Vivobook Pro 14 OLED is currently a bit more expensive coming in at PHP74,995. Ultimately it will be your choice whether you want a bigger display or a more portable device.
Specifications:
Display: 15″ 2.8K 120hz 16:9 600nits OLED display, 100% DCI-P3 color gamut, certified DisplayHDR 600 True Black, PANTONE® Validated, and TÜV Rheinland
Processor: AMD Ryzen™ 9 5000HX Mobile Processor
Graphics: NVIDIA® GeForce® RTX™ 3050
Memory: 16GB DDR4
Internal Storage: 512GB M.2 NVMe™ PCIe® 3.0 SSD
OS: Windows 11 Home
Ports: 1x USB 3.2 Gen 1 Type-A, 1x USB 3.2 Gen 2 Type-C support display/power delivery, 2x USB 2.0 Type-A, HMDI, 3.5mm audio port
Battery: 70Wh lithium-polymer battery. 120W Power adapter
Connectivity: Wi-Fi 6(802.11ax) (Dual band) 2*2 + Bluetooth 5.1
Dimensions: 359.8 x 234.3 x 18.9mm
Weight: 1.8kg
What's hot:
Powerful
Great OLED display
Great thermals
Decent battery
What's Not:
Speakers are not the loudest
Bottomline
The ASUS Vivobook Pro 15 OLED remains a great choice for an all-around laptop.
Reviewed by Gabriel Pe