Due to their portability, laptops have become the preferred device for consumers and office workers. You can toss it easily in your bag to wherever your duty calls you. However, content creators need a device with a bigger screen display, powerful processor, and capable video card for rendering digital artworks and videos seamlessly. Our friends from Lenovo sent us one of their latest all-in-one PCs designed for the workforce and creatives. Does it meet our expectations? Let's find out.
Design: 5/5
With a minimalist design, the Lenovo IdeaCentre A540 comes in an elegant, matte black body with a tasteful rose gold accents. Its 23.8-inch monitor has narrow side bezels, making this all-in-one PC more distinctive than its older siblings. Its asymmetrical design allows more room for its bundled peripherals, making it an eye-catching piece that could blend well with the monochromatic interiors of your home or office. Lenovo's iconic logo in rose gold can be seen on its base beside the speaker grille. Ports for the two USB 2.0, an audio jack, and a three-in-one memory card reader are all lined up on the left side while three USB 3.1, HDMI input and output, and RJ45 ports are strategically placed at the back.
Hardware: 4/5
In terms of hardware, the Lenovo IdeaCentre A540 does not disappoint. The AiO PC has the 9th generation Intel Core i7 processor under its premium-looking outer shell. It is mated with an 8 GB RAM and a 1 TB M.2 PCle SSD as its internal storage, making its boot up much faster. It runs on Windows 10 Home, gets AMD Radeon RX 540X as its discrete GPU, and a slide-up camera that supports facial unlock via Windows Hello. To make it more immersive, it is equipped with a 23.8-inch FHD display that has1920 x 1080 resolution. Below are its front-firing JBL speakers powered by Dolby Audio. The power DC port is placed behind the base where the wireless charging pad is located. It also comes with a wireless keyboard and mouse, both in elegant black.
User Experience: 4.5/5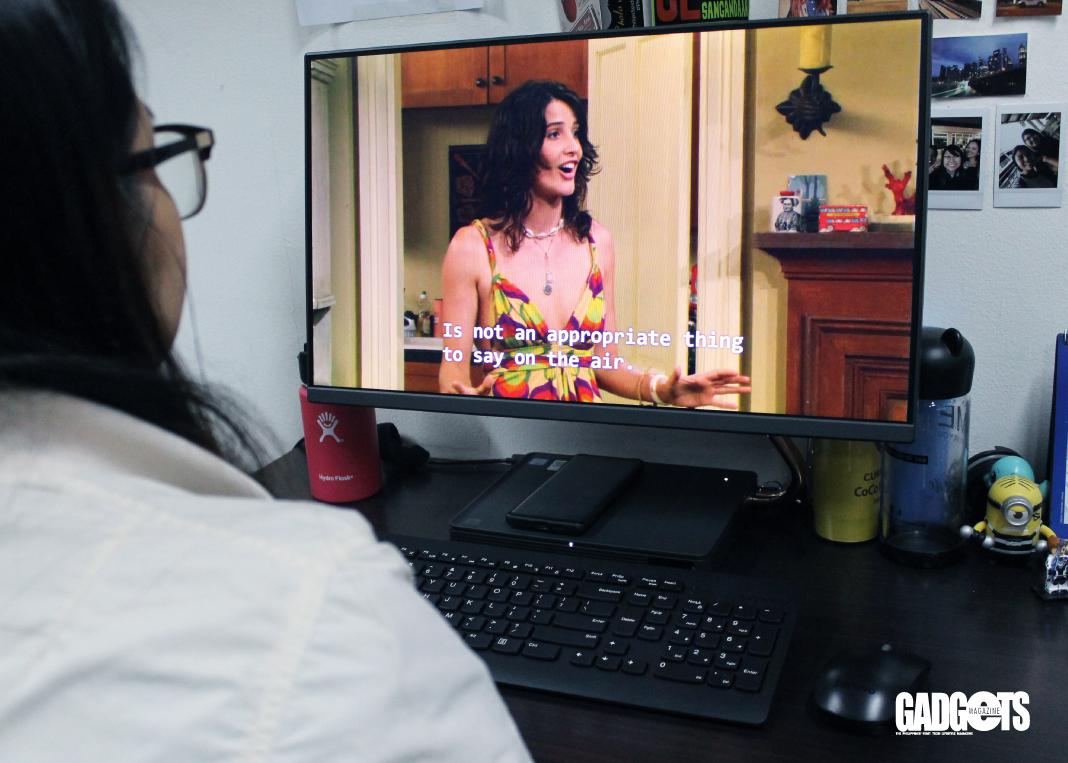 When it comes to screen size, the Lenovo IdeaCentre A540 is a stunner. Its 23.8-inch FHD display has skinny bezels which bump the screen-to-body ratio up to 93 percent, hence the sliding camera. Should you want to adjust the viewing angle, you may tilt the monitor up and down to almost 180-degrees. The monitor delivers punchy colors, although the resolution might change when streaming digital content. And since it bears JBL speakers accompanied by Dolby Audio, sound quality is loud yet crisp. The audio is solid even at maximum volume.
Through Windows Hello, you can unlock the AiO PC with facial unlock. It doesn't run out of ports for peripherals and storage devices since it has two hubs for USB 3.1 and USB 2.0, respectively. The built-in charging pad also adds convenience for users who have mobile devices that support fast, wireless charging. Ideal for office use, the latest IdeaCentre is capable of running basic creative software like Photoshop, without lag, and is good for multi-tasking. This is courtesy of its 8 GB RAM and 1 TB SSD that provides more space to store important files. The bundled mouse fits comfortably in your hand, granting users more control. Its tactile keyboard eliminates noise and improves accuracy when typing.
Value: 4/5
Priced at PHP 74,995, the latest iteration of IdeaCentre from Lenovo is a capable workstation for freelancers and corporate people. It is more compact than the gigantic CPUs while providing the same power and flexibility. It's a sleek and stylish PC that does not compromise on hardware. Sure, it might not be the best in certain aspects, but it's a good option for those who want to upgrade their everyday workhorse.
Specifications:
Processor: Intel Core i7-9700T
Operating System: Windows 10 Home
GPU: AMD Radeon RX 540X
Display: 23.8-inch FHD (1920 x 1080) IPS panel
RAM: 8 GB RAM
Internal storage: 1 TB M.2 PCle SSD
Ports: 2 x USB 2.0, 2 x USB 3.1 (Type A and Gen 1), 3-in-1 card reader (SD, SDHC, SDXC), 1x HDMI (input and output), 1 x RJ45, 1 x headphone and mic combo, 1 x Power DC
Features: JBL by Harman speakers (powered with Dolby Audio), slide-up camera (supports facial unlock via Windows Hello), Bluetooth 4.2 connectivity, and built-in wireless charging pad
What's Hot:
Fast-charging wireless pad
Neat hardware
Superb audio speakers
What's Not:
Underwhelming webcam quality
BOTTOMLINE:
An eye-catching workstation that motivates productivity.
Also published in GADGETS MAGAZINE February 2020 Issue
Reviewed by Jewel Sta. Ana