Judging by the test units being sent over to our lab for review, it looks like wireless earbuds are the next wave of Bluetooth accessories. Plantronics, well-known for its audio and communications equipment, recently introduced the Backbeat Pro 5100. Let's see how it sounds.
Design: 4/5
The Backeat Pro 5100 from Plantronics is another pair of true wireless earbuds. Made mostly of plastic materials, they are light and compact, weighing only 5.8g each. Meant to be worn in-ear, the buds come with small, medium and large eartip options to fit comfortably in different ear shapes. The button controls are glossy with a PLT logo and a LED indicator.
The earbuds fit into a black plastic charging case that has magnets near the charging pins to hold the earpieces securely in place. The case's lid isn't magnetized. Instead there's a catch and you press a button on the side of the case to unlock. The micro-USB charging port is found on the case bottom.
Hardware: 4/5
Plantronics' tiniest and lightest earbuds use small but powerful 5.8mm drivers to produce an immersive sound experience. For call clarity, it uses four noise-canceling microphones and their WindSmart technology that's supposed to tune out background noise. Smart sensors turn the earbuds on when you put them in your ear, pause your music when you remove them, and resume playing when you put them back on, and you can opt to use just one or both earbuds.
Lithium-ion polymer batteries on the earbuds deliver up to 6.5 hours of listening and 4 hours of talk time. The charging case gives you an additional 13 hours of power. It takes about 3 hours to fully charge both earbuds and charging case.
User Experience: 3.5/5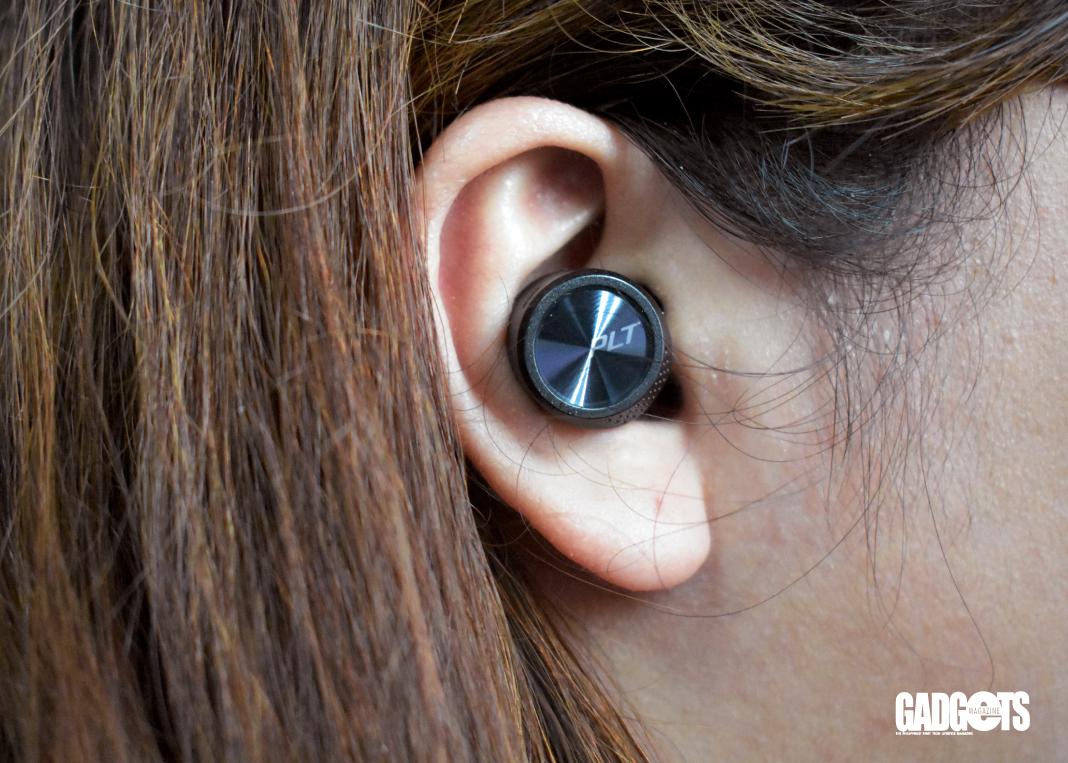 The pairing process was a little bit of a challenge because it seemed like each earbud established the Bluetooth connection separately, requiring you to first pair the right and then the left side. It took me some tries to get It done. Then, I downloaded the Backbeat app and saw that there was a firmware update available. Since the earbuds needed to be on while installing the update, I had to keep them in my ears and within one meter of my phone for over 30 minutes, during which time they disconnected/connected intermittently.
The Backbeat Pro 5100 has good noise isolation, so you can shut out the world and concentrate on your music. Audio output is crisp and precise, with good stereo separation. Voice is particularly clear as are the highs and mid-tones with an understated bass. I personally prefer to boost treble over bass, so this preset is good for me. However, if you're the type who prefers a more vibrant listening experience, don't expect thumping bass from these earbuds.
I expected to be able to configure my listening preferences in the accompanying Backbeat app, but found that while the app lets you select your primary earbud, tap options, system volume, and other settings, it's missing an equalizer function so you can't actually adjust audio output to your listening style.
Also, while you can pair the Backbeat Pro 5100 to several devices, it can actively connect to only one device at a time.
With regard to call clarity, voice calls came through loud and clear, although the person I was talking to commented that I sounded a bit tinny on her end. Overall, though, there were no crackles and no choppy moments.
Value: 4/5
The Backbeat Pro 5100 is slightly more affordable than the benchmark Apple Airpods and the Jabra Elite 75t, at PHP 8,995. At that price range, though, you're not going to be pinching pennies so the purchase decision will depend solely on personal preference. With Plantronics' solid reputation as a headphone brand for professional use, you have the assurance that this is an expense that will be well worth your money.
Specifications:
Wearing style: True wireless in-ear
Speaker size: 5.8mm
Battery life: Up to 6.5 hours listen time, up 4 hours talk time, additional 13 hours with charging case
Charging time: Up to 3 hours for full charge of earbuds and case
Weight: 5.8g each earbud, 38.6g charging case
Noise cancellation: Digital signal processing
Microphone: Four microphones
Connectivity: Bluetooth 5.0
Operating range: Up to 10m
Connection: Micro-USB
Controls: Play, pause, forward/back, voice assistant
IP rating: IPX4 sweat and water-resistant
What's Hot:
Compact and light
Long battery life
What's Not:
Connects to only one device at a time
Took several tries to successfully pair headset and update firmware
Bottomline:
You can wear them comfortably and enjoy listening to music the whole day.
Also published in GADGETS MAGAZINE March 2020 Issue
Reviewed by Maribelle M. Alba